Why You Should Consider us in your Career Path
We Are Not a Family, We Are a Team. We may not be bonded by blood, but we are by our shared passion to always achieve more and to create a legacy with our products in the entertainment industry.
Since we were founded in 2008, we have always strived to have the best player within every position in the team. We help each other with everything. No matter what problem you may have, there is a 99.9% chance that there is another NSofter willing and able to help you out. All for one, one for all. This policy has brought us excellence, results and happy partners on five continents.
Creating the perfect work environment for NSofters has come right from our core since day one. Don't get us wrong; it doesn't mean ping-pong tables, Playstation, exotic team building parties, free food or Tesla days. We have it all, it's very sweet, but what really counts is the work environment. Exciting and challenging projects, first-class teammates, recognition for every great thing you produce and a "just like home" feeling while you're at the office. This is what has made NSoft successful and we are very proud of it.

Who Are We?
Together we are a team of more than 300. We are Developers, Designers, QA Engineers, Project Managers, 3D Artists, Production Workers, Salespeople, Marketers, HR Professionals, Psychologists, Accountants, Lawyers, Facility Managers and more. We are everything we need to be in order to make our products world-class and our NSofters happy and proud.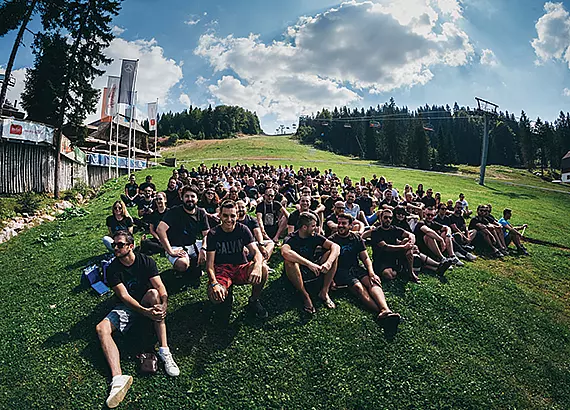 What's It Like to Work at NSoft?
We'll put it this way; it's like the craziest roller coaster ride ever! But, with your seatbelts on and with all appropriate safety measures included.
Yes, our core business is creating products for the entertainment industry and we do have fun in the process, but the well-being of NSofters and the success of our partners are the top priorities for us. We may not really be one of the first things that pop into your mind when someone says "work environment".

We take our business seriously, we're always focused on the growth of our products and it is something you can tell right after you step into our office. We do take our work and our fun as seriously as each other!
We are probably the only company in the world in which you can find flamethrowers (sorry Elon Musk) in front of conference rooms, where astronauts walk around the office and where pranks occur on a daily basis. It's one hell of a ride indeed.

Life at NSoft
Yes, we are the no.1 entertainment industry solutions provider in this part of the world, but how did that all begin? What is the mindset behind our culture? What are the perks that come along with being an NSofter?

Take a look
The NSoft story isn't something that happened by chance. We promote innovation and answer the demands of our customers. We nurture partnerships by suggesting fresh ideas and ways to improve customer operations. This creates a synergetic effect and transforms an ordinary business deal into a truly sustainable partnership.

We are a team of 300 and counting. That means there are hundreds of stories to tell about NSofters, about our successes and failures, about daily office dynamics and about the atmosphere we create. It's all here. We are brilliant people who make awesome software solutions.


NSoft Internship – an Advanced Internship Programme
A perfect jumpstart for everyone with no practical experience in the industry. Students, young pros and converts alike – this one's for you.
Are You at the Beginning?
Are you looking for experience in an ever-evolving working environment with IT professionals who are stars in their field? The NSoft Internship is our advanced training programme for ICT students, graduates and everyone with little or no work experience who have basic knowledge, a background or interest in programming and who are ready to learn and improve.

Check it out
Reach Us Anytime!
If you have any questions about our products, career opportunities or if you just want to say hi, we'll be happy to answer!
Contact us