People@NSoft
NSoft cannot be explained, it must be experienced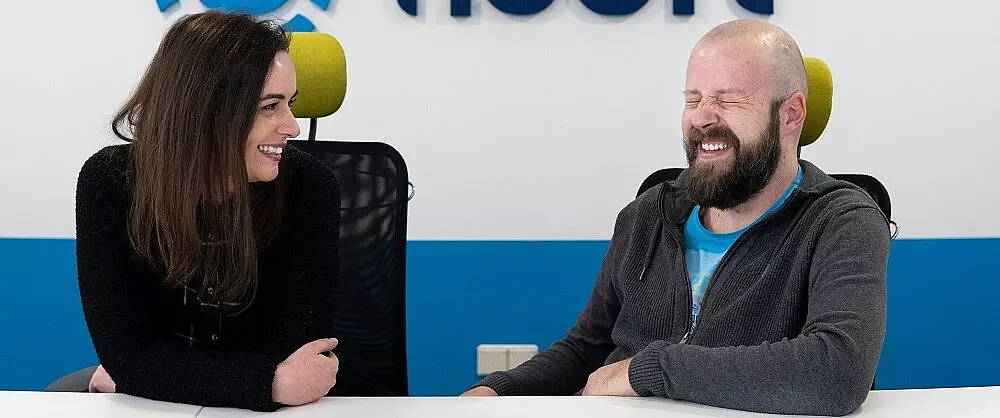 Senior 3D Artist/Animator at Mostar's NSoft, Biljana Haljevac is from Sarajevo and privately, among other things, she is the wife of Dejan Ćurčić, also from Sarajevo. Dejan is a member of NSoft's System Development Quality Assurance (QA) team.
Biljana and Dejan shared with us different perspectives and experiences of working for the same employer and explained why Mostar and NSoft are a good option for the professional development of IT staff.

Being an animator and System Quality Assurance (QA) Engineer at NSoft
Biljana: I entered the world of 3D animation by chance, and very quickly fell in love with the job. It is a wonderful feeling to breathe life into an object in 3D space. When it comes to software, I mainly use Autodesk Maya, MotionBuilder, Unity, and Motion Capture technologies.
My friend Amela, also an animator, recommended me NSoft and encouraged me to apply for the job here. Amela got a job at NSoft a few months before me. Believing her judgment about NSoft as an employer and hearing firsthand how NSoft is a positive and stimulating work environment, I decided to apply. Two months later, I packed my suitcases and moved to Mostar. I have been with NSoft for five years now.
Thanks to NSoft, I got the opportunity to advance quickly in my profession, both through working with new technologies and through collaboration with very professional and skilled colleagues.
Dejan: After Biljana settled in Mostar, I applied for a job using the same formula. In nine months of being NSofter, I've met wonderful people with whom I clicked very quickly. Even today, after almost four years, I am fascinated by the organization of work, the expertise of people who always see problems as challenges, and the aspiration of management to provide the employees with ideal working conditions.
Before joining the NSoft, I mostly worked in video production, maintaining systems, networks, rendering, and handling backup. Still, NSoft shaped me professionally and I found myself in Quality Assurance (QA). Now, I test our software solutions and client's hardware, as well as a variety of gadgets. Knowledge, further training, and business results are key things that NSoft emphasizes.
NSoft as a place of equal opportunities
Biljana: In my work environment, the fact that I am a woman does not limit or hinder my progress in any business segment. Dejan has already highlighted three key things that NSoft believes in knowledge, additional training, and, finally, the result. Everything you know, through working at NSoft you will sooner or later capitalize. For everything you are professionally interested in, a model will be found to give you access to both information and the highest quality equipment, because everything will, in the end, result in better performance of the product we create for the global market.
The greatest success
Biljana: The first project in a new work environment is always something special. In that sense, the Virtual Motorcycle Speedway project was the first in NSoft that I participated in from the beginning and I am very proud of it. Each subsequent one brought new challenges, due to which I had to master tools, technical solutions, or technologies unknown to me until then.
Dejan: Since I have not worked as QA so far, I am very proud of the acquired knowledge in this area. In the end, NSoft cannot be explained - it must be experienced. The organization of work and work climate is such that you often forget that you are in Bosnia and Herzegovina.
Mostar as a living environment
Dejan: We have previously associated Mostar with a visit to the Old Bridge and the extreme heat, like when you find yourself on the Mostar asphalt in July... But, only when we moved to Mostar, we started to discover all its charms: Goranci (a picnic area 15 minutes away from the city, which is perfect for walking), weekend getaways to Počitelj for coffee, the seaside less than an hour away, countless sunny hours per year and, of course, a mild climate. Since I am coming from Sarajevo, the absence of traffic jams and the Mediterranean relaxation of drivers is something that delights me personally. On weekends, we continue to discover the wider region of Herzegovina and try to spend every spare moment outside.
Biljana: Dejan and I have a fairly wide circle of friends with whom we like to spend time. Additionally, everything Dejan said about Mostar, as a place to live, can be copied to NSoft in business terms.
At NSoft, we have both gained security and the opportunity to fully dedicate ourselves to what makes us happy professionally and to constantly improve.
Tags:
Didn't Find What You're Looking For?
Our team will be happy to guide you through our products and services.
Contact us