The Mindset Behind NSoft Culture
Caring has been our secret since day one. We started from a garage in 2008 but, even back then when we were a team of just three and a neighbourhood company focusing on PC and cash machine services, we cared.
We cared for our employees by providing them with the best possible work environment. Cared for our clients by providing them with the best possible service. Fast forward a few years and nothing has changed. We still care and we have grown significantly. NSofters are still our no.1 priority. We care for them the most and they, as a team of 300+, care for our clients on five continents by offering them a wide range of innovative and profitable products with constant support.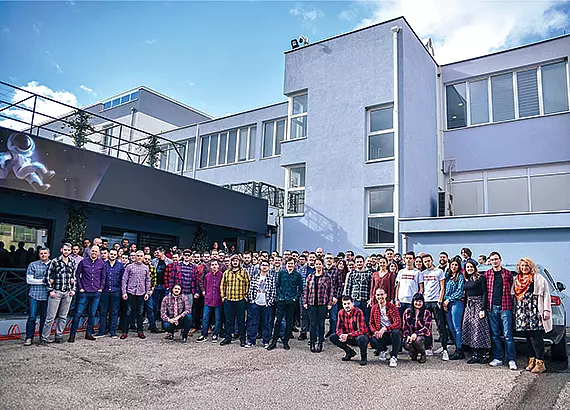 What are the Benefits?
Moving Help
Assistance to new employees who need to move to Mostar.
Special Events
Monthly team building events, themed parties and cultural events.
Game Lounge
Game room packed with Playstation™ & Nintendo® games.
Healthy Stuff
Our office has ReFresh Corner featuring healthy food during the entire day.
Café
Our own café.
Team Building
Small team building events for your group, themed parties and of course – one annually for the entire company.
Education for You, and Then Some!
Employees get constant professional education and we also have the NSoft Junior Academy, designed to teach the basics of programming and robotics to NSofters' children.
Want to Work at NSoft?
We are building a company in which you can hopefully find an alignment and purpose, with career growth and a community belonging. It's big. It's challenging. It's awesome. Most importantly though, it works.
Want to work at NSoft?
Feel free to apply. We are excited to hear from you!

See open positions
Reach Out to us Anytime!
If you have any questions about our products, career opportunities or if you just want to say hi, we'll be happy to answer!
Contact us