Interviews & Editorials
A city derby or a landmark as a video slot theme
Personalised Video Slots: We turn your ideas into reality for the players' entertainment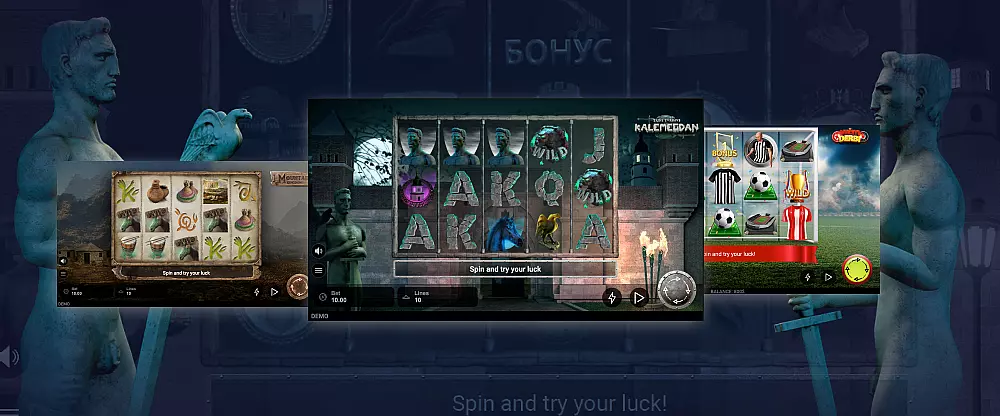 In the last couple of years, with more and more players making the switch from land-based to online casino every day, the rise of online slots has been steady and promising. The industry stepped up its game in terms of graphics, player experience and special features, offering players a massive variety of games to choose from.
NSoft is devoted to delivering the best products and services according to the wishes and needs of our clients. Besides the usual video slot themes, such as Treasure Hunt, Atlantis, Pirates, Egyptian Mythology and Fruit Machines, we are able to deliver video slots with themes relevant to the markets where our clients operate in.
Personalised Video Slots - Main features
With years of experience in the iGaming industry, we develop premium quality casino games and provide the best entertainment to our players with unique in-house content and design. With the mobile-first approach, each casino game boosts engaging graphics, driven by stable and fast technology, user-friendly interfaces and intuitive navigation.
As the market evolves, we have learned that a custom theme made specifically for one geographical area or social group will be quite successful.
A flexible algorithm covers various needs
Important slot parameters, such as hit frequencies, returns to players, jackpots and volatility index, are configurable per slot. As the time on the device lies at the heart of gaming value, the calculations are made to increase a player's time on a device. Wide ranges for all important parameters, various exciting bonus games, jackpots, and many other features should satisfy even the most demanding players.
NSoft's Casino is easily integrated into other casino aggregators, ensuring a fast gaming experience to remain scalable and stable. Attractive and dynamic bonus systems and features are at one's disposal. One thing is for sure - various bonus games will keep players entertained.
Customisation and personalisation at their best
By customisation, we are talking about the design of symbols, backgrounds and sounds, as well as explicit RTP, lower/higher frequency of winnings etc. Simply said, we can customise everything from game configuration to design.
Another curiosity that appeared in the market, so-called 'branded slots', attracted our attention. People are interested in playing online slots that remind them of their favourite football club, movie, epic story and more. There are only a few ways to capture and retain slot lovers' attention, and featuring branded slot themes is one of them.
The following text describes some of the branded slots we made for our clients. Should it be mentioned that we are proud of them?
Success story
Video slots with themes relevant to the markets in which the clients operate.
For our long-term client, Serbian Balkan Bet, we have created two personalised video slots with themes familiar to their players:
Everlasting Derby (originally Večiti derbi) is a story about rivalry, sport, excitement and anticipation among football fans of two Belgrade-based FCs. The game was made in honour of the city derby that divides but also unites football fans in Belgrade and Serbia for decades.
It was easy to understand why our client wanted to take the Derby to the next level, so we have created a video slot featuring the fight between the two well-known football clubs, Crvena Zvezda FC and Partizan FC for them.
Custom made 5-reel, 3-row, 20-line Everlasting Derby video slot is featuring Wild retriggering, Free Spins feature and Gamble game. It is characterised by great graphics, transmitting the atmosphere of full stands, last-minute goals, fights, red cards, penalties missed, and tears of the fans. And the cherry on the top - any win in the game is accompanied by the sound of cheers from the crowd - priceless!

Another game which guaranteed fun and great winnings, Tajne tvrđave Kalemegdan (The Secrets of the Kalemegdan fortress) is a video slot game with a personalised theme featuring a famous landmark: a fortress located in the Serbian capital Belgrade. The slot features exquisitely crafted graphics and detail-oriented, almost nit-picking animation and riotous sound effects.
Players can dive into the mysterious world of heroes, and rock giants and places that hide urban history and great mystery behind Kalemegdan high walls and ramparts.
The Mountain Kingdom video slot is an unforgettable journey through the vastness of the magnificent mountains. In addition to untouched nature, the player will come across beautiful horses, wild alligators and the occasional dinosaur footprint, which may hide the secrets of the past.
Frequent winnings, fun bonus games and the tempting jackpot will make players fall in love with the Mountain Kingdom at first sight. Listen to the sound of drums – let them lead you through the mountains to victory. This slot was created for the client Sima Communication from Lesotho.
We turn your ideas into reality for the players' entertainment
Exceptional backend combined with our modular iGaming platform and a dedicated in-house team of designers, animators and frontend developers allows us to create the next level of personalised video slots.
Our vision is to build great games and enable our partners to be successful in attracting and retaining their players worldwide.
Tags:
Didn't Find What You're Looking For?
Our team will be happy to guide you through our products and services.
Contact us