Interviews & Editorials
Why should Casino operators offer Sportsbook?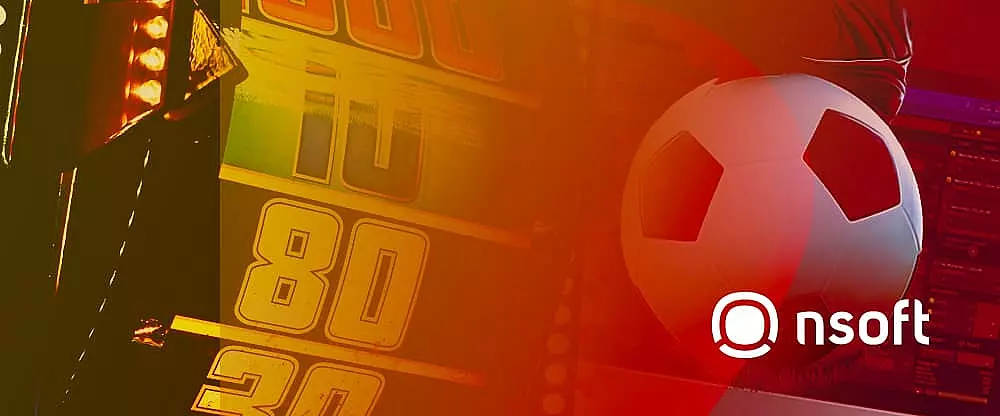 New perfect match: casino operators and sportsbook
Information literacy and trust have created a new ecosystem where sports betting and casino games complement each other.
Players are searching for one-stop shops.
Casinos offer fast results, thrilling 24/7 entertainment, so does Live Betting - the profile of the players is similar.
Sports betting MTS is a proven low-risk profit generator.
Simple iframe integration ensures that the casino page looks fabulous and appealing to the players.
To celebrate its sportsbook, and to boost further development of customers' online business, NSoft has launched a campaign: Sportsbook integration with no setup fee!
There is nothing new in casino content being present on sports betting operators' website. Not even if the operator's business is heavily sportsbook oriented. The versatility of the game offer, especially for the online channel, has become an industry standard.
As for casino only online operators, however, there is no reciprocity at that level. Online casinos are still offering almost exclusively - well, casino content.
During the COVID-19 lockdown, all industries reshaped to some extent. In the betting business, lack of sports events was substituted with esports, casino content and virtual games. As a result, online betting operators have enriched their offer with exciting new content.
This shift started even before COVID-19 lockdown. The numbers are leaning toward the conclusion that sportsbook and casino are meant to be together. A fine line between casino and betting operators is becoming invisible.
When we speak about online betting operators in Central Europe, in the past several years, Sportsbook held over 60% of the business. In 2020, the numbers are entirely different, with 70% of total turnover and GGR being made in the Casino segment of business.
The Balkan region has a similar trend. Sportsbook held primacy over Casino with 80% of business just three years ago. The current situation is that 60% of the total turnover goes into Sportsbook. In Baltics, casino content now covers 80% of the total turnover.
Traditional betting operators have adapted to the new market conditions. They learned that the players are seeking a one-stop-shop, a single place for their online gambling entertainment. Information literacy and trust have created a new ecosystem where sports betting and casino games complement each other.
Exclusivity in offer in betting and gambling is a drawback. Versatility can ease the transition in the time of turmoils like the one we experienced just a few months ago. The good news is that traditional casino operators are more than ever interested in Sportsbook integration into their online business.
Data-backed decision
In research conducted by the Business Analytics team at NSoft, sports betting is a man thing. Over 75% of online players are men, with the majority of players fitting into the age group 25 to 34 years of age. The most popular betting product is In-Play Sports betting and the most popular sport is football.
Looking deeper into the numbers, players engaged in online betting like to combine sports betting with draw-based games. Products like In-Play betting and draw-based game Lucky Six have the lowest churn rate and highest retention rate. In other words, punters who are engaged in sports betting would love to play fast casino games as well.
So where is the opportunity for online casino operators? The data shows that the betting operators who introduced casino games into its offer have significantly improved the retention rate. In general, betting operators who are offering more versatile content, tend to have more loyal players.
Once again - players like to have everything in one place.
Combining a vast world of online casino content with sports betting will result in a more loyal player base.
Sports events are irreplaceable
Nothing can be compared with watching your favourite football team in a derby match. The thrill of the game, excitement during every successful long pass and frustration over questionable referee's decisions - it's a paradigm of life itself. We love it and who wouldn't miss it!
"For casino operators, the online channel is somewhat different from brick-and-mortar. The online channel offers so many possibilities for seamless integration of other content types. We wanted to extend our business and include sportsbook but we had some doubts. Our two main concerns were: will our players accept that shift and other was related to UX/UI. Luckily, NSoft took care for the second one by performing simple yet effective iframe integration into our platform that fitted perfectly. As of players, we have learned that profile of our players matched with sportsbook players' base. We even got more engagement from new players attracted by sportsbook content - live betting in particular" stated Donny White, Sportsbook Director at Victory Willbeours.
During the lockdown, esports had its 5 minutes of glory, for apparent reasons. But as soon as sports events were back again, the number of pre-match and live tickets in betting hit the sky. Sportsbook is beyond doubt the backbone of the betting business.
Casino operators offering Sportsbook - the next big thing
Most software providers on the market have their Sportsbook flagged as a top product. NSoft is undoubtedly one of the leading industry's software providers with over 100 clients worldwide using NSoft Pre-Match Betting MTS, Pre-Match Self-Managed or Live Betting MTS solutions.
Also, NSoft is one of the few providers that can seamlessly integrate Sportsbook into third-party platforms.
We believe that the integration of Sportsbook solution into an existing online casino operation will be the next big thing when it comes to the online channel.
"Nowadays Sportsbook has become a vital part of any successful online casino, with more and more players joining the sports betting industry. Thus we decided that adding a sportsbook to our casino was of utmost importance, so after surfing through several providers and careful consideration, we decided to pick NSoft. While checking the countless providers NSoft caught our eye in an instant with a friendly interface, countless markets and super-fast integration process. The backbone of this decision was that NSoft is a preferred partner of Sportradar. All of this led to a unanimous decision to partner up with NSoft and we have not been disappointed so far," commented Maria Fernández, CMO of Betflip.
Sportsbook is a profit generator and combined with the vast casino players' base, it's a winning combination. NSoft's risk-free, turnkey solution for Sportsbook is an essential part of this equation. Simple wallet and iframe integration ensure that the casino page looks fabulous and appealing to the players.
Although players are often clustered as casino or sportsbook players, data shows that online sportsbook operators who introduced casino and virtual games into their offer managed to attract all new players' segment. Live Betting and Casino indeed are different types of content but certain similarities are undoubted. Both are available 24/7, fast resolved and very profitable.
"We received a huge spike of new players at our casino all thanks to the Sportsbook. We have advanced to the next level of competitiveness on the gambling market and this is definitely all thanks to NSoft and their quality product" – concluded Fernández.
NSoft Sportsbook team of experts
For the NSoft Sportsbook team of experts, the question isn't should we do it or how to do it, but when do we start.
We consider Sportsbook integration to the casino-based operators as seamless and logical as NSoft's Sportsbook is an easy-to-integrate and user-friendly solution that fits every business. It is a hustle-free process for the product that doesn't require any additional workforce from the operator.
NSoft's MTS turnkey solution for sports betting provides clients with a competitive omnichannel solution without additional costs and with a revenue share business model. All support and logistics for successful market positioning is provided by NSoft. That includes Sportradar's market-leading Unified Odds Feed, supporting features (Live stream, Live Match Tracker, Stats and Player Props) that add value to the product. NSoft and Sportradar take care of Risk Management so the operator can focus on what matters most - their players!
Partnership with Sportradar
Long-term partnership with Sportradar helped us shape our Sportsbook MTS (Managed Trading Services). This covers every step on the way to a successful sportsbook offer: a full package of Betradar Odds feed and risk management provided by NSoft experts.
Sportsbook without setup fee - a special welcome bonus for online operators
To celebrate its sportsbook, and to boost further development of customers' online business, NSoft has launched a campaign: Sportsbook integration with no setup fee! This welcome discount within the special offer is valid until the end of this year for standard integration.
Contact us and learn more about our Sportsbook offer.
Tags:
Didn't Find What You're Looking For?
Our team will be happy to guide you through our products and services.
Contact us