News / Interviews & Editorials
Five advantages of NSoft Sportsbook Solution
Staying ahead of the competition at all times is not easy. We have focused on rounding up our Sportsbook offer for better market position, competitiveness, and stable growth.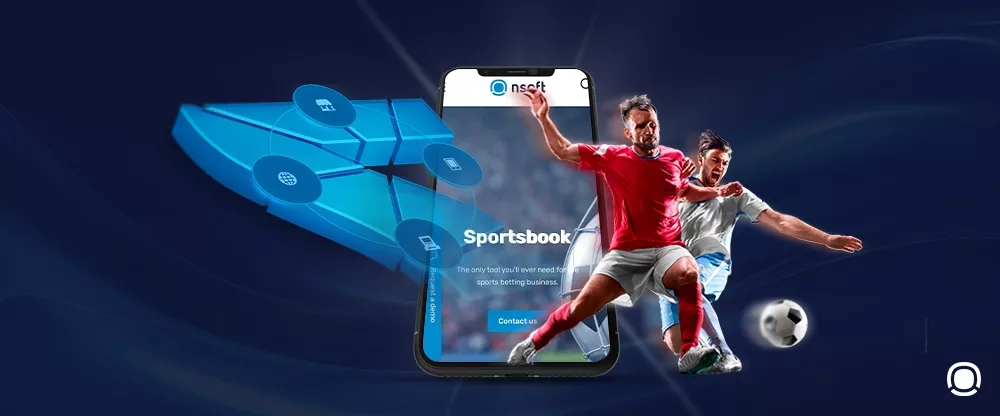 Years of experience in the iGaming business have taught us that a strong partnership with clients is the foundation of every successful business relationship. NSoft's success is their success. Our flexibility, constant technological innovations, data-driven decisions, the commitment of our team to creating excellent software, and open dialogue with clients always push us one step ahead of the competition.
NSoft is an omnichannel, sports betting, and gaming supplier. Through the constant process of adaptation and upgrade, our highly modular Seven iGaming Platform has become an inevitable base layer to jumpstart the betting and gaming business.
Being a well-grounded sports betting platform provider is of the utmost importance, and reliable Sportsbook software is key to a client's operation.
Having that in mind, we have picked five advantages of our Sportsbook solution that sum up how it can lift the sports betting business to another level.

1. Multi-channel Sportsbook experience
Building a successful sport betting brand for an audience worldwide also denotes brand loyalty with players. Although NSoft is very well known for its retail presence, there is a specific expectation - to provide a complete sports betting and gaming experience with the same offer on each channel.
NSoft's Seven sports betting platform allows distribution of our Sportsbook offerings on all delivery channels – retail, terminal, web, and mobile. The dedicated mobile app must be native to Android and iOS, not just "mobile view" sold as an app with several paying methods.
NSoft's Native app is a complete, fast, and easy-to-use solution for mobile betting on both iOS and Android platforms. Guided by best practices and research, our app offers the best user experience. The essential features, such as bet slip, last tickets, promo content, and similar, are accessible with one click.
Clients expect a smooth and flawless interconnection between channels; everything must run as clockwork. For NSoft's players can wait for their latest Live Betting results on their smartphones while playing one of our virtual games on the terminal in a betshop. Also, the multi-streaming comes here as a handy advantage - one can stream the two most essential matches available for Live Betting while streaming Lucky Six draw results and Horse Races on other LCDs.
With just one account, the player can transfer the money, collect bonuses and rewards between channels, and play whatever he wants without hassle on each distribution channel. To put it simply, the cohesiveness of all four channels is a beautiful piece of work for sure.


2. Standalone and easy to integrate on any Platform
As turnkey software solutions have become an inevitable and increasingly popular option in the iGaming industry, we are well aware of the fact that the strength of our Sportsbook solution lies in its modularity and flexibility.
NSoft's robust Sportsbook was built focusing on its fast performance, easy-to-use features, and a visually pleasing betting interface easily integrated into other Platforms. Our Sportsbook can be integrated standalone into other providers' pre-made Platforms, ensuring their services and daily operations are quickly ready to use even though this transition happened in the background.
The other option is that clients can use our Sportsbook with our Seven iGaming Platform, which ultimately saves their time because it eliminates the need to develop and maintain their software and iGaming Platform from scratch.
It's needless to say that NSoft's Seven iGaming Platform can be tailored to meet the operator's requirements and goals:
- customizable front end and unique interface
- a variety of payment methods
- dedicated B2B support and customer care are available 24/7


3. Access to exclusive, high quality and fast data through multi-feed

Staying ahead of the competition at all times is not easy. We have focused on rounding up our Sportsbook offer for better market position, competitiveness, and stable growth. Access to exclusive, high-quality, and fast data about matches, odds, and bets, based on Sportradar's Unified Odds Feed, is available through the multi-feed feature. With an extensive range of more than 30 live betting sports, 550 football leagues, over 700,000 Live betting events each year, and also allied with more than 750,000 annual Pre-Match betting events, our Sportsbook improves player acquisition, increases revenue generation, and drives continued growth for our clients worldwide.

Sportsbook Self-Managed application offers multi-feed support and complete autonomy over all trading processes. This cost-effective solution for operators to control odds compiling and offer creation for each delivery channel through setting risk parameters and risk validation process. It can be done automatically with the pre-defined risk and liability parameters or manually by traders in the risk verification module. Besides feed-driven content, this application allows the manual creation of any custom event and accompanying engine, which enables automatic resolution of all outcomes according to predefined result formula.
4. Flexibility at all times with Managed Trading Services solution
Our top-performing Sportsbook elevates revenue numbers, but what gives it additional value is being highly flexible and customizable according to the client's needs. Everything can fit their needs - sports, categories, tournaments, widgets on the dashboard, etc.
They are tailored for every market, as we can assign different odds to ensure competitiveness in markets relevant to our clients. With the help of Managed Trading Services, clients get a full-service package that includes trading, so the risk is mitigated, and the fixed costs are almost non-existent. The system is very flexible, so it is possible to manage risks effectively using the ITS tool. Profit margins are also configurable upon different criteria, which enables the granulation of the offer. The early odds option allows operators to set their odds for specific matches even before they become available in the feed.
Combined with supporting features like Cash Out, Bet Builder, Stream, Stats, Live Match Tracker, and Bet Assist, operators get a highly competitive Sportsbook solution, and their players can enjoy everything a modern Sportsbook has to offer. But it's not just that. We offer flexibility in communication and everyday relationship with our clients through our dedicated Technical Account Management team, and the 24/7 customer support our Support department provides.


5. Impressive Coverage of Sports Betting Events
If you're looking for a reliable Sportsbook software provider, there are several factors to consider, as we mentioned above. A variety of sports for betting and prompt live betting information adds additional value for clients and their punters.
NSoft's multi-channel Sportsbook software covers more than 30 Live betting sports, taking in 550 football leagues and over 700,000 Live betting events each year. Each market has its own specifics. Thus, we can cover premium content and locally relevant sports and matches according to the client's wishes and needs.
Allied with more than 750,000 annual Pre-Match betting events, our Sportsbook positively impacts our clients - improves player acquisition, increases revenue generation, and drives continued growth.

Tags:
Didn't Find What You're Looking For?
Our team will be happy to guide you through our products and services.
Contact us