Interviews & Editorials
NSoft's Top 3 virtual draw-based betting games
With simple yet immersive gameplay challenges, NSoft's top 3 virtual draw-based betting games include Lucky Six, Roulette, and Spin and Win.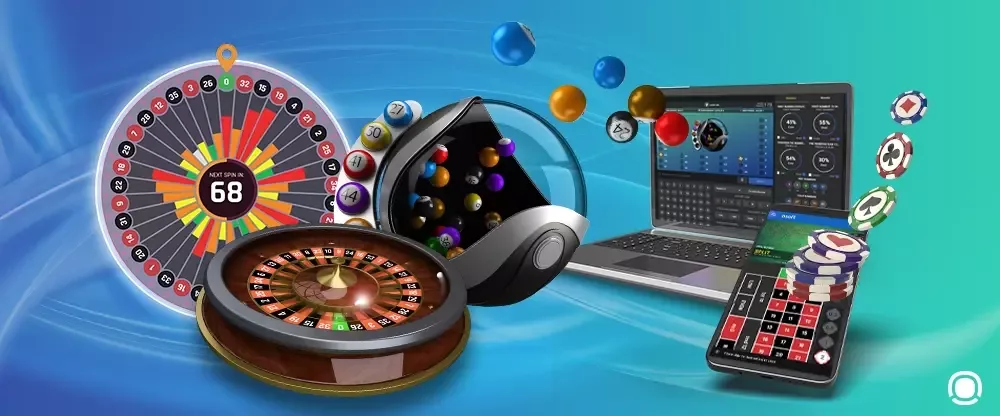 The virtual draw-based betting games have been steadily thriving for years, and recently there has been a significant resurgence of bingo in online markets.
The exciting bingo-style games with colorful, eye-catching graphics also feature a host of bonuses and extra chances to win, thus the player's favorite.
NSoft has its share of enchanting the players worldwide with our virtual draw-based betting games. With simple yet immersive gameplay challenges, our top 3 virtual draw-based betting games include Lucky Six, Roulette, and Spin and Win.

Bingo Type Games offer a Powerful Revenue-Generating Model
Fast-paced entertainment in virtual form brings bingo and lottery games to players every few minutes. The ability to enjoy the draws more than 280 times each day, combined with an excellent user interface, has proved to be a massive success with players and a revenue-generating model for our customers.
NSoft brings an omnichannel experience as our products are available on various channels, devices, and operating systems. Customers choose the delivery channel depending on their needs – land-based or online.
The action of virtual number games is based on the results produced by a random number generator (RNG). Approved testing laboratory for online gaming systems, iTech has confirmed that our games are statistically random and unpredictable. Thus the results cannot be influenced or adjusted.
Lucky Six - millions of tickets daily across 42+ countries
Our draw-based, bingo-style game Lucky Six recently celebrated its 12th birthday. It was our firstborn game and a solid foundation for soon becoming a successful business in the gaming industry on a global level. Everybody loves Lucky Six - millions of tickets are played daily across 42+ countries with our clients.
Since the V1, the game was simple, neat, running on any device, with good (configurable) RTP. The RNG-driven entertainment soon became a must-have for any betting shop. And yes, it was first made for bet shops.

Through NSoft's years of experience in the iGaming market, with our partners, and 150 betting and gaming operators from 42 countries, we have gathered invaluable information from the players. Lucky Six's secret - the players, helped us polish it!
Now we know what it takes to boost player engagement and retention levels. The game was renewed with visual enhancement, better performances, new bonus games, simpler UX, richer statistics, sound effects, etc.
How to play Lucky Six?
A total of 48 numbers are divided into eight groups. Every group has its color so that the player will find red, green, blue, purple, brown, yellow, orange, and black colored balls with numbers. In the hope of choosing the Lucky Six winning numbers, the player chooses six to ten numbers, and 35 out of 48 numbers will be drawn from the drum. To win the draw, the player has to guess six numbers correctly.
The global success of Lucky Six
Globally, the game is offered across 9,000+ bet shops and 4,800 terminals (28% increase YoY). The number of punters playing Lucky Six online reached impressive figures and held to it during 2020 and 2021.
As a result, the reporting period recorded 14% more tickets and almost 20% turnover (total turnover 2021 vs. 2020 in %).

To boost the game for the online channel, the NSoft team has created a Lightning Lucky Six - an even faster version of the original game. Another novelty in our growing Casino portfolio is a spin version of Lucky Six. The game is called Slingshot 6 and proudly represents the latest upgrade of our classic.
Slingshot 6 is a casino game for the online channel. It is a spin game based on bingo which brings diversity into inevitable video slots category and ultra-popular crash categories.

Roulette - the simplicity of this game attracts millions of players
The game of Roulette is one of those games that has barely changed over the centuries. It is often mentioned in mainstream media and movies, with references connecting it to luxurious casino resorts and lavish parties.
James Bond, 007, was a big roulette player in Ian Fleming's original books, and his favourite number was 17.
If you visit any brick-and-mortar casino, you can see the crowd of people around the roulette table cheering every spin of the wheel. The game provides a unique excitement that is hard to surpass in other fast games.
Online Roulette has quickly gained popularity and is preferred over slots, blackjack, poker, and other casino games. Online casinos don't have the same overhead expenditure as land-based casinos so they can offer better and higher payouts to players. Also, online casinos offer a variety of attractive bonuses and incentives to attract new players and increase overall retention.

Roulette is a fast-paced game of chance; players don't need skills or experience to win this game.
European Roulette features a black and red colored wheel with numbers ranging from 0-36. It has one zero-number pocket, its most distinctive feature.
There are differences between European and American Roulette; thus, they differ in one way. It has an extra slot: Double Zero. Instead of 37, it has 38 slots — numbers 1 to 36, 0, and 00. The presence of an additional slot means American roulette has a higher house edge than European roulette.
Generally, we recommend our clients to use American Roulette in their retail business. Web and terminal businesses can opt for the one that suits their company or players more. Having both versions is also an option.

What are the advantages of NSoft Roulette?
NSoft's Roulette is a fast-paced modular and engaging game that brings an entirely new experience to players. It is an appealing product, available and running smoothly on all channels. The game features a smooth and intuitive UX/UIX, easy to use for operators in bet shops and players on all channels.
It is a must-have product for our clients with the biggest RTP that simultaneously covers both virtual games and casino categories.
The game is round-based, meaning that all players play together in a single round, and features colourful visuals and eye-catching graphics. A customizable appearance enables a better product experience and generates revenue.

We are constantly working on improving Roulette on all channels by keeping in mind the feedback of our players and clients. Therefore our in-house Casino team once more showed enviable creativity by developing the Lightning Roulette game, as the name suggests, as fast as lightning and round-based.
Spin and Win- a high-speed and higly customisable modern take on Roulette

Anybody who has played our Roulette will enjoy it, even more, the gameplay and bonus options that NSoft's Spin and Win offers.
Spin and Win was made exclusively for land-based betting businesses, and indeed, it is one of the best spin games in retail. The use of the newest technologies has enabled our Casino team with vast possibilities for development on various devices, even those with lower performance levels. The game is enriched with colorful visuals and eye-catching graphics. A completely customizable appearance according to market specifics and clients' wishes enables a better product experience and creates revenue increases.
The visualization shows the paytable, the wheel, and the statistic in the stunning color palette. Visual presentation of the game plays a significant role when we talk about engagement. The wheel is always centered and visible whether the round has begun and marked with numbers ranging from 0 to 36. If the countdown for the next round is in progress, available markets on the pay table are highlighted from top to bottom, one by one, approximately every 3 seconds.
The game offers four markets: Straight up, Dozens (1, 2, 3), Odd/Even, and Red/Black.
The statistic displays the most and least drawn five numbers together with the ten latest results.
Tags:
Didn't Find What You're Looking For?
Our team will be happy to guide you through our products and services.
Contact us