Interviews & Editorials
Robert Matijevic: Seven Sportsbook Platform in 2022
Interview with Robert Matijevic, MD of Seven Sportsbook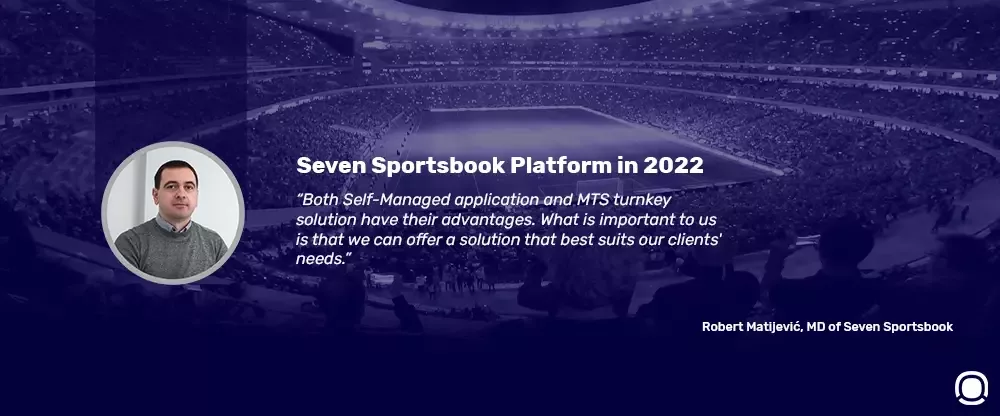 NSoft ended H1 2022 with excellent business results with a promising first month of Q3 2022. Accolades for accomplished goals, among other stars in the NSoft product portfolio, certainly go to Sportsbook, especially the Live MTS solution we provide for over 60 betting operators worldwide.
In the first seven months of 2022, the overall stake in Sportsbook grew by 19.34 YoY. The stake in live betting is 24% higher compared to the previous year, with impressive growth on terminals ( 77.1%) and also more than solid growth on other channels ( mobile: 36.7%, retail: 19.4%, web 14.51%). Considering that last year, in June and July, we enjoyed the UEFA EURO 2020 championship, the results we have accomplished in the first seven months of 2022 are even more significant.
The numbers are an excellent introduction to the interview with Robert Matijevic, MD of Seven Sportsbook, who shed light on NSoft's plans for this vertical.

Sportsbook is quite a large portion of NSoft's business. Where is the Seven Sportsbook platform now, and where does it stand against competitors?
At first, NSoft gained a reputation as a top-notch virtual games provider, and in time it shaped and grew into a one-stop-shop solution provider for the betting operators. We are one of the first choices for the operators looking for a Sportsbook, Virtual games, Casino, Advanced Business Analytics solution, or supreme SSBTs. Seven Sportsbook is an integral part of NSoft's product portfolio, and the steady growth we have been recording confirms that the decision to focus more on sports betting was the right one.
We have focused on two main goals as we operate in a highly competitive market. The short-term goal was to round up the existing applications to keep market position, competitiveness, and stable growth. In the long run, our undivided attention is directed toward developing the Next Gen Seven Sportsbook to make the desired leap against the competition. Improvement should be released next year.
As for the existing Sportsbook portfolio, I have to emphasise Live MTS as a desirable solution for our clients, which records marvellous growth in the number of tickets.
The solution is designed in cooperation with the partners from Sportradar. We offer a revenue share business model to operators that decide to implement our Live MTS, with the most extensive number of live matches and available markets.
This no-risk model is attractive to the operators. Live MTS is the solution supported on every delivery channel featuring Cash Out, Bet Builder, Stream, Live Match Tracker, BetAssist, and an AI-driven offer recommendation mode for players powered by the VAIX AI engine. We expect nothing less than further growth and market penetration from it.
Our MTS solution is easy to integrate on any platform.
An in-house trading team is indispensable. What is their role in NSoft Sportsbook's success?
Even someone with a basic knowledge of Sportsbook has a general idea about the importance of the Trading team's role in ensuring profitability of Sportsbook solution, players' acquisition and retention, and creating strategies for the image building of a betting operator. Three key points for successful trading are profit margin management, risk management, and deep analytics of tickets and players. If a team of professionals does not cover those points, one can not succeed even with the world's best application.
As someone with a sports trading background, I am glad to say that the importance of this segment has been recognised in NSoft on time. I also have to stress that we are very flexible regarding the offering. We operate with several feed accounts with different setups. We use market analytics to classify the customers and add them to an appropriate account, ensuring competitiveness and providing growth opportunities.
From the very beginning, Live betting has profiled into a high rollers game, so we successfully balance attractive odds and a rational approach to risk to attract new and retain existing players.
Of course, it's a living matter you must maintain daily, having in mind the analytics of the games, seasonality, or the power shifts during a match. Our Sports Trading Team is a blend of youth and experienced players - some colleagues traders have over 20 years of experience.
Is Self-Managed the future of Sportsbook, or will it grow parallel to MTS solutions?
Both Self-Managed application and MTS turnkey solution have their advantages. What is important to us is that we can offer different solutions that best suit our clients' needs. Self-Managed offers numerous options for clients who want more autonomy and more advanced customisation. I can't stress enough that for this type of operation, the client has to have an experienced Trading team - we on NSoft's end provide the tool for the client's independent operations and management.
On the other hand, MTS represents turnkey solutions with a revenue share model. Clients get the full-service package that includes trading, so the risk is mitigated, and the fixed costs are almost non-existent. It doesn't mean that the system is rigid. On the contrary - we have stepped forward in terms of flexibility, so it is possible to manage risks effectively using the ITS tool. Profit margins are also configurable upon different criteria, which enables granulation of the offer. The early odds option allows operators to set their odds for specific matches.
Vision software is an added value to the Seven Sportsbook. What is the status quo?
Seven is the first betting platform that integrated and harnessed the power of AI video analytics. NSoft Vision, a smart Video Management System, is in-house software for different businesses. We see great potential in betting and casinos, so the focus is on this.
Vision can significantly improve the overall risk management in retail by timely detecting and notifying that flagged, dangerous, or minor player is in the betting shop or is about to use a betting terminal.
It is a great retail analytics and fraud prevention solution.
AI plays a very significant role in further software development. I am pleased NSoft has a dedicated team whose work and know-how are embroidered into our applications.
What are novelties in Sportsbook software?
I have mentioned the Next Gen Seven Sportsbook as a long-term goal, so it consumes a significant portion of our time and resources.
It's almost impossible to sum up such a large-scale project in one sentence, but in short, we are working on an application that can run by combining different feeds and streams in MTS or Self-Managed mode. We pay special attention to the granularity of the offer, so the AI component or trader itself will be able to create a personalised offer on the player's level. I'm not just talking about favoured sports, competitions, leagues, or clubs, but also the odds.
Naturally, it will be accompanied by a new UX/UI and a new bonus engine. We will improve the platform's modularity and scalability on the technical side.
How do push notifications change punters' experience?
Push notifications have advanced user experience as a player now doesn't have to dig for information. They get it on their devices. Nevertheless, as good as they are, push notifications must be used mindfully, as global research clearly states that some users find them annoying. That said, it is crucial to enable customer flexibility to choose which type of notification he wants to receive, whether it's the results of the games, info on bonuses, promotions, or something else.
Delivering personalised, highly relevant content has a measurable effect on app retention and revenue.
We've put our trust in Xtremepush, which, combined with Optimove CRM, offers a perfect solution for boosting players' engagement.
NSoft Sportsbook for land-based business is very good, but how good is it actually? What makes it so appealing for the operators?
Retail is NSoft's stronghold. We have started with retail on our old NAB platform and applied experience to the Seven platform. It's no wonder that we are recognised as a strong retail provider. We have gone a long way from being a retail provider exclusively. If we talk about Sportsbook specifically, almost 60% of turnover comes from the online channels with constant, steady growth.
We are very proud of our client portfolio in retail. If I have to emphasise one thing that differentiates NSoft from the competition, that would be our extensive Device management. The tooling reduces fieldwork to a bare minimum as it offers many great remote configuration possibilities. Simple remote setup of different games on different screens in any given branch is undoubtedly something every land-based betting operator hopes for.
FIFA World Cup is a thrilling event we are eagerly awaiting. How significant sporting events affect business? Is NSoft ready for football fever?
Large-scale competitions bring high engagement of sports fans. It is also visible in sports betting. We always see a turnover boost, as such events in sports betting are accompanied by sharp profit margins. It means attractive odds, thus higher average pay-in.
As a turnkey software solution provider, we enable adjusted web layouts for our clients to celebrate the World Cup. Attractive odds and bonuses and early adoption of outrights and special bets into the offer drive players' engagement.
The schedule of the matches in the group stages, where we enjoy four games in different timeslots, is a holy grail for live betting. Events like the FIFA World Cup are bursting with exciting matches. It means that it is time for Bet Builder functionally to shine as it allows punters to combine several markets within one match. We enable this functionally on every delivery channel.
In the end, success depends on the results, but one should not look at this type of competition only through the prism of profit but as an opportunity to deliver added value to the punters.
The punters are at the centre of all our efforts to deliver the best possible level of entertainment.
Tags:
Didn't Find What You're Looking For?
Our team will be happy to guide you through our products and services.
Contact us