Interviews & Editorials
Women in iGaming business: Danijela Krezic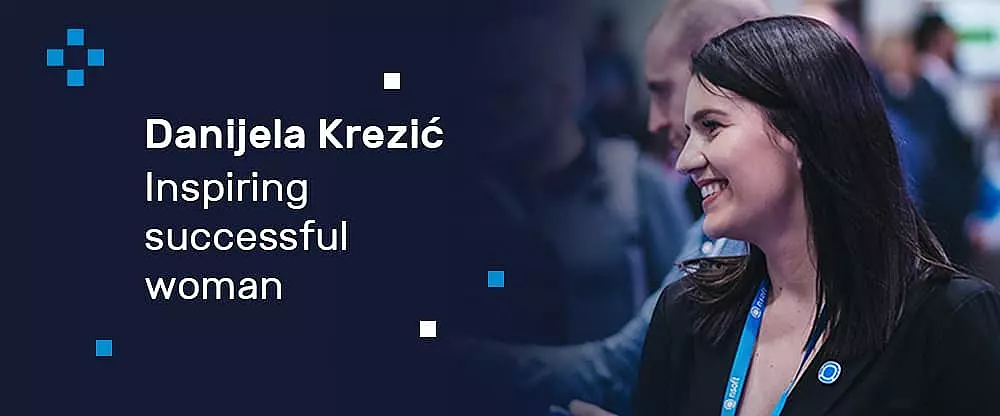 One of us, yet never ahead of us
International Women's Day is always an opportunity to celebrate women in business - in our case women in iGaming business.
And what better way to celebrate it than to shine a light on Ms. NSoft's founder - Danijela Krezic who has contributed to the company with her talent, hard work, and intuition.
The head of strong women squad
Fueled by caffeine and passion, Danijela's morning networking is focused on achieving something fresh and new for NSoft's business - she is a dedicated mother of two sons, a wife and a business owner in her early thirties.
An NSoft IT Woman doesn't only illustrate scientific facts of possibility to enter predominantly men spheres. It seeks to promote inquiry, inventiveness and accessibility in IT, making it open to all, in particular young women.
Stereotypes surrounding the types of roles available in the tech industry, and iGaming in particular, have added to the steady decline of women entering the tech workforce. NSoft is not a stereotype company with its 60 women holding different positions, from C-level, developers, data specialists, sales crew, administration, facility officers, to legal, marketing, HR and finance - in every NSoft's department there is a woman. And in name of NSoft's 60 soft souls, it is important to share our two cents on the issue.
NSoft - iGaming innovation hub
It's 2020 and NSoft is a provider of superior online gaming solutions for iGaming operators. The business was founded in 2008 and has since emerged as one of the industry's most respected and acclaimed suppliers. It currently provides gaming content to some of the world's leading operators from its offices in Bosnia and Herzegovina and Croatia, Nigeria, SAR, Costa Rica, and Singapore. NSoft product palette includes virtual games, sportsbook software, and a turnkey gaming management platform for retail betting shops, gaming terminals, web and mobile application channels.
And what is now almost 300 people show used to be Igor and Danijela's dream. Literally, like all success stories, this one has started from a garage too.
Work to make yourself proud
Danijela started working as one of 6 employees in the company in 2008 supervising finance and administration.
In 2013 she is taking over her new duties of client and event management as a member of NSoft's Marketing team, she is one of us - yet never ahead of us. NSoft's tremendous growth can be perceived through the fact that she started with a booth of 12m2 at ICE London, the biggest iGaming trade show, and now the booth is spreading on over 280m2 where NSoft team of 40 people is hosting interested stakeholders during this must-attend three-day event every year. Danijela is planning this event into the smallest details since she wants NSoft's sales team to build and grow meaningful connections and advance the NSoft's vision and prosperity. Her networking abilities together with deep understanding of the marketing trends and the support of the overall company structure have set the foundation of NSoft's future client and network base. Internally, she is the one to insist on cooperation between the different company departments - HR, Admin, Finance, Legal and other business units.
Danijela's deep industry knowledge has resulted in a strong relationship with Sportradar, media partners and trade show organizers.
Industry's know-how
At the same time, Danijela is supervising NSoft's sister company, Sync Central Group consisting of Sync - a company offering top-notch equipment and gadgets together with Sync Media that offers services of multimedia production and Sync renting - the property management agency. She is in charge of financial management and strategic planning that ensures the companies' sustainable growth. Budgeting and budget supervision are her passion due to her meticulousness and engagement abilities.
Ever since the idea dated in 2008, the idea behind the NSoft's success story, she has and is participating in all strategic decisions meant to advance the company's focus and prosperity. Another important segment of Daniela's personality is, clearly, the care for her employees but also for people within the community. Thus, apart from the business sphere, NSoft has always had a sensitivity for the ones in need, NOKT is NSoft's charity division, whose one of the founders is Danijela herself.
Danijela is not the only woman that successfully balances the private and business segments of her life, NSoft women in iGaming business have mastered that skill thanks to the incentive and inclusive work environment. However, society has its expectations - we should repress our vulnerable emotions and yet remain beautiful caring women who retain their youth and energy for the people around us. It is certainly difficult, but yet not impossible. Living NSoft's life allows our 60 women to actively participate in the company's core vision statement: We change Entertainment, Security and Health with Technology.
In case you want to get in touch with our team and see yourself what these 60 powerful women are capable of doing, contact our Sales team at [email protected].
Tags:
Didn't Find What You're Looking For?
Our team will be happy to guide you through our products and services.
Contact us