Interviews & Editorials
2020 from the NSoft's Trading team perspective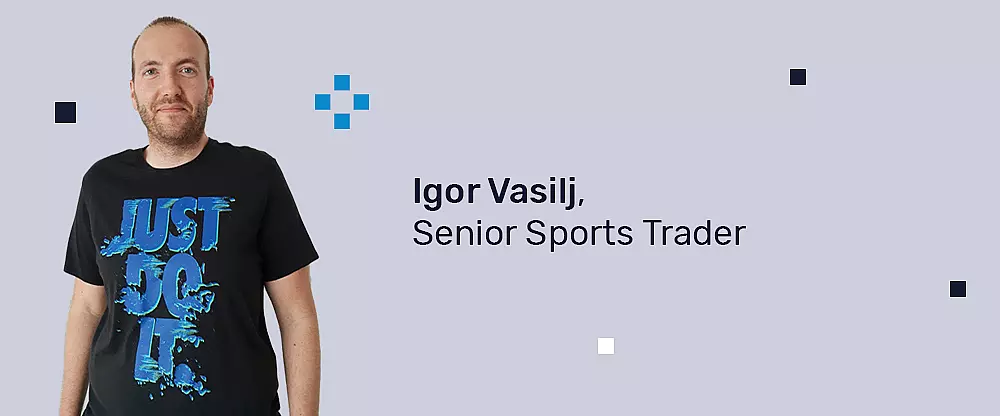 Devotion to preserve the sport's integrity
Igor Vasilj, Senior Sports Trader: The Trading team is in charge of supporting sports betting products throughout the year.
NSoft's company vision "We change Entertainment, Security and Health with Technology" brings augmented responsibility of underpinning it in every segment of its reality, both with products and people community.
This is a quite dynamic job, it is fairly fast-paced and requires constant adaptation to the new challenges posed by the gambling industry. Daily tasks include maintaining the Pre-Match and In-Play offer, helping clients with suggestions for liability, odds key and margin settings. After the client starts production, risk monitoring and management are performed on a daily basis as well. In order to try to bring the sport as close as possible to the punters and in cooperation with Betradar's team, the behavior of punters and their habits is being thoroughly analyzed. Expectations in the Sportsbook business are always quite high, nothing is left to chance and the team is available 24/7.
Expectations from 2020
The year 2020 was a year of great expectations in terms of sports. After all, that's how it started, the successfully completed Australian Open and Super Bowl were the best possible overture to everything expected in 2020. Just the step away from the tense championships' season finales, the sport has stopped. It was necessary to detect the alternative solutions. Countries like Nicaragua, Belarus, Tajikistan have suddenly found themselves in the focus of the wider football public and became the main representatives of football in the market. Price management has become challenging, because the information used to determine odds such as injuries, current form, etc. has become quite scanty affecting opening and closing lines. It is worth mentioning that table tennis has become one of the most interesting sports on the market generating 30% of the payments in total.
Classic esports like CS, LoL and Dota2 have finally found their way to the broader audience. It was particularly interesting to witness the success of sport-based video games played on various consoles, mostly FIFA, PES and NBA2K. These three games alone generated an average of more than 800 matches in the daily offer, which is an incredible achievement. Great organization has taken everything to a different level, and social networks and stream platforms have become commonplace. Over the past six weeks, total esports revenue has been recorded as 17%, this percentage will certainly contribute to this type of entertainment remaining in focus in the post-pandemic era.
What is to follow in 2020?
Sports Federations are announcing the championships to be played at a much faster pace, which will bring much more real action. In the past two months NSoft products have undergone extensive polishing, the offer was enriched with new markets, and in cooperation with Betradar a thorough analysis of clients' businesses and VIP punters was performed.
The upcoming period will be an opportunity for punters to increase their bankroll. The players and traders will face a lot of novelties and this will open up great chances for sharp punters to develop their winning strategy.
To roughly summarize this year, it could be said that the two biggest losers of this year are the EURO and the Summer Olympics, whose dates have been postponed one year forward. And the biggest winner could be the esports organization, whose 7 billion dollars worth value from 2019, according to some announcements, could double this year. Although their main tournaments have also been postponed for next year, the industry has shown that it is extremely flexible and ready to do great things in a short period of time.
The Trading team's perspective
One of the key postulates of NSoft's Trading team is the devotion to preserve the sport's integrity. It is not as, often, wrongly perceived, to maximize profit and collect vigorish. One important part of this process is the fight against fraud and potential match-fixing. The protection of sports and all athletes is imperative, and consequently the protection of punters from putting their money on potentially rigged matches.
Want to find out more about NSoft Pre-Match and In-Play betting? Contact our sales team at [email protected] and enjoy the top-notch products.
Tags:
Didn't Find What You're Looking For?
Our team will be happy to guide you through our products and services.
Contact us