Interviews & Editorials
Dario Jurčić: Ground rules we set in 2020 will help us navigate 2021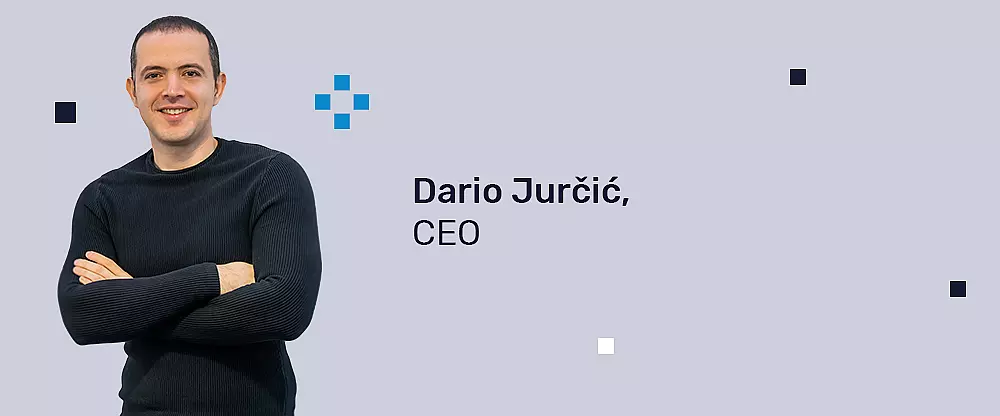 Executive overview of NSoft's strategy, customers, employees and plans
by Dario Jurčić, CEO of NSoft
At the dawn of 2021, after a tough year that changed us personally and businesswise, Mr Dario Jurčić, CEO of NSoft has given the executive overview of NSoft's strategy, customers, employees and plans.
The year 2020 - a game changer!
To say that 2020 was an interesting year would definitely be an understatement. When I think about all the planning we did back in 2019, and how much have the plans changed in the meantime, reminds me how in life you can not ever prepare for everything. We have learned, or better said reminded that we should expect the unexpected.
The year 2020 started strong. Our plans were being fulfilled in Q1 2020, and we surpassed the budget expectations.
The ICE event was incredible - the biggest ever for our company, and it was just one milestone on our road to success in 2020.
But the pandemic stunned us. The news of a virus in far China was worrisome but somehow felt so distant to us. Not much later, all of us had to watch in disbelief as panic spread throughout the European continent and country by country, market by market, kept shutting down.
Strong retail presence: what once was an advantage, can easily become a challenge
NSoft leaned heavily on retail. We were always very strong in retail as the company kicked off in the Balkans region where this is a natural way of doing business. Our product development addressed the customers' needs by developing best-in-class betting features for the retail channel. With steady growth at familiar, European market, experience and vision, we used a similar recipe to spread around the world to more than 30 countries. We were perfectly happy with our choice - to be the best in retail and support omnichannel betting businesses. With Seven platform, we started to expand to mobile, betting terminals and web channels, but we were never an "online first" company. It was always retail first.
Obviously, during the pandemic and complete lockdown at all our markets, the retail first strategy has become a problem. Yes, the worldwide pandemic was a scenario from an apocalyptic movie, and no one could anticipate it. Still, this confirms the old proverb that you shouldn't keep all eggs in one basket, something we learned the hard way, but quickly and for the better.
We are all in this together
Our partners were in a similar situation. Not many of them were oriented to online business and lockdown implied a complete loss of business. For NSoft, at that time, it meant around 95% loss. After the initial shock, we regrouped and got back to the drawing board to forge a plan on how to handle the situation best and help our partners in the process.
We came up with a simple plan that turned out to be quite successful. First, we needed to help our partners switch online as soon as possible. Second, we needed to channel our forces internally to be more oriented towards online business (back then, the forecasts of how long lockdowns would last were bleak). Finally, we needed to speed up some online oriented projects and product features and shift all our attention to this channel.
By helping the operators now, we are creating a foundation for a future successful business
We launched a Switch Online campaign where we offered all NSoft products online (except sportsbook, which was non-existent at the time) for free for new and existing customers. This initiative was highly appreciated by all of them, and this campaign had one more side effect. We were seen not just as a respectful partner, but the partner that cares. Our team worked around the clock to make this happen (I really cannot thank all of them enough for all the hard work and bravery they showed during this period, and are still showing every single day).
Meanwhile, we reorganized our operations to support the transition according to our planned action points. The campaign proved to be very successful. It really provided much-needed help to the customers. It was a tremendous learning experience for us, as well.
The campaign also provided us with a sense of control in a new, highly unpredictable and threatening situation.
It is possible to have it all in harmony
Shortly after the reorganization, our approach to product development in H2 2020, 2021 and the years to come crystallized: become online first, heavily invest in sportsbook platform, transition and adapt successful products from retail to the web and invest in casino gaming. This general direction of our business is something we have already started to implement. Now we're sure it's a safe bet for the future. Respecting our "retail legacy" is also part of the plan, but it's safe to say that we are already ahead of the competition in retail and we will pace ourselves accordingly.
The first quarter of 2021 will show just how hard we were working on this: a new version of our most successful game Lucky Six will be released, together with new Lightning Lucky Six and Roulette (online only products), Cashout feature for the Sportsbook, Live v2, ten casino games and so much more.
New tasks, new responsibilities on a personal level
In October 2020, after several years of being a Board member, I was appointed to the Chief Executive Officer position at NSoft. So, for me, the year 2020 was a year of change in many ways.
I am so humbled and honoured to represent all the creative, ingenuine and good people of NSoft, personally participate in crafting and sustaining the company's vision, working closely with our partners by supporting their business needs and bringing them top-notch products. It is a tremendous opportunity and joy. Needless to say that 2020 put to the test all we have done so far, and in my case, it has also tested me personally more than ever.
2020 reminded us that humans are companies' most valuable asset
Speaking of 2021, I believe the industry will grow and continue to mature and expand to new regions. Caring for humans, whether they are our internal stakeholders, employees or players who find our games entertaining, will be the essence of the new era, the post-COVID era. NSoft will be there, holding by our vision, caring about the products and partners, celebrating every employee of this company. So stay tuned and do not miss the opportunity to be a part of our joint success.
Tags:
Didn't Find What You're Looking For?
Our team will be happy to guide you through our products and services.
Contact us