Interviews & Editorials
NSoft's founder, Igor Krezic, details company's strategic orientation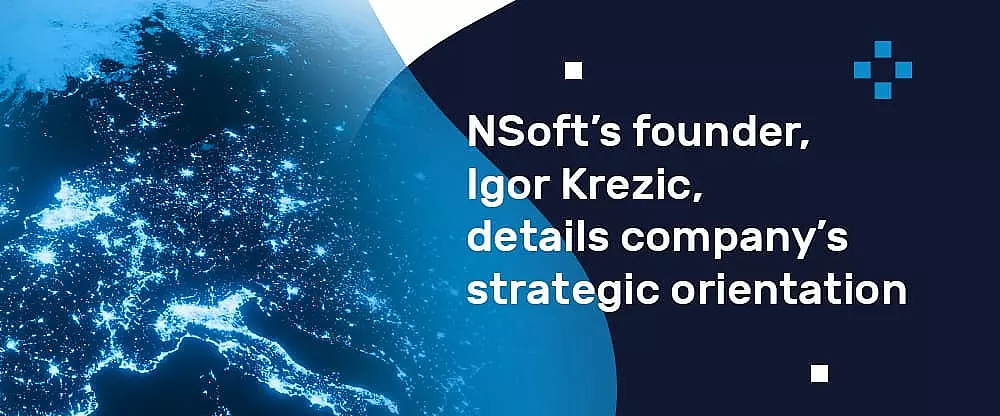 We change Entertainment, Security and Health with Technology #
Igor Krezic, the founder of NSoft, emphasizing the core NSoft's standpoints and product values shared his thoughts prior to ICE 2020.

NSoft is a provider of superior online gaming solutions for igaming operators. The business was founded in 2008 and has since emerged as one of the industry's most respected and acclaimed suppliers. It currently provides gaming content to some of the world's leading operators from its offices in Bosnia and Herzegovina and Croatia, Nigeria, SAR, Costa Rica, and Singapore. NSoft product palette includes virtual games, sportsbook software, and a turnkey gaming management platform for retail betting shops, gaming terminals, web and mobile application channels. Games include virtual races and sports matches, lottery games, virtual table games, and sports betting. As the online betting industry has grown exponentially in recent years, so too has NSoft's global footprint. Deloitte has consecutively named NSoft a Fast 50 tech company in Central Europe in the past three years.
NSoft is the company that does relentlessly focus on its core business - betting, but yet applies its know-how on diversified companies and products. That's the reason behind the company's core vision statement: We change Entertainment, Security and Health with Technology.
Unleash your company's vision with NSoft products #
Our products do reflect such a statement throughout the portfolio that includes an omnichannel Seven platform a comprehensive, turnkey platform for managing core betting business operations. Betting operators who were previously juggling a plethora of games and sportsbooks from different providers can now consolidate everything on NSoft's platform. The platform handles users, transactions and reports on an intuitive framework to aggregate betting and gaming products from third-party vendors like NSoft.
Security has never been an afterthought for NSoft. Realizing the security early, NSoft has developed an advanced and easy-to-use software enhanced with AI solutions to deliver multiple business applications. NSoft Vision is a complex and multidimensional system that rounds up the modern retail segment of betting and provides player counting, player segmentation, demographics, high-interest areas per location, etc. It's the system that tackles many fronts simultaneously.
In today's business, the companies are being increasingly challenged with efforts to reach all set financial targets, and at the same time to comply with complex regulatory requirements.
Gambling regulation is one of the most demanding areas for regulation in every legal system. If this fact is complemented by the fact that NSoft operates in over 35 countries (35 different legal systems) then it's easily understandable that NSoft's high regulatory challenges require continuous dedication.
Being a real-world tech company NSoft's business is constantly evolving. This evolution started with NSoft's most popular draw-based game Lucky Six and continued with more high value-added projects. Sometimes the evolution makes sense: it is possible to see how you get from making draw-based games to creating an omnichannel platform as NSoft Seven, to delivering a sophisticated AI surveillance system to expanding globally - all driven by the complexity of the customers' requirements. A decade of experience with operators has kept us ahead in customer service while satisfying the player's needs for adaptability and reliability. Putting a lot of effort into research, going and talking directly with the punters themselves, not only the operators, to get the best feedback possible has served us to become fully prepared to offer the complete omnichannel experience. It was an ultimate NSoft's goal - to become a one-stop-shop for sports betting operators and it resulted in NSoft's hardware division -Stark.
Stark - bringing tomorrow's technology today #
NSoft is proudly associated with its sister-company Stark that has grown to be the first-shop-stop for operators looking for quality, customization, branding and superior product performance. Stark offers an end-to-end betting terminal solution that is at the same time even the most cost-effective. The company combines best-in-class technology with human technical expertise to deliver a fully customizable SSBT.
The biggest proof of the quality of our terminals is the presence in Tier 1 of UK operators. Being present in such a regulated and competitive market positions Stark amongst the most trusted SSBT providers and justifies the statement of delivering tomorrow's technology today. One of the best-selling products is certainly T-1000 whose modularity allows different display options based on business preferences. Wall-T is yet another Stark's SSBT that offers various mounting options. Wall-T is being produced only as a single screen model while its functionalities are identical to the ones of the T-1000.
ICE London 2020 - a major B2B gaming event #
The future 2020 edition was the perfect place for NSoft to present its product portfolio backed by the latest cutting-edge technology and delivered by the industry experts. NSoft used this opportunity to present its disruptive technology of Seven platform that includes Vision and thus becomes the first and only platform in the world to have an integrated system for deanonymizing retail. The standalone platform itself is a game changer but having Vision on top of the Seven platform allows NSoft to shield its position as one of the most innovative companies within the industry.
NSoft also presented its brand new game - Virtual Penalty Shootout - the ultimate tiebreaker. This game is the perfect example of NSoft's disruptive technologies bringing together the thrill of the most exciting part of a football match into a virtual game.
Stark presented T-800 - its first terminal for a broader type of operators whose affordable price will result in elevated acceptance and market penetration.
The ICE 2020 event enabled NSoft to create invaluable partnerships and receive information about future trends in the industry as we are constantly trying to set higher standards. NSoft showcased its comprehensive suite of products including a full Sportsbook platform that includes Pre-Match Betting, Pre-Match Self-Managed, and In-Play Betting MTS together with Virtual Sports Betting, Draw-Based Games and NSoft Vision at ICE London, 4-6 February 2020.
In case you missed us at the show but you would like additional information on our solutions do not hesitate to contact our sales team at [email protected].
Stark solutions team members will be happy to answer all your inquiries on their SSBT's on [email protected].
NSoft was founded in 2008 and has since emerged as one of the industry's most respected and acclaimed suppliers. It currently provides gaming content to some of the world's leading operators from its offices in Bosnia and Herzegovina and Croatia, Nigeria, SAR, Costa Rica, and Singapore.
Tags:
Didn't Find What You're Looking For?
Our team will be happy to guide you through our products and services.
Contact us