Interviews & Editorials
LatAm: signs of regulatory change in betting and iGaming business
by Jakov Sopta, Head of Legal and Compliance and Carlos Vargas, Regional Sales Manager at NSoft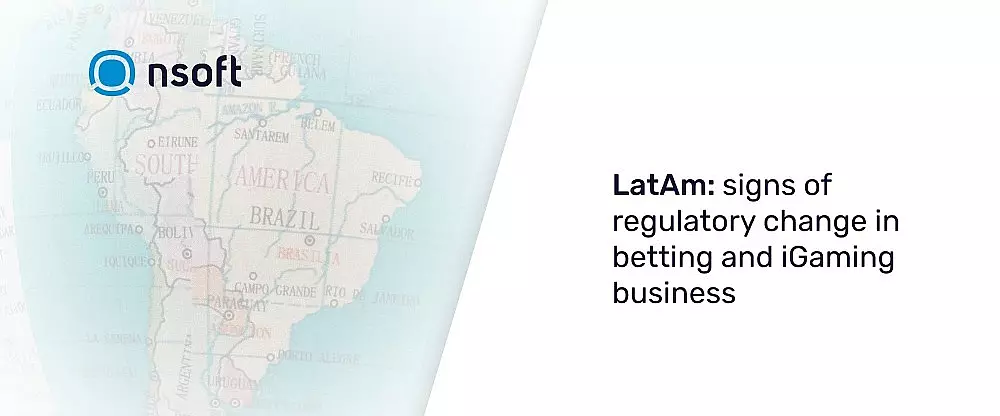 Which LatAm markets are showing the signs of regulatory change? What are some of the emerging gambling markets in Latin America and what developments can we expect to see in the near future?

Jakov Sopta, Head of Legal and Compliance and Carlos Vargas, Regional Sales Manager at NSoft tackled the issue for G3 magazine.
LatAm is clearly a promising market
Despite the backlash in the global economy in the last two years due to the COVID-19 pandemic and lockdown, we have slowly and successfully been growing in LatAm which shows the market's potential. The presence of so many of the major international suppliers with excellent localized products demonstrates what an important region Latin America is for the betting and gaming industry. NSoft's long-term retail experience is certainly an important asset for LatAm markets due to the retail preferences of its players.
Draw-based games and racers, especially horse racing games are in high demand here. NSoft's Virtual Sports games bring the most popular computer-generated races based on real sports events. Greyhounds, horses, cars, motorcycles, all of them can be found in our portfolio.
Another notable accomplishment for us was NSoft being shortlisted in seven categories for the SBC Awards Latinoamerica 2021. These nominations surely highlighted our presence in this market as well as the true value of our products. We are very optimistic that 2022 will be an even better year and with the addition of new games and more products, we will continue to expand more in this market.
Emerging gambling markets in Latin America
Latin America has slowly become a strategically important region for operators and suppliers who are seeking out growth opportunities in newly regulating markets. Colombia, with its growing population of over 60 million people, has the potential to become one of the most important jurisdictions in the world. The country is now one of the bright spots in the region where the local government has created an efficient approach to ban illegal gambling. All of which has resulted in opening the online market.
The fact that sport is playing such an important role in the daily lives of Colombians leads me to believe that the market potential of betting is enormous.
The land of great diversity, Brazil is Latin America's first economy, eighth-largest economy worldwide, and it has a population of more than 200 million people. The country is indicating the largest potential as it has shown great technology adoption and a market full of business opportunities. For all of us who have been in the industry for a long time, we have always referred to Brazil as the sleeping giant because we have been waiting for the country to start displaying its full potential. Once Brazil becomes a regulated market, it could eventually rise to be the third biggest market in the global betting industry.
The most important regulatory changes
After years of wandering over the strategy of establishing a regulatory framework in Latin America, things have changed over the past year. Definitely, Colombia did open up the path for other countries and we are seeing changes in Mexico, Argentina and Brazil as well.
In 2016, the Colombian government enacted the eGaming Act which made online sports betting and online gambling legal. More recently in 2017, the Coljuegos legalized online sports betting exchanges along with virtual sports. This was one of the final steps needed to make Colombia one of the upper echelon countries to bet on sports while also making them one of the most progressive sports betting countries in South America. As long as the C-1611 (internet-operated games license) is authorized by Coljuegos, sports betting is good to go.
Since December 2018, it is possible to legalize online fixed odds betting and to obtain licenses in Brazil. At the same time, a new law was also adopted in Argentina for the Buenos Aires region, where it became possible to obtain licenses in a manner similar to that in the European Union.
After a couple of years, gradually, a generation of land-based casino players started creating accounts with some European providers who started realizing there was a lot of potential in the LatAm area.
And then it all started: Argentina, Mexico, Venezuela, Peru and the Caribbean. And ever since it started growing exponentially - poker, live casino, virtual games, sports, slots, and bingo.
The industry has praised the change and got on board with trade shows, conferences and hub organizers. Brands from all over the globe started to establish their presence in Latin America knowing that nowadays it is heading to become a more regulated market. Furthermore, the biggest countries such as Argentina, Peru and Brazil are following Colombia's example and moving quickly in order to become the key markets for providers all over the world.
Tags:
Didn't Find What You're Looking For?
Our team will be happy to guide you through our products and services.
Contact us