Interviews & Editorials
All eyes on Brazil - the largest market potential in Latin America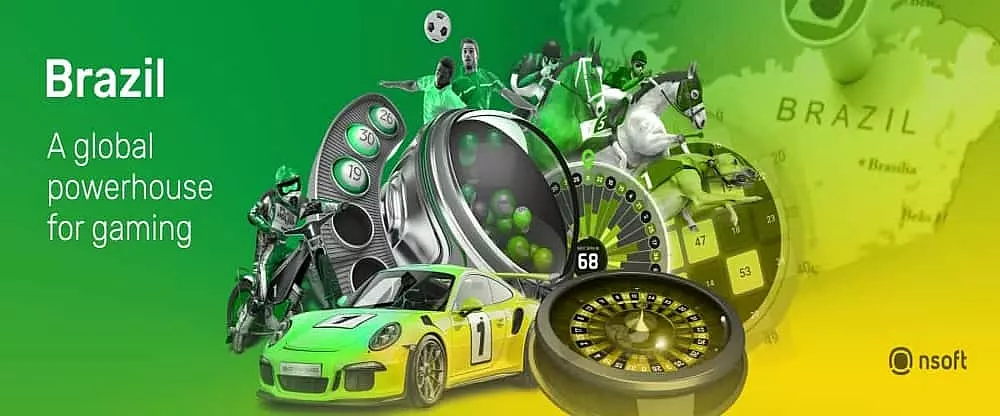 Exploring opportunities in new and emerging market #
NSoft's business operations marked growth in all the key areas despite recent global COVID-19 pandemic and lockdown. For years NSoft has been exploring opportunities in new and emerging market potentials, such as Africa and Latin America, while also staying focused on strengthening its presence and working on new projects in the traditionally strong CEE market.
NSoft's retail long-term experience is certainly an important asset for LatAm markets due to the retail preferences of its players. According to iGaming experts, Brazil could develop into one of the world's largest betting and gaming markets. We shared thoughts on the LatAm region and Brazil with Mr. Carlos Vargas, NSoft's Regional Sales Manager, who analysed the strengths which characterise the Brazilian market.

Brazil - Latin America's strategically largest market potential
#
The land of great diversity, Brazil is Latin America's first economy, eighth-largest economy worldwide, and it has a population of more than two hundred million people. The nation's burgeoning cities, huge hydroelectric and industrial complexes, mines, and fertile farmlands make it one of the world's major economies. Through its development, the country has shown great technology adoption and a market full of business opportunities.
"A combination of a sports-centric culture and improved internet infrastructure present new opportunities for remote gaming. Football is an integral part of Brazilian culture, it leads the way from the most downtrodden favelas to the most luxurious neighborhoods. Brazil can certainly be classified as a country that promotes the development of sport. Before the global COVID-19 pandemic, 200,000 Brazilians were traveling to foreign casinos to gamble every month. Only Las Vegas receives about 150,000 Brazilians a year. For all of us who have been in the industry for a long time, we have always referred to Brazil as the sleeping giant because we have been waiting for the country to start displaying its full potential. Once Brazil becomes a regulated market, it could eventually rise to being the third biggest market in the global betting industry," explains Mr. Vargas.
What can operators expect from legislation in Brazil?
Although the law is still not regulated, since June 2020, the Brazilian law in force allows online sporting betting on fixed-odds bets. Jair Bolsonaro's government approved the qualification of the sports lottery in the Investment Partnership Program (PPI). The privatization of the public lottery service called 'fixed-odds bets' is planned to grant concessions for operators to provide this service and collect taxes for this vertical. Which means that you can bet with the certainty of the amount that will be received if you win the bet. Brazil's Ministry of Economy has been working closely with the Brazilian Bank for Economic and Social Development on the draft regulation and by the end of this year, we could have implemented regulations in Brazil.
"Gambling with jogo do bicho (a lottery-type drawing bingo game) has been illegal in Brazil since the 1940s. For the last couple of years, the Brazilian authorities started approving different laws to allow certain gambling activities. This has been a long and painful process for Brazil.
As long as operations are not regulated, all that money will go away from Brazil. I personally consider that Brazil has the potential to be one of the best and biggest markets in the world. We'll most definitely see more providers and operators starting to roll the ball into this market. Other Latin America's markets, countries such as Mexico, Colombia and Panama have had regulated betting for a long time, and the time has come for Brazil to also step up in this game.", adds Carlos.
Strong racing heritage in LatAm reflects the habits of punters #
NSoft's rich experience in retail is certainly an important asset for the Brazilian market due to the popularity of land-based betting operators and preferences of its players. While the LatAm's gambling market was dominated by land-based betting operators so far, the number of online players has been growing quickly with the spread of smartphones and mobile data coverage.
Carlos ensured: "All over the continent, Latinos have this passion for racing. Whether is greyhound or horses, Brazil especially has a long history of crowded tracks like Hipódromo da Gávea in Rio de Janeiro, Hipodromo de Cidade Jardim in São Paulo, Hipódromo do Cristalin Porto Alegre and Hipodromo do Taruma, Curitiba. I expect that NSoft's virtual games like Virtual Horse Races and Greyhound Races will raise excitement among players with their realistic animations and numerous bonus options."
One of the key aspects about NSoft is the flexibility and modularity of its product portfolio. The quality of NSoft's virtual games portfolio will definitely satisfy the highest market demands while the complete Sportsbook product and long term cooperation with Sportradar are to guarantee the deep expertise of NSoft's development team.
"In my experience, clients tend to choose NSoft`s Sportsbook solution as it is a highly customizable sports betting platform requiring zero initial costs - it is an ultimate turnkey solution for sports betting companies. We also offer seamless integration, sports stats and analytics and in-house bookies followed by risk management. A special feature of In-Play MTS is a live visualisation on screens in clients´ retail network. It allows match streaming. NSoft live visualisation is a combination of live streams, live statistics and live odds, and much more – everything on a single screen. Our Sportsbook has everything to satisfy the needs of Brazilian punters and boost their passion for football", stated Carlos.
NSoft's diverse product portfolio will most certainly lead us to expansion on Brazilian market where the gaming industry is growing rapidly. Find out more by reaching out to NSoft's Sales team at [email protected].
Tags:
Didn't Find What You're Looking For?
Our team will be happy to guide you through our products and services.
Contact us