Interviews & Editorials
Making the most of In-Play Betting with NSoft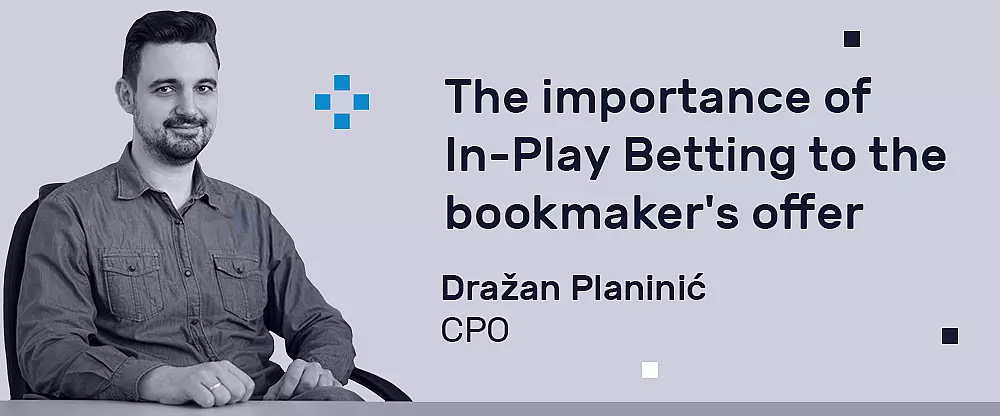 In-Play Betting - the fastest growing betting medium
Drazan Planinic, NSoft's CPO, shares his thoughts on the importance of In-Play Betting as the fastest growing betting medium.
Most of the bettors have an opinion of the outcome of the desired event before it even takes place. Since In-Play Betting takes place throughout the game the wagering becomes simplified and the punters can change their minds in accordance with the circumstances on the field.
The importance of In-Play Betting to the bookmaker's offer
The pace of life is constantly accelerating, people's attention span is getting shorter while the availability of different services is increasing. With that in mind, In-Play Betting becomes a completely logical betting product as it perfectly fits in with the general trends of products available on the market that offer instant entertainment/services/product/adrenaline. The modern lifestyle requires constant amusement and with definitely increasing usage of mobile phones and SSBTs enables in-play betting to reach more users as it encourages watching games while socializing. On the other hand, the speed and availability of the internet have technologically enabled a very rich in-play betting offer which is continuously being expanded with additional services (streaming, statistics, bet builder, ...). However, it's not a question of whether live betting is important, it is certainly necessary for modern bookmakers while, on the other hand, neglecting in-play betting products could be fatal for one's business (exceptions might occur due to the local regulations that do not allow live betting).
Why does In-Play MTS make sense?
It's pretty simple. Live MTS allows bookmakers to deal with the things that allow them to make a difference in the market:
Strong and targeted marketing as a keystone
Development of new markets or target groups
Strong brand creation
Investing in field operations
Improving the quality of communication with players
Bid and margin management
That would be only a segment of advantages that in-play betting offers to the bookmakers, while the complete Risk Management remains on the MTS side, in the hands of the experts who actively monitor the product together with the customer and adjust the risk parameters to optimize profits.
What are the advantages of NSoft's Live Betting MTS?
NSoft offers a turnkey solution based on odds provided by Betradar. Using our software enables operators to either fully rely on the offer provided by NSoft bookmakers (or providers) or opt for a custom selection. The simplicity of use, modern design with proven product profitability makes this product competitive on the market and a stable revenue generator.

Within Live MTS based on Betradar Unified Odds Feed punters will benefit from odds automatically adapted to a particular situation of the event that allows in-play betting until the very last second. Our live sports betting package covers 18 different sports and includes 20.000 live matches and 600+ unique markets per month. The new Unified Odds Feed offers an even greater offer of in-play markets, with a particular focus on the ''fast markets''.
Similarly to our Pre-Match MTS turnkey solution, Live turnkey solution within our Sportsbook platform offers similar benefits in terms of minimizing risk, reduction of operational costs, multi-language support and support for different odds types.
In-Play betting experience is available to our customers through all delivery channels, and the retail option with a large variety of different displays, including real-time visualization and live streaming of the match, brings the action from the field directly to the player and provides the customer with additional flexibility depending on the available number of screens in the shops.
It's important to emphasize that NSoft's sister company - Stark, that produces SSBTs, has grown to be the first-shop-stop for operators looking for quality, customization, branding and superior product performance. Stark offers an end-to-end betting terminal solution that is at the same time even the most cost-effective and having NSoft's Live Betting on Stark's SSBT will certainly increase player retention.
One of the biggest challenges in developing an In-Play Betting Product was how to build a compact omnichannel solution and secure equal supply and equal UX on any channel. I have to say that NSoft did the right thing here, where we provide a one-stop-shop for bookmakers (web, retail, SSBT's and mobile) for all our products (including In-Play). Specifically for In-Play betting, this means:
Fully automated offer in market-friendly shops, on the principle - switch on the TV with your In-Play offer with no need of extra setups
24/7 offer management from NSoft trading team adjusted to the local market
Active Risk and Liability management from the NSoft trading team that suits companies growing their business over time
Betradar Live Channel Retail 24/7 retail streaming coverage keeping punters focused on Live Betting in the shop
Possibility to have up to 10 TV's in one betshop with different match offer displayed
Different TV display layout - putting emphasis on one attractive match on one streamed TV with lots of markets, or presenting up to 20 matches with the most attractive markets.
Let's put it simply - NSoft's In-Play Betting is out-of-the-box and managed by the NSoft trading team. The whole NSoft's setup is tied to the points mentioned above, you (the bookmaker) handle the business (marketing and punters) and we (NSoft) will do the rest.
Some of our long-standing clients and partners such as Balkan Bet, Superbet, Fortuna, Športna Loterija, Lutrija BiH prove that trust-based commitment with NSoft's dependable team that communicates well and delivers exceptional software generates long-term value.
NSoft - the iGaming provider will be showcasing its comprehensive suite of products including a full Sportsbook platform that includes Pre-Match Betting, Pre-Match Self-Managed, and In-Play Betting MTS together with Virtual Sports Betting, Draw-Based Games and NSoft Vision at ICE London.
Meet us at ICE London, 4-6 February 2020 at our impressive Stand S1-260, with the demo zones. Book a meeting with our team or contact [email protected]. Stark solutions team members will be happy to answer all your inquiries on their SSBT's, book a meeting with them at [email protected].
Tags:
Didn't Find What You're Looking For?
Our team will be happy to guide you through our products and services.
Contact us