Interviews & Editorials
NSoft exceeds growth expectations, delivering strong Q4 2021 results
Q4 2021 business overview by Drazan Planinic, COO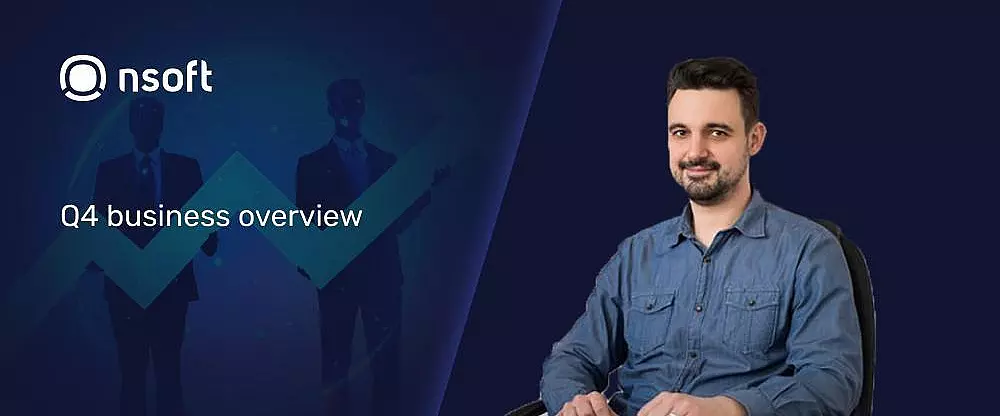 The dawn of the second COVID-19 year was all but the COVID-coloured. The entire 2021 was shaped to fit our further development and the expansion of the business, therefore the last quarter of the year was a worthy closure. The markets where NSoft is traditionally strong continued to grow steadily with new customers, some returning customers and enhancing co-operation with the existing ones. Fourth-quarter results reflect NSoft's strategic investments in its core product categories. The overall stake in Q4 2021 grew by 20% YoY and the number of tickets surpassed Q4 2020 data by 12%.
Stake growth by the distribution channels:
Land-based betting business: 22.5%

Online: 14.3%
Land-based vs online business ratio continued to improve in Q4 2021. A great portion of new business in 2021 was online with notable growth for some particular games. The most prominent was Roulette and Next Six draw-based games together with Virtual Penalty Shootout and Greyhound Races from the virtual sports betting and racers categories.

Optimove CRM Marketing Solution integrated into our Seven Sportsbook platform
We were closing the integration process with the industry-leading CRM Marketing Hub Optimove in the last quarter of 2021. The partnership with Optimove came as we aspire to provide the best-in-class solutions for betting operators to boost player lifetime value, boost retention rates, and significantly scale multi-channel personalization. Balkan Bet, a long-time client of ours, was the first one to introduce Optimove's AI-mapped CRM. The system allows the operator to maximise players' lifetime value by micro-segmenting its audience and ensuring that every player is approached with the most personal message, every given time across every channel. The time of Dear Customer is long gone. Both the players and the operators know better and are aware that personalisation of the message and the delivery of the exact content player needs is imperative. Players don't want to be bothered with irrelevant information.
T-1000 Self-Service Betting Terminal on US Market
In the previous quarterly update, I have announced the partnership with Suzohapp, a world leader in the manufacturing and distribution of gaming, amusement and sports betting products. Suzohapp carries a vast portfolio of components available for immediate distribution and for developing custom-built solutions. The company is our representative for the US market and already in Q4 2021, T-1000, Stark's premium self-service betting terminals, were sold to the first buyers.
The certification of the terminal for the USA was done before in Q3 2021.
Industry recognition: GGA 2022 nomination in the category Retail Supplier of the year
In December 2021, we received one more confirmation of excellence. NSoft has been shortlisted for the Global Gaming Awards London 2022 in the Retail Supplier of the year category.
NSoft's betting platform serves more than 60,000 devices daily, with a 20% increase in the number of punters and it is used by clients across 5 continents. This decision was merited by unique solutions for the retail business such as Remote device management that provides a sense of presence in any given betting shop by having full control over devices and daily operations even if you are physically miles away from it. Once again we are honoured and humbled to be recognized as one of the industry's leading betting and gaming suppliers.
In total, NSoft has been shortlisted for 23 awards in 2021 in different categories - from Sportsbook and individual games to iGaming platform categories.

Lottery in Retail
In Q4 we have extended the Lottery to the retail channel as well. NSoft Lottery is provided through Betradar Unified Odds Feed (UOF), which covers 160+ lotteries from over 30 countries. Also, UOF minimises the possibilities of errors and disturbances in production. World lotteries have never been closer to the punters. Seven admin platform tool allows operators to choose the custom offer of tournaments and events for printing.
People@NSoft
As a result of Sales Boot Camp, an intense one-month-long programme for sales forces we have conducted during the course of October and November, we are richer for four new colleagues in our Business stream. New forces in Sales have already tackled the challenges of constant growth in clients and new markets.
We are immensely proud that our Employee Net Promoter Score (eNPS) increased to 61. This indicator represents the number of employees who would recommend their employer as a great place to work. The scale is ranging from -100 to +100 and is the ratio between employees detractors and employees promoters. The eNPS score above 50 is considered to be excellent so we are on the right track when it comes to the power of the team!
In general, hybrid work and clear business strategy and goals, together with healthy and stable corporate culture, helped us navigate throughout the entire 2021 with success.


Tags:
Didn't Find What You're Looking For?
Our team will be happy to guide you through our products and services.
Contact us