News
NSoft`s Next Six enhances Balkan Bet's Mobile app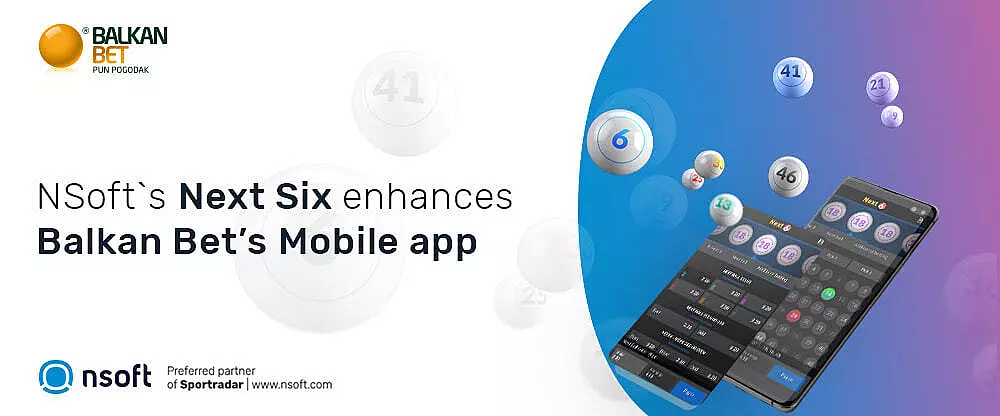 Serbian Balkan Bet has extended the existing offer of Virtual draw-based games. The players using Balkan Bet´s mobile app are now able to enjoy in Next Six.
Next Six enables players to bet which numbers will be drawn from the drum throughout the whole round providing the game with the characteristics of live betting – what makes it even more entertaining to the players. In combination with the channel of release – a Mobile app for Android – Next Six brings the joy of game and thrill of winning to the players. The players have a betshop in the palm of their hand.
"Balkan Bet and NSoft have long-lasting and successful cooperation behind numerous implemented products and projects. They have been using almost full NSoft's product portfolio palette which includes omnichannel solutions for Sportsbook – In Play and Pre-Match Betting together with Virtual Draw Based Games and Virtual Race Games. Balkan Bet was actually one of the first betting companies to introduce NSoft's Mobile App Solution and offer it to its players. They constantly tend to enrich the offer with new features and products which keeps them way ahead of the competition raising the player hospitality and providing an advanced player experience. Working with Balkan Bet provides NSoft with a powerful platform to showcase its products to the end users and the mutual cooperation based on trust provides us with valuable market feedback." commented Dalibor Ostojić, Regional Sales Manager.
Draw based games have made a long journey from manual to its virtual version. The virtualization has boosted this type of game in sense of speed and visual presentation making it become an essential type of game for every betting company.
Book a meeting with NSoft´s Sales team: contact us directly at [email protected].
Tags:
Didn't Find What You're Looking For?
Our team will be happy to guide you through our products and services.
Contact us