Interviews & Editorials
NSoft's CBO - What to expect from the US player?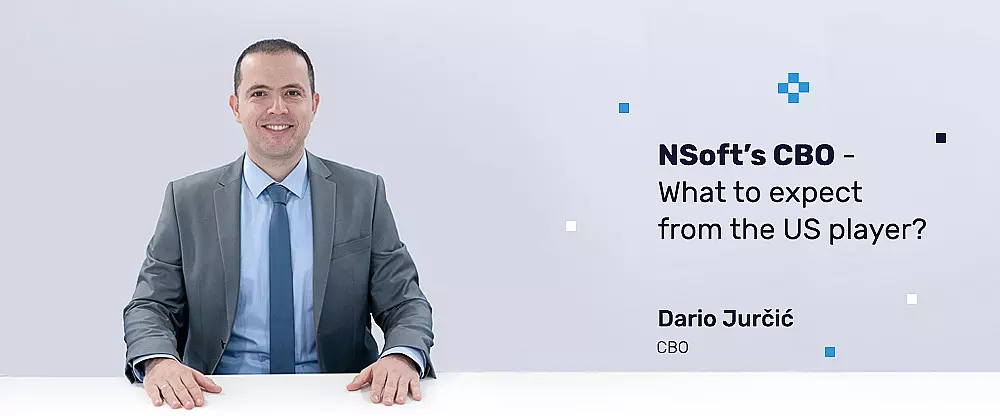 Every market is nuanced and unique in its own right, and this is no different from the emerging US market #
Dario Jurčić, the Chief Business Officer at NSoft, provides the company's insights into player needs and how operators can deliver exceptional service.
The world over, operators are finding themselves facing a plethora of unique challenges - Jurčić cites anti-money laundering and KYC, user experience and efficiency as just a few areas that NSoft is catering for based on operator demand.
This, he says, will be no different in the US, but the ways of delivering these experiences for players will.
New playing field #
Jurčić begins by explaining a fundamental distinction in the market: "The focus is, of course, much greater on the domestic US League/Sports (MLB, NFL, NBA, NHL, etc.) where the traffic is much higher than in the EU."
An example of this, he says, is March Madness, which generates a huge surge of interest. This March, Nevada set a new sportsbook handle record, generating a total handle of $596.8m (£462.3m/€535.6m) - a 14.4% year-on-year rise in amounts wagered, with a win percentage of 5.45%. Jurčić says: "This demand consequently means that operators need to have a platform that is scalable and can handle a large load"
However, he adds, the US is less complex than the European market in terms of the depth and breadth and the popularity of live betting. Despite this, operators have to consider state specifics.
"It is expected that this gap will be overcome very quickly and that US players will require the same complexity that the European market offers."
In Jurčić's view, it is also important to emphasise that the US market also works on sharper margins, and advanced risk management and analytics tools are necessary to ensure profitability.
While user experience is a modern challenge across the igaming industry, the US market has its own specifics to consider, such as US odds.
While the online space is filled with promise Jurčić adds that the retail segment is something operators used to the declining importance in the EU should adapt to in the US: "Even for the US market where most people are "web oriented" in terms of services and products, retail sports betting will play a major role in promoting and popularising this entertainment industry."
Developing on sports betting #
Beyond traditional sports betting, other verticals and betting styles present huge promise for operators, but Jurčić says serious thought needs to be put into how they deliver on these.
In the US market, fantasy sports are particularly popular and it will be interesting to monitor the further development of this segment.
"The US market has a high population and interest in daily fantasy sports (DFS) which is very specific to the region."
Jurčić also sees esports as an area of interest in US: "The synergies between big gaming companies (EA, Activision-Blizzard, Epic Games, etc.) can potentially result in much better cooperation with our industry. This market is, in regards to eSports maybe second to South Korea."
Additionally he says, in-play is a large focus for NSoft as they test the waters in the US market: "In-play betting is the fastest growing vertical globally, and I think that, in time, the US market will be the world's largest market for this. With Sportradar, we're preparing and have exclusive data with them for NBA and MLB. We also offer over 370k events in over 60 sports."
"The fact is that in-play on the US market will have to enter gradually with a limited market offer that will have to be expanded almost on a daily basis. NSoft delivers full control of its offer scaling to its customer so the operators do not have to wait for NSoft to enrich their In-play offer.
Room for growth #
With such promise in the existing verticals, expanding out to other areas is the natural next step, leveraging new technologies and betting styles.
He highlights the development of betting for other popular sports such as MMA and NASCAR, as well as other products the company currently offers: "NSoft offers a wide range of products, ranging from virtual racing to number-based virtual games. These particular verticals will be closely monitored since we believe they have abundant space for development."
With NSoft continuing its development and growth in the market, Jurčić provides insight into the future vision for iGaming in North America: "Obviously, regulation has been slow, but moving forward they should definitely drive development. This also goes for enabling new technologies such as AI.
"Using AI for hard labor manual jobs is certainly of interest in our industry due to the fact that AI can leverage the player segmentation, facilitate risk management, etc. NSoft is especially keen in working with these technologies and has been developing a NSoft Vision solution that can be applied to B&G precisely for KYC, player segmentation, fraud prevention, etc."
Tags:
Didn't Find What You're Looking For?
Our team will be happy to guide you through our products and services.
Contact us