Interviews & Editorials
10 Game-Changers: CasinoBeats' Game Innovation Spotlight Nominees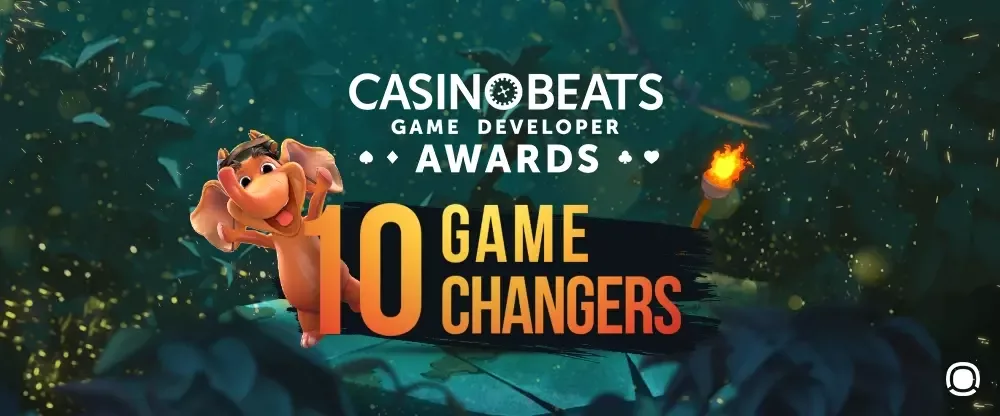 In the spotlight - 10 game-changers competing for the CasinoBeats Award #
The countdown is on for the CasinoBeats Game Developer Awards, set to take place on May 25th, 2023 in Malta. NSoft has been nominated for the Game Innovation Spotlight Award, highlighting our commitment to pushing boundaries in the field. However, we are not the only ones driving change in the sector. Join us as we take a closer look at the other nominees who are raising the bar for game development.
BONUS↑UP – 4THEPLAYER.COM: BONUS↑UP is a game mechanic designed to address the biggest gripes players have with bonus rounds. The longer you wait for a bonus, the better it gets - it's that simple! BONUS↑UP was first introduced in 3 Secret Cities and has been such a hit that it's now available in 4THEPLAYER'S other games like 4 Secret Pyramids.
World Wild Cup – Caleta Gaming: World Wild Cup brings the excitement of football to the world of online slot games, featuring 7 reels and an innovative cluster pays system that offers players a unique gameplay experience. The game's football-related imagery, combined with traditional playing card symbols, creates an immersive atmosphere for players. With a high volatility, players have the potential to earn significant rewards, while the game's 96% RTP ensures that players can enjoy extended gameplay.
LuckyTap™ – Design Works Gaming: LuckyTap™ is an easy-to-play game mechanic that blends luck and skill in a new and thrilling slot game experience. All you need is a quick tap or swipe on the symbols on your screen to unlock bonus rounds, free spins, and other exciting surprises. LuckyTap™ is the talk of the town in the gaming industry, and now you can try it out for yourself in Design Works Gaming's hottest slots like Super Pinata and Break the Bounty.
Coba – ELK Studios: Coba combines the fascinating world of Mayan civilization with exciting gameplay features. With its unique tumble mechanic, multiplying wilds, and four feature levels, Coba will test your skills and offer fantastic rewards. And for those who crave an extra rush of excitement, the X-iter features are just a click away! Playable on both desktop and mobile devices, this is the kind of game you won't want to miss.
SlotMasters – HungryBear Gaming: SlotMasters is the first industry-wide multiplayer slot tournament game where players can impact the outcomes of their opponents' spins. With up to three players competing for huge payouts and bonuses, SlotMasters guarantees an interactive and thrilling gaming experience that you won't find anywhere else.
Supermatch mechanical framework – Nailed It! Games: Supermatch platform is focused on creating innovative slot game experiences by introducing unique game mechanics and features. With amazing multiplier features, you'll not only get bigger rewards, but also more engagement and excitement as you spin those reels.
Smash Drops – NSoft: Not to toot our own horn, but Smash Drops is seriously cool! We've introduced a new game logic called PrizeDrop™ that combines skill and luck for an unbeatable gaming experience. The more boxes you crash, the higher your potential payout, and opening all 100 boxes could lead to massive winnings. But that's not all - we've added an extra bonus where your total win amount is multiplied by 100! With stunning graphics and sound effects, Smash Drops promises to be a revenue booster for casinos and a thrilling adventure for all gamers.
Scratch-a-Lot – Vibra Gaming: Scratch-a-Lot game takes the classic scratch card concept and brings it to life with vibrant themes and graphics. With instant prizes waiting to be won, the thrill is real from the very first scratch. Thanks to Vibra Gaming's innovative approach, Scratch-a-Lot is not just a slot game, it's also an instant lottery solution that's sure to make waves in the industry.
Cash Infinity™ – Wazdan: Cash Infinity™ is a game mechanic that keeps the adrenaline pumping and the payouts flowing. With Cash Infinity symbols, players can unlock an array of thrilling features, including more free spins, bigger payouts, and the highly coveted "Hold the Jackpot" bonus. For the ultimate Cash Infinity™ rush, try Wazdan's 9 Coins™, which boasts dynamic wilds, adjustable volatility, and the chance to win big.
Pile 'Em Up – Snowborn Games: Pile 'Em Up offers a unique Coin Booster feature, which can multiply coin wins by a whopping 10x! As the colorful reels spin, players unlock even more exciting bonus features, increasing their chances of hitting the ultimate jackpot with a maximum win of 7,500x their bet! With eye-catching graphics, exciting gameplay, and innovative features, it's easy to see why Pile 'Em Up has become a firm favorite among slot fans.
An esteemed panel of judges, including Simon Hammon from Relax Gaming and Laura Peretta from Betsson, will evaluate these games at the CasinoBeats Summit's Game Innovation Stage. The winner will be announced during the Game Developer Awards ceremony later that evening.
Don't miss the chance to connect with peers, explore cutting-edge technology, and learn from industry experts. It's the perfect opportunity to recognize hardworking, creative developers who are pushing the boundaries of casino gaming. Let's promote innovation and growth in the industry together. See you there!
Tags:
Didn't Find What You're Looking For?
Our team will be happy to guide you through our products and services.
Contact us