Interviews & Editorials
Advantages of NSoft's Turnkey Sports Betting Solution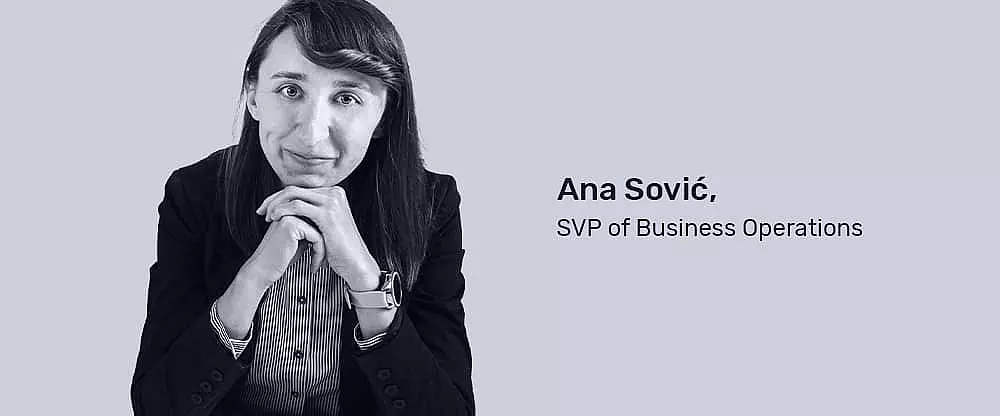 Turnkey Sports Betting Solution for betting operators and business management #
NSoft is a B2B software provider offering a complete package for betting business. This is possible thanks to a carefully planned and executed modular sports betting platform, a Turnkey Sports Betting Solution.
By Ana Sović, SVP Business Operations

Seven Turnkey Solution is a highly modular and customizable platform, and a genuine engine behind every betting product. NSoft's software architects built it using their vast knowledge and relying on different approaches to develop and optimise this software solution. They made the system, always having in mind Seven's future tasks like integrating new features and complying with different legal authorities.
The most important thing to emphasize is that NSoft's turnkey solution is based on a revenue share model that minimizes risk, reduces operational costs and brings benefits to different types of operators by allowing them to gain full control over their business operations, boost productivity and facilitate everyday operations in bet shops.

Seven iGaming Platform has been developed using cutting-edge technologies, and it offers the possibility of third party integrations of other platforms and providers. This single solution is responsible for managing core betting business operations not just for customers who are starting betting business from scratch but also for those who have their business operations already established. With joint effort the operators who are using someone else's solution can easily move to NSoft's turnkey solution. In that case they have our help with counseling, analysis of their shops, import of existing metadata and player base, all of which is focused to save their time by reducing the operational and manual work around the migration of existing data and maximize their revenue.
The Seven platform delivers NSoft's proprietary Sportsbook which is driven by Betradar data providing you with an extensive offer of more than 370 000 events from 60 different sports monthly together with corresponding odds and results.
Our extensive product portfolio is complemented by in-house developed Virtual and Casino games which guarantee realistic, dynamic and fast-paced gameplay. Based on the analysis and broad statistics, NSoft's virtual and casino games impress with multiple bonus options and betting markets designed to provide high revenues for our clients.
Full in-house B2B Support and Services #
NSoft's highly qualified and dedicated Support team has accumulated years of experience in the software and betting industry. When clients are in doubt about how to proceed, Support Operators are always there to lend a hand in installing and demonstrating usage of our application software providing detailed and clear explanations. Among the regular customer support duties available 24/7, monitoring the system and network parameters is performed constantly to prevent any issues before they potentially reach the customer.
Technical Account Managers also remain in communication with the client at all times and each client has their own dedicated account management. One of their daily tasks is to constantly analyze client's business operations and the habits of their players so that they can improve their business further and adjust the offer and business operations to clients' needs.
Remote Device Management in land-based business controls devices remotely through our software and provides real-time access to betting operations in shops, which consequently saves operators the time and money since they avoid visiting each shop because of the remote accessibility.
Risk Management tools enable operators to gain full control over the risk parameters, whether those are tournaments, market types, odds, players, retail shops, detection of the same tickets and many more. Special attention is dedicated to the Risk Management module which allows them to minimize the risk and increase the profit through the combination of automatic and manual tools. NSoft's team of highly skilled and experienced bookmakers is also available for counseling if the operator is new in the business and requires additional assistance.
The maintenance of the server infrastructure is under the control of NSoft's devoted teams and one of the services provided for clients which use our turnkey solution. Our experts are there to help build flexibility into the system when the client's engineering team faces the challenges of capacity planning and ensuring the right resources are in place to handle traffic demands.
The scalability of an application can be measured by the number of requests it can effectively support simultaneously. NSoft's Infrastructure team uses horizontal or vertical scaling at the point at which a client's application can no longer handle additional requests and it reaches the limit of its scalability. The complete setup is led by our Infrastructure team, which proactively monitors resource usage of our services to ensure the best results for the client.
The complete infrastructure can be built in the client's country if required by law, and after that further administration is supervised by NSoft's team.
Turnkey solution vs White label, which meets your business requirements? #
When operators want to improve their existing business operations by extending their offer with NSoft's products, or when they are just starting their online sports betting business, the Turnkey Sports Betting Solution is a better option for those operators wanting more control over their sports betting software.
For clients who have a third party platform and if they want to take our Solution, we provide help in terms of different operational tasks which are necessary to be undertaken: import of the player base, make full technical support available for their branch office as well as employee training.
At the start of the implementation process NSoft's team does an analysis of the existing state, client's wishes and needs - what the client wants, whether the client is already working with an existing provider, if there are hardware requirements and whether there is any customization necessary. When all that comes together, the next step is Client account setup and product release. After the testing phase is delivered, then comes training of client's employees and field installation when retail is concerned. The time to market that we offer on all channels is top notch.
NSoft's Business development and operational teams are involved in the whole process of Turnkey setup, and other departments will also pitch in as well depending on the needs of each client individually.
Beside the Turnkey approach, another trending notion in the White label solution.
A White label is an effective and convenient solution created by a company with the purpose of selling or leasing it to another entity that can brand it under its own name or label. In this way everything needed to launch an online gaming business from the ground up, is provided by a third-party supplier – sports betting software, a casino, a license, payment processing, and more. This includes all the products, software solutions, and even use of a gaming license. The downside of this approach would be that there is no flexibility in terms of changing payments, products or trading strategy; and also there are not many options for product customization. The focus is rather set on the numerous marketing possibilities which White label provides.
We conclude that a Turnkey approach is by far the best strategy because operators have a reliable partner in NSoft to gain more control over their needs for sports betting, casino, branding and software development, once their business takes off. NSoft's accumulated years of experience in the iGaming industry and our dedicated teams are available at all times for collaboration and support to meet client's overall requirements, deliver outstanding results and revenue growth.
In order to find out more about NSoft's products, get in touch with our Sales team on [email protected].
Tags:
Didn't Find What You're Looking For?
Our team will be happy to guide you through our products and services.
Contact us