News / Interviews & Editorials / People@NSoft
Dario Jurcic, CEO on NSoft's people and culture
Attracting top talent with excellent products, top-performing people, and a positive working environment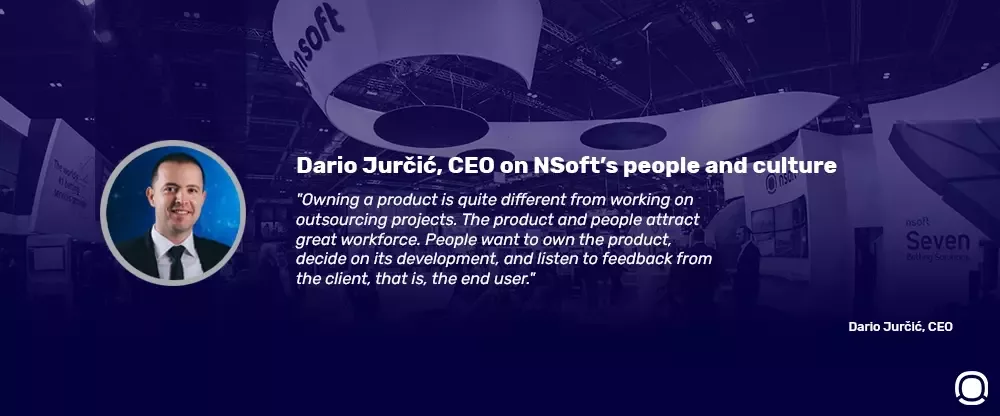 In two months, NSoft is finishing another successful business year. We sat down with Mr Dario Jurčić, CEO of NSoft, to discuss all the critical segments on which the stability and continuous growth of NSoft are based. This conversation was not a rigid one on numbers and statistics. Still, during our discussion, we tackled issues such as why people are companies' most important assets and how ambitious and talented young people can fit into NSoft.


From arcade gaming to the corporate world of banking
Leading a company of 340 employees is undoubtedly not easy, but Dario's lifelong experience has contributed a lot to his successful career at NSoft.
After studying computer science, he decided to pursue the profession for which he was educated and for which he had been preparing through his gaming-related projects even before starting his official career in the IT industry.
He gained his first professional experience in corporate banking, where he learned to work responsibly and creatively. This experience helped him in his later engagement at NSoft, where he practically started from the 'back ranks' and worked his way up to the director position.
"The bank makes you understand the drill; you must respect processes and procedures and arrive on time when working. I traveled a lot, met many colleagues, and had fantastic mentors from whom I learned a lot. So I would say that again, I was lucky to have worked in IT-related jobs in the banking sector and not dealing with economics. All of it contributed to me maturing and growing up to see that corporate world that I can use again in some things at NSoft." ensures Dario.


Overcoming the stigmas concerning the iGaming industry
Sports betting and games of chance are very popular in the Balkan region, but in a business sense, many have constraints and prejudices about this industry.
In western countries, the iGaming industry generates a lot of traffic and business opportunities, thus making it the fastest-growing entertainment branch.
"NSoft operates in 35 countries worldwide, and we want to operate in regulated markets. We want to sell entertainment and are aware of certain stigmas. Everything depends on the regulators and the education of all parties involved. We are very devoted to educating and cooperating with our operators continuously. Our software is licensed, and we all fight against the industry's dark side, so to say," Dario begins the conversation about NSoft and points out how important it is to partner with the most prominent players on the world scene and have shareholders like Michael Jordan and others. However, in general, NSoft still tries to keep its recognizable charm and work style, which has made it one of the most desirable employers for years. The partner of this company, Sportradar, played a significant role, but all these meaningful partnership relationships had to be earned first and then justified.

Change in the business model due to the pandemic
In 2020., NSoft lost 90% of the market in one day because the business operations were retail-oriented. Dario assures that the pandemic period was a lesson well learned for NSoft.
"We grew predominantly from retail. When the pandemic came, it had a big impact on us, but today, looking at the whole situation, I think that the whole situation pushed us in the right direction; we had to turn to the online channel more decisively. The patience and engagement of the employees helped to overcome this crisis. At that moment, we turned the entire company towards the online channel, which means that within 24 hours, we reinvented ourselves, and every part of the company turned online. People worked in abnormal conditions and circumstances to throw out as much as possible. We were there to coordinate, guide, and have online sessions and conversations, but in the end, the employees made the maximum effort for the company to succeed.", said Dario.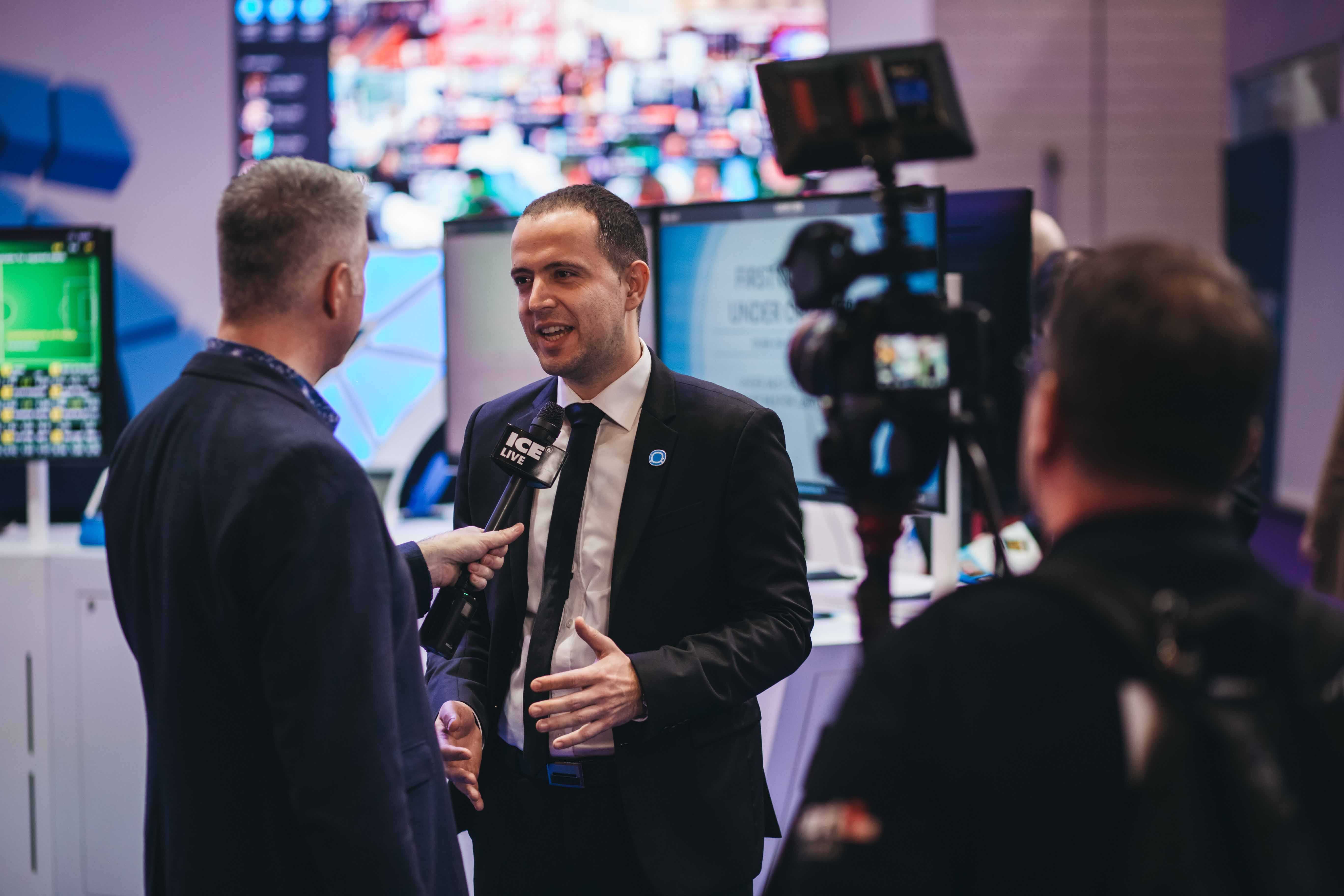 NSoft today: a fantastic internal culture that recognizes and rewards work
What is NSoft today? We have asked Dario to summarize.
"NSoft is a mixture of what used to be a startup and a corporate approach. We often conduct interviews with employees within the company, and I read each. Colleagues who have been there longer say that sometimes they miss that guerilla approach - let's do this today, change direction, be mobile, and so on. However, when we look back and see that the company is so mature, we have grown 30% annually, employed 50 people annually, expanded to 35 countries in the world, and exported from Australia to Peru. The industry is becoming more sophisticated; compliance, KYC, and regulations are getting involved greatly in everything I encountered in the bank."
The company has grown; it is in some phase of adolescence, where the internal structure needs to be introduced into all of this. NSoft must remain innovative to follow the rapid evolution of technology and the iGaming markets.
Dario is mostly proud of the internal culture that recognizes, celebrates, and rewards work. Dario became the Team Lead shortly after joining the company to become CEO three and half years later: "I love such roles, and I think I can bring a lot and help there, but that was never my goal. It just happened that I was recognized and had something to offer, but I can say that it was never difficult for me to take a hot potato. So, take on the most difficult project, the most difficult problem, everything that might seem impossible." explains Dario.


The diversity of NSoft staff
NSoft has tech people who develop products and non-tech people who market and sell the products. In percentages, 50% of people within NSoft are software engineers, and 50% are not. When a product is launched, when we start planning it, the idea often comes from the employees themselves, and we are proud of that.
Dario explains: "We have artists who draw, project managers who plan how the product will be realized, and market research. Depending on the type of product, we have statisticians. Do we need a bookmaker? Do we need someone to process data? We also have to deal with music. Ultimately, it all needs to be programmed and packaged into one product. And then, there is another part of the company that further carries that product. First, we look at which markets the product will go to and how it will reach the client, and that's where the Sales department comes in. This is where our marketing comes into play, then our Legal team, because you have to have a contract, and that product needs to be certified to be placed on the market. The Human Resources department takes care of all these people. Then we have economists who have to issue invoices, collect payments, and participate in the money market. Our hardware production company Stark produces self-service betting terminals, sometimes popularly called betting kiosks. In Stark, we have locksmiths, CNC operators, engineers, etc. The number of people we have is fantastic, and I love the dynamism and diversity among them."
The product and people attract great staff. People want to own the product, decide on its development, and listen to feedback from the client, that is, the end user.
"What is good about this product and what is not, and what could be improved? It's that driving energy that inspires pride - my product is being used, has worked, and is making money. People then want to be informed about the market's traction, what clients say, and how we can improve the product. It is irreplaceable, and I think this phenomenon is one of the most important items related to NSoft because it gives people meaning. It's not just about money; come to work, do something, and leave a legacy, then people worldwide - Americans, British, Turks, Germans, use your hardware and your software - it's incredible," emphasized Dario.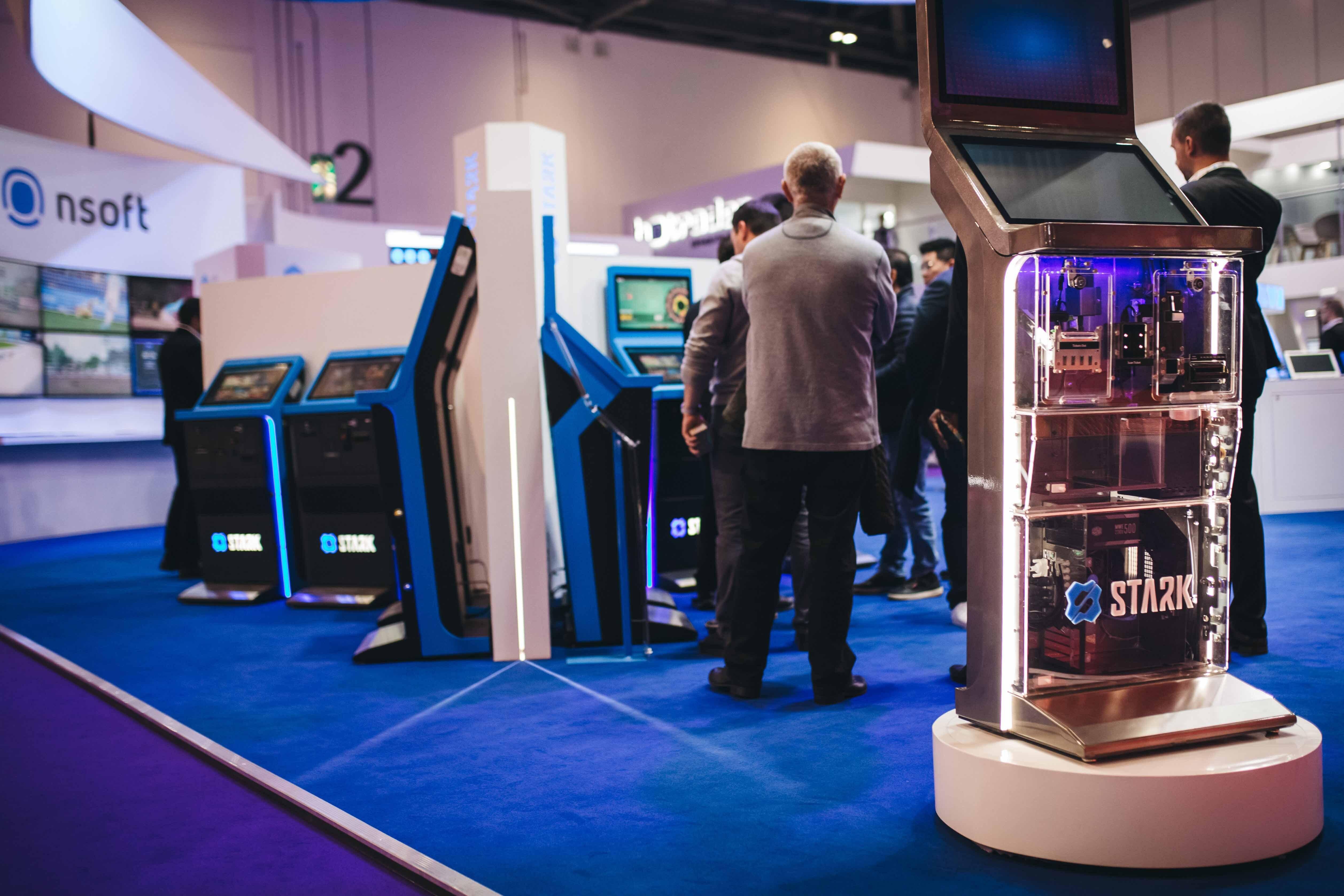 Soft skills are essential for great employees
When it comes to employing new people, NSoft regularly holds Internship programs and boot camps.
The internship programs function on the principle of a public call, through which anyone interested in working with us can apply. Internship programs are from various areas of NSoft`s business.
The public response is sometimes overwhelming when hundreds of potential candidates apply, and it is difficult to choose the best. Those registered then pass a series of tests, mostly of a technical nature. Testing helps to select smaller groups of people, mostly from 8 to 12 participants, depending on the program, and then crash courses are organized for those selected, where they spend one to two months working in the company, working on projects and products under the supervision of a mentor. During this time, participants can get an insight into the functioning of NSoft company, and mentors and HR can also get an impression of the candidates. On average, 50% of candidates who entered the last round are accepted.
Dario explains: "If you ask me specifically what skills are needed, I think soft skills are very important. Experts in their work, the seniors I work with have a broad view of the world. Some of us are grilling burgers in our free time, or a colleague recently told me - I love watching horses being shod - and the man is an architect. So they look much wider than the code itself because the problem is generally wider than the code itself.
You have to understand the client's needs; you have to understand what you want, what the colleague next to you wants, what is required technically, what compliance wants, and what legal is looking for, etc. And that can be understood by people who have breadth. Today it is very easy to learn to code; I mean, the availability of online free courses is great, and people relatively young can learn the basics. However, I would advise them to don't neglect the human aspect. Programming, that is, coding, knowledge of code, is just one set of tools we bring to work. You need to have it and be sharp and ready, but interpersonal relationships are also important.
We organize education within the company that addresses the issues such as conflict resolution, conversation with stakeholders, negotiation, etc. Many approach educations of this type with scepticism and later realize they are incredibly useful. Having a difficult conversation and giving negative feedback are all skills we must have if we want the company to progress and develop. It contributes to the company's overall culture. In this way, you create a universal language, a consensus within the company, where everything is clear, and everyone acquires the same way of communication."


Retaining excellent employees is important: How to keep key people in key positions

The world's biggest brands are taking a wide range of approaches to remote work, making access to the global workforce unlimited. The IT industry in Bosnia and Herzegovina is thriving as many foreign companies are opening their offices here and offering their future employees remote work and flexibility. Dario explained how our companies protect themselves from the departure of professional staff.
"We have a fantastic workforce - fantastic people with exceptional knowledge, and foreigners see it. We at NSoft are proud to have our own product, but it is not easy. So, you have your own product, determine the price, do the billing, and don't depend on anyone - all this has a lot of advantages. In general, I think we need to move away from the mindset that we 'work for others' - we are capable and NSoft is proof that a top-notch, world-class product, both hardware, and software, can be made here. I would advise everyone to turn to the product because, in BiH, we have people, brains, and a vision. You should try to secure funds from outsourcing and invest these funds in your own product." stated Dario.
Our country belongs to the list of European countries that have an outflow of professional staff and a change of generations on a global level, so it is no wonder that employers complain that it is very difficult to find quality workers.
Dario explains: "It's a continuous challenge, but the solution is what I said before - people, culture, and product. People who have experience and have changed several companies will not leave NSoft. They know what NSoft is and what it offers. People sometimes want a change; they want to see what it's like to work in other companies; also, some leave and come back, but it's all part of everyday business. It is important that the recruitment is 'healthy,' that new people come to us and that we improve with a younger workforce."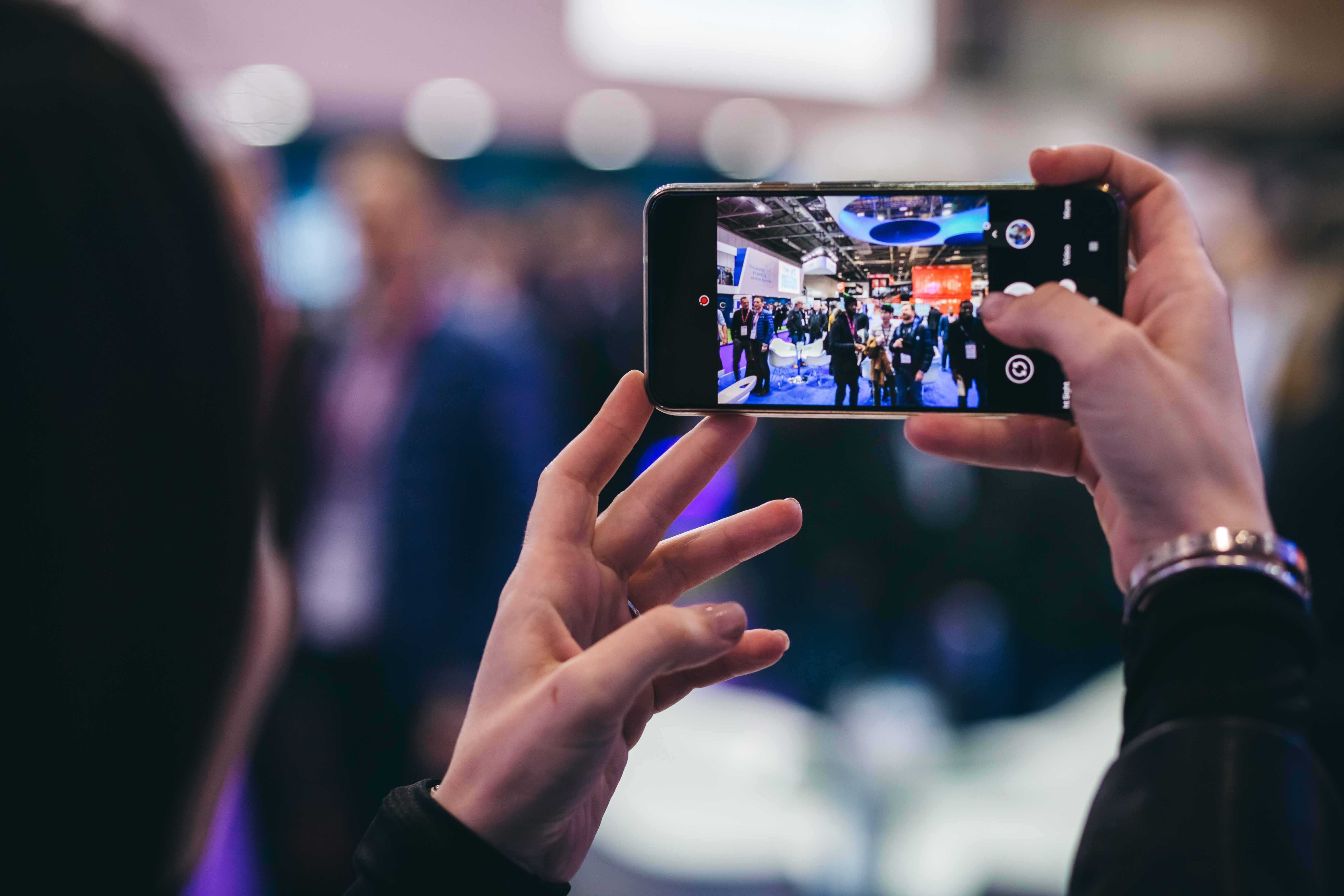 NSoft's future plans
"I have to say that NSoft is just getting started. Only now have we outgrown a kind of guerilla company and become a machine that slowly "grinds" in front of us. We will certainly grow, and the partnership with Sportradar, a company with a huge global footprint as far as our industry is concerned, has contributed to this. They have already chosen our product as the product they want to market as their own, and in this way, they will help us expand and become even more dominant, bigger, and stronger. We are soon moving to a new office space covering 3,000 m2. It will be a new home worthy of NSoft.
I personally see myself where I am; every day is a challenge for me, and that drives me. I hope it will continue to be so," ensures Dario.

Tags:
Didn't Find What You're Looking For?
Our team will be happy to guide you through our products and services.
Contact us