Interviews & Editorials
NSoft on iGaming industry in Africa: Raising the stakes in Africa
by Marko Dzoic, Regional Sales Manager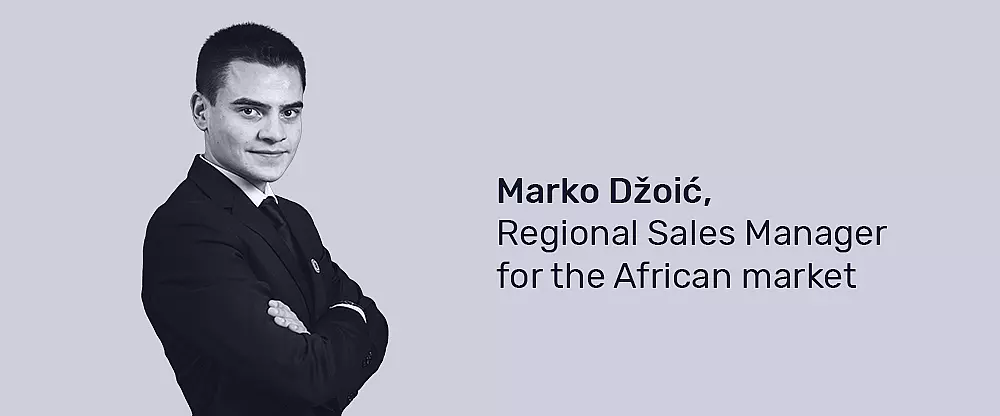 The African continent is the rising star in the iGaming industry
Sub-Saharan Africa is home to more than 1 billion people, half of whom will be under 25 years old by 2050.
It is a diverse region offering human and natural resources that have the potential to yield inclusive growth in the area, enabling Africans across the continent to live healthier and more prosperous lives.
"Today, we can proudly say that NSoft has a footprint across the globe with 184 of customers worldwide. NSoft's rich experience in retail is certainly an important asset for the African markets due to the popularity of land-based betting operators and preferences of its players," explains Marko Džoić, NSoft's Regional Sales Manager for the African market.
Africans are very enthusiastic about sports, and the interest in sports betting as well as online games is fast growing with the expansion of mobile internet connectivity. According to recent research on Africa's betting market, the sports betting industry was estimated to be worth $ 37 billion in 2018 and could reach near $100 billion during this century. Roughly 60 million Nigerians between the ages of 18 and 40 are involved in active sports betting. On average, these punters spend around 3,000 Naira (about $15) every day on bets.
"Despite the issues caused by the COVID-19 pandemic, most African countries have managed to boost betting worth even in 2020, and that growth will continue this year since we'll have more sport events combined with much better access to the internet. We are very optimistic, adds Marko.
Opening new markets in Africa
Africa is the rising star in the iGaming industry and a high-growth market for which the understanding of new technologies is essential for future development. Beyond developing games and applications, NSoft must comply with the regulations, tax policy, and follow security protocols. This varies from country to country. The number of African countries adopting a regulatory framework is on the rise, which is crucial to the industry.
"Before the COVID-19 pandemic, Africa had most of the gambling revenue in the land-based betting business, but due to all of the restrictions caused by lockdowns, now we can clearly see a growth of the online channel. There is an increased number of Africans moving from USSD and SMS betting to standard online betting as we have in markets across Europe and Asia," stated Marko.
Ethiopia is the largest and most populated country in the Horn of Africa, home to more than 100M people, and it was the next step for NSoft.
Commenting on opening a new market in Ethiopia, Marko adds: "As a result of good market research and recognizing the potential of the Ethiopian market, we signed the first retail agreements in Ethiopia back in September 2019. Since the internet penetration was very low, we focused on the land-based that is supported with our amazing Web-code generated option for boosting retail business. That was the right move to do, and now we see first clients that are going completely online. My colleague Davor Konjevod is leading Ethiopian clients, and currently, we are working on new projects that will definitely establish us there as the market leaders."
Doing business during the COVID-19 pandemic
The COVID-19 pandemic lockdowns encouraged NSoft to strengthen its online presence.
Explaining the power of NSoft's unique retail solutions combined with our online presence, Marko emphasizes: "Today, one year after the beginning of the COVID-19 pandemic on the global level, we have managed to sign new retail deals in Madagascar, Swaziland, the Central African Republic and South Sudan. Hopefully in June, I will be visiting DR Congo to sign new contracts. All of this is the result of dedicated teamwork between our Sales and Development divisions. We're working on products that are rising stars in Africa - draw-based games like Lucky 6 and our amazing comprehensive Sportsbook software solution, including Pre-Match Betting and Live Betting.
Marko added that many NSoft's clients aim to transition from retail to other channels during the collaboration.
"We are making that transition possible. I hope to see very soon the first tickets played in the last few African countries where we don't have our presence now," Marko concluded.
Stepping up with satellite stream solution
Africa's low internet speed coverage represents one of the main issues for betting operators around the continent. This has led to NSoft adjusting its products for the satellite stream solution. The fast delivery of its top tier product, draw-based game Lucky Six, through satellite streaming has made this game now available even in locations with low internet speed and poor connection, such as Africa. This solution is an answer to growing customers needs in retail who are facing troubles with an internet connection. The satellite stream is performed via shared channel and with no additional fee for the satellite steam service. Operators' investment is at a minimum and only requirements are a satellite dish antenna and a receiver.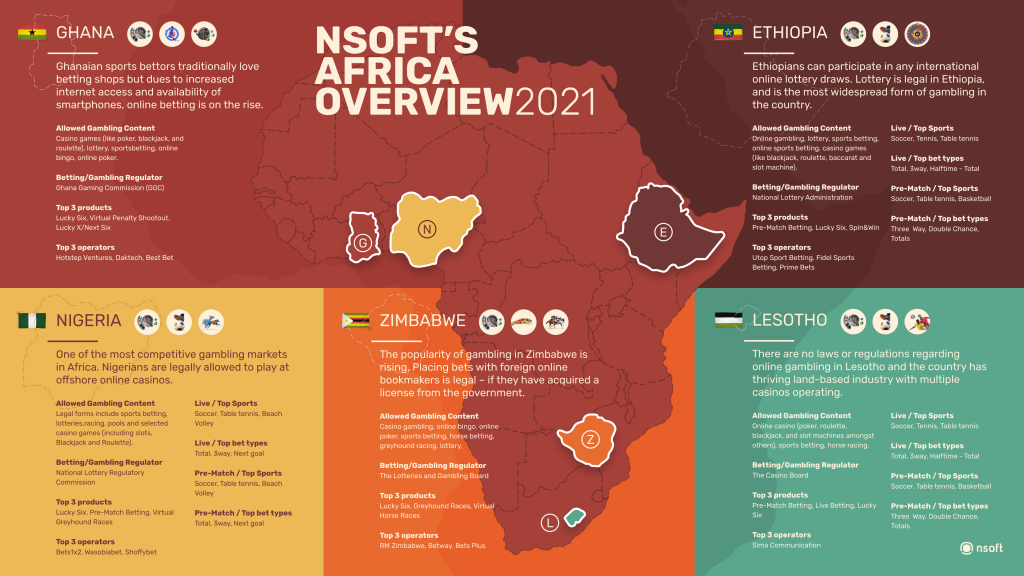 Africans are very enthusiastic about sports, and the interest in sports betting and online games is fast growing with the expansion of mobile internet connectivity. Here's NSoft's overview of sports betting in Ghana, Nigeria, Zimbabwe, Lesotho and Ethiopia.

Plans for the future - converting land-based to mobile
While the African gambling market was dominated by land-based betting operators so far, the number of online players has been growing quickly with the spread of smartphones and mobile data coverage. One of the pillars of NSoft's constant progress is listening to our clients, which gives us important feedback and helps us make new better products as well as update existing ones to keep our clients and punters satisfied.
Marko adds: "Clients not only give us their opinion on the products, but they also serve as a bond between NSoft and punters. Where there is a market gap, we are here to listen and develop something new. This was the case with our Lightning games - a new category of virtual games offered in our portfolio. NSoft's most desirable games Lucky Six and Roulette have been totally revamped and adapted for web and mobile usage. They are easy to play, fast as lightning and provide the possibility for players to win big. More and more Africans are discovering the joys of sports betting on the move and they will surely do the same with online casino games."
NSoft's diverse and extensive product portfolio will most certainly lead us in becoming leaders on Africa's market where the gaming industry is growing exponentially. Find out more by reaching out to NSoft's Sales team at [email protected].
Tags:
Didn't Find What You're Looking For?
Our team will be happy to guide you through our products and services.
Contact us