Interviews & Editorials
NSoft: The Leader in Omnichannel iGaming Innovations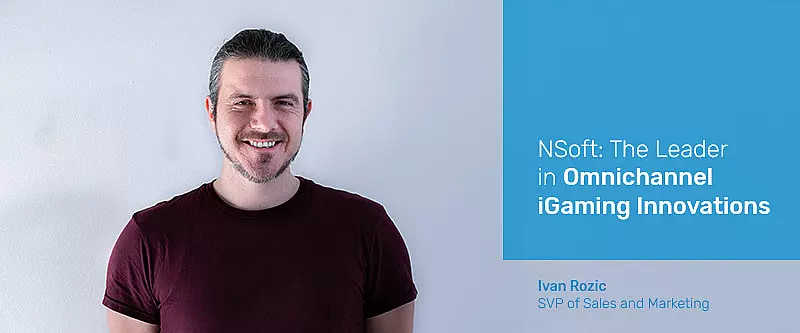 About Ivan Rozic
He has been working for 2 years at NSoft and his goal is to increase NSoft's footprint within the betting industry. He's experienced in international business having worked in various industries across Asia and Europe.
What new services and product demands are your customers requesting? What customer trends/needs do you feel are your customers trying to address?
NSoft offers an omni-channel platform with unique in-house products customized for our partners across the world. We have been working hard on enabling betting operators to completely control their business, especially the retail part. Working in 35+ markets means that customer needs vary significantly under both, market and regulation influence, but our products, the virtual betting products portfolio in particular, always enrich betting operators' offering and add the fresh revenue stream from existing and new customers.
The needs from our customers and our partners that are coming in are based on the information they gather from their players meaning that we are focused on serving the most important part of the industry - the punter.
The Omnichannel Importance #
Every software provider within the industry is trying to provide the best solution to betting operators in order to tackle the multichannel challenges. We have customers that are using our full web platform solution, customers that are using our retail platform solution, some that are working solely with SSBTs, but the majority of our customers are using all channels because with NSoft as their provider they can!
If you take a look at UKGC reports for the past few years you will notice a slightly declining trend in terms of number of retail shops and growing number of players using online. It is, of course, a mature market, so the switch to online (both web and mobile) makes a perfect sense. On the other hand, there is a significant growing trend of retail usage in certain markets.
USA is a perfect example of a newly regulated market where retail segment will play a big part. Brasil's legislators and politicians have finally made progress in regulating the market after a lot of discussion, and I believe it will not stop on regulating the online business alone. Similar turn of events can be expected in India where a strong tendency to regulate sports betting exists.
Through our full web platform solution we offer full Sportsbook Solution with Pre-Match and Live In-Play Betting together with NSoft's in-house Virtual Games and a variety of third party content in terms of virtual games and casino games. Speaking about the retail business segment, stability is a key to success - you cannot fit as many products in retail as you can online, so the stability of the products you are offering is essential thus it is the NSoft's business imperative.
Self Managed Pre-Match #
We have been closely collaborating with 100+ of our customers across the world in order to deliver the best Self Managed Pre-Match Application out there. Balkans area is the perfect sandbox to test this application since the players are sophisticated in terms of Pre-Match. The operators here have a lot of retail presence and satisfying anonymous players is always a challenge. Basically, the player wants to walk into your betting shop and have all the betting options at disposal. Self Managed Application is replacing some of the old applications that the operators have been using for 15+ years now.
These tools are extremely outdated and they are limiting operators in terms of what they can do with their Pre-Match offering.
We mostly work with Betradar's MTS which is brilliant for small and medium customers, it reduces their operational costs, provides certainty in terms of profit and they only need to focus on the marketing. Once they get to the point they are big enough that they want to take risk management in their own hands, we provide the option to continue working with us through Self Managed. So, Self Managed at its core is not revolutionary towards the players, it's revolutionary for the betting operators because now you can have a sophisticated application that helps you create small, fine details within your Pre-Match sports betting operations, and gives you an extra mile in front of competition without jeopardizing player's habits.
Interesting numbers
Right now we have more than 100 customers using our products worldwide. Handling over 1,5 billion transactions per year translates into a lot of money that is being handled through our platform. The sole fact that NSoft has been working for 10+ years now with its customers, handling their money transactions and providing the technical backbone for their businesses ensures trust and confidence that we need to continue growing.
Our platform is handling over 10.000 shops and more than 1.200 SSBTs at every moment with a lot of new opportunities in front of us.
NSoft will be displaying at ICE 2019. What key dialogue, context and agenda should drive industry discussion in 2019?
I see iGaming providers placed somewhere in-between innovation-driven companies and business-driven companies. Providers of software solutions for betting operators are either closer to innovation or closer to the strict business needs with little to no innovation. The two extremes are good in their own terms, but I like to perceive NSoft closer to the innovation side. Of course, having business relationships has its simple rule - the better your partners do, the better you do. This is why we always keep the track of our partners and follow their businesses performance. The sole fact that we have customers generating more than 50% of their GGR on a yearly level only through NSoft's Virtual Games is something that I have not seen anywhere else. Based on the latest reports from the UKGC we have all noticed how important Virtual Games have become in the UK (almost 8,5% of total online revenue from April 2016 to March 2017), but it is nothing compared to how much it means to our customers here in the Balkans.
NSoft has been experimenting and innovating within the industry and with its products, and when you look at the entire portfolio of virtual games providers out there, there are not a lot of them emphasizing their numbers based games as much as NSoft, which is, of course, one of our strengths.
The innovations that we do are sometimes connected to the existing betting products, but what we are trying to do is to make big ripples in the industry with new products. At ICE 2018 we have presented our Vision product for the first time, which is a face recognition software and it aims to solve multiple challenges within the betting industry. It's a product that is not unique in the world, there are other companies working on a similar solution, but we are trying to use our betting expertise to make it a perfect fit for the iGaming industry.
Imagine the system that helps you make sure that an unwanted player is banned in all of your shops automatically. Right now it is a big operational task to make sure that a banned player is truly limited, especially in the countries that allow anonymous retail betting. With Vision you would place a camera inside the shop, the camera recognizes the banned player's face and as soon as he or she walks in the shop, the operator immediately knows that this person is banned to play a single bet within your shop.
On the other hand, it gives you the option to know your retail customers much better without being intrusive. You learn from players' behaviour and what they like the most, the same way you are doing it with online players. It's a huge thing to have tools to analyze and segment your retail players and make sure you are offering quality content. It is a big leap in retail betting - the customer truly becomes the king. Apart from Vision, we are working on really innovative products like the Chameleon Platform that allows non-developers to develop any kind of application.
This is just a small part of what NSoft will be showcasing on ICE 2019 where the visitors on our stand will be able to create and launch their own custom casino slot games in a matter of minutes with the drag and drop method. There is no waiting for any provider to deliver, there is no third party involved - you can create your own content on the spot. You do not have to offer 10.000 different slot games, you can simply give players the freedom to create games they like most by themselves. These kinds of things are actually pushing us forward and focusing us to use the opportunities offered in the iGaming industry.
Industry buzzword for 2019?
It will all be about the new regulated markets. With USA and Brasil regulating sports betting in 2018 and with few more markets following this trend I believe the industry will grow not only in numbers but also in level of service. Competition will put pressure on betting products providers and operators alike to step up their game which will result in a better ecosystem for the end-user - the punter.
I always give an example of Romania and how good their regulation of the industry is. It is a blooming market right now with a lot of players, with healthy competition and this is something that all stakeholders can benefit from.
NSoft will continue doing what we do best - to innovate in order to provide the cutting edge products that every operator needs to succeed in the ever-growing global betting market.
To wrap everything up #
Let's face it, five years ago NSoft did not have such a large footprint globally, we did not have this many customers using our services and now we have witnessed how disruptive some of our games can be. Five years back there was nothing in Romania being connected with NSoft, nowadays if you go to Bucharest and talk to anyone from the industry they will immediately know who the NSoft is. Our games and our products have shown their value on this market and this is what we are aiming to bring to other markets as well. This is being achieved, not only by making the appealing designs for our products but also by making sure that the logic behind the game is bulletproof whether it is sports betting, virtual games or any other service we provide. We do have obstacles and problems that we need to tackle but what I like about NSoft is that it is a single stop shop for every operator. We can cater to your needs, and we take pride in providing a high level of support and care to our customers.
We are really proud to remain recognized in 2018 not only by the players and operators but also by the betting community stakeholders as for the fact that NSoft, has once again been shortlisted for the SBC Awards in two categories - Best Multi-Channel Supplier and Standalone Platform Provider. Receiving the Starlet Award for Best Virtual Sports, CEEG Award for Best Virtual Sport and staying amongst Deloitte's Technology Fast 50 for the third year in a row has given us confirmation of being on the right business path. Getting ready for the biggest industry event ICE London is in its polishing stage and we have made sure to give a blast to the beginning of 2019 by partnering up with Fortuna on the Czech market and releasing our premium draw based game - Lucky Six.
Our goals are to grow globally, even more, open new offices around the world, strengthen our team and, as always, stay on the top of innovation. There is a lot of interest not only in NSoft but in the whole industry with professionals switching from banking, telecommunications and other industries into betting. This trend will surely raise the level of professionalism and provide new perspectives through which betting can learn from other major industries out there.
Feel free to contact us at [email protected] and find out more about our product portfolio or visit us at ICE - we'll be at S1-260.
Tags:
Didn't Find What You're Looking For?
Our team will be happy to guide you through our products and services.
Contact us