Interviews & Editorials
NSoft Vision - Body Temperature Measurement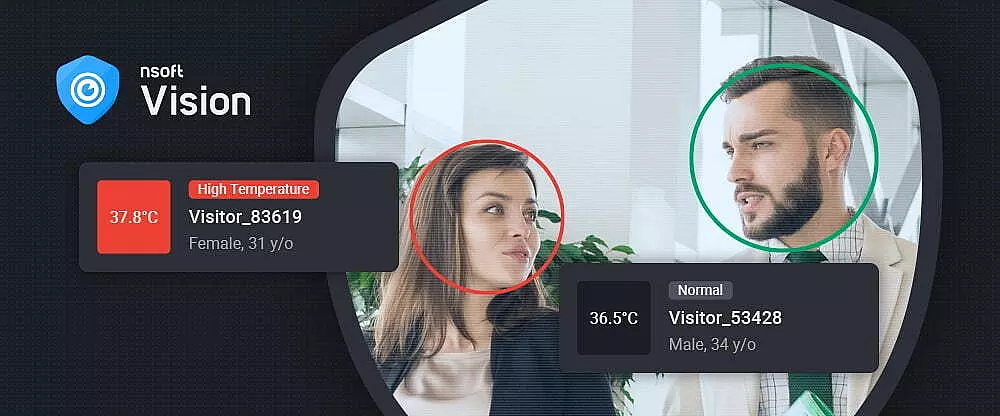 NSoft Vision's new feature for new normal
Thermal imaging will be, as many experts dare to claim, a new normal in both access control management and our everyday lives.
Many businesses will likely be taking employees' and visitors' body temperature on entrances as a precaution. Thermal imaging technology could help notably, but can it do enough all on its own?
Reports say that contactless temperature screening systems are now introduced mainly for access control in tech giants such as Amazon and Google. According to the IPVM list, there are currently 170 companies selling their fever detection technology designed to detect people potentially suffering from any viral disease. Most camera manufacturers are offering the possibility to spot high temperature live and ring a silent alarm if there is any potential risk.

How is NSoft Vision approaching this issue?
NSoft Vision is a Video Management System boosted with artificial intelligence to improve security and data collection for retail businesses. It utilizes streaming services from any IP camera system and provides standard surveillance features such as continuous recording, live-streaming as well as multiple possibilities based on facial recognition.
In-house developed algorithms provide features such as face recognition, people counting, age and gender prediction, emotion prediction, and heat maps.
NSoft Vision is approaching thermal imaging technology with facial recognition as the main asset. Imagine being able to measure temperature on the spot, save the temperature data, and merge it with recognized people so that you understand the temperature history entirely for every person. That is just one small part of what NSoft Vision could provide.
How does Vision combine with thermal imaging?
Using Vision alongside thermal cameras allows fever detection in an instant and utilization of the temperature data to close the full circle in thermal imaging. A combination of two technologies enables the identification of visitors and the collection of historical body temperature data for each person.
Here are the steps and benefits you can get from using this solution:
Measure the temperature live on the streams
Each person appearing in front of the camera gets a body temperature measurement. The system is displaying data with the corresponding identity information on the live stream. The work of the thermal camera and AI processing is visible as the person is standing in front of the camera.
Regardless of the thermal camera manufacturer, we can use the streams from any thermal camera source, embed the facial recognition, and display the data live.
Know the last measured body temperature for each person
The system saves every recognized person. With the use of an intuitive directory section in the user interface, each person is available for viewing alongside the last measured temperature data. If needed, this section permits quick check-up of identities and further custom configuration of identity profiles based on the latest body temperature measurement.
Flag people with high body temperature
COVID-19 related lockdown and pandemic taught us that disease carriers do not necessarily have to show any symptoms of viral infection. In stopping the disease from spreading, knowing the bigger picture can immensely help fight off the virus.
NSoft Vision allows you to pick any visitor and label it the way you deem most relevant. All identity information is easily edited and customized through the interface.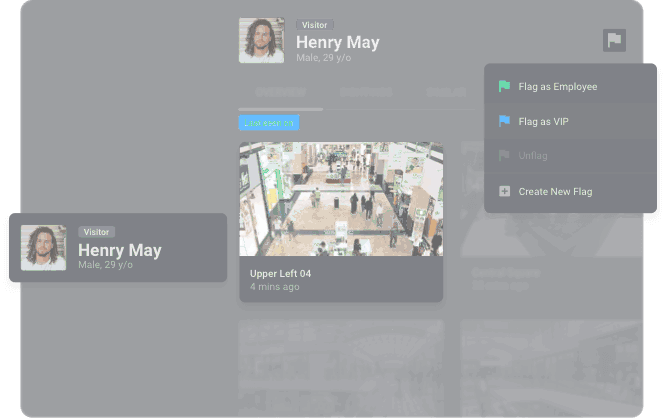 You can create custom flags with a naming convention that best suits the situation. For instance, it can be: High Temperature, Tested Positive, Tested Negative, Was In Contact, and similar. You can flag each identity within your system with the appropriate flag you previously created. Flagged identities are further treated as high-priority personnel. It means that upon appearing in front of your cameras, you will get a notification and alert that the particular person entered the premises.
This way, you would not only rely on knowing the current temperature measures but also have a smart system at hand for better epidemiologic awareness.
Occupancy Control as an addition
People counting feature is responsible for giving a precise estimation of the current number of people or head detections in front of the surveillance camera. The feature is built to support occupancy control in rooms with a limit on the allowed number of people in closed spaces. If there are more people than what is permitted, notification systems are there to provide awareness and help you prevent any larger gatherings.
Requirements for system setup?
To keep this simple, you need the three most fundamental things:
- thermal camera,
- locally dedicated server for AI/stream processing, storage to keep the footage,
- and our support.
We are providing 24/7 support as well as the initial education, user manuals, and knowledge base on how to use the system.

To find out more, contact us at [email protected].
Tags:
Didn't Find What You're Looking For?
Our team will be happy to guide you through our products and services.
Contact us