Interviews & Editorials
NSoft's Betting Terminal BackOffice - an irreplaceable admin tool
by Dario Šaravanja, Product Manager at Seven Sportsbook Platform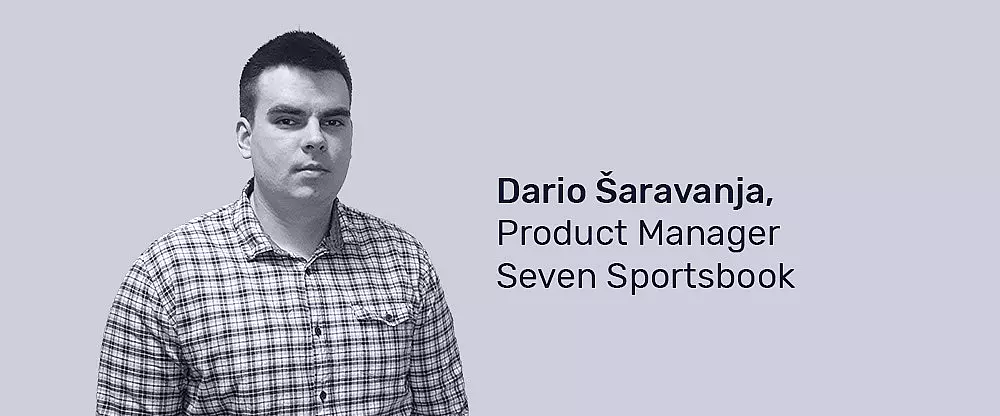 The other side of SSBTs: NSoft's Betting Terminal BackOffice #
Self-Service Betting Terminals, or simply SSBTs, are well known in the global betting industry for ages.
With the advancing technology and fresh ideas, SSBTs are constantly upgrading, and the betting operators have recognized their potential.
SSBTs are not just for punters #
Betting terminals are considered to be a critical asset for enriching the offering, hence diversifying monetary streams. They are not necessarily bound to the specific premises. This feature makes betting terminals perfect for extensive punter outreach even outside of betting shops.
Having said that, there is one aspect of betting terminals that is often overlooked. We are talking about the administration here: how betting operators keep track of daily operations. In other words, what closes the gap between SSBTs, punters, operators and management? Our answer to that question is Terminal BackOffice, and NSoft's clients seem to love it.
Closing the gap
Terminal BackOffice, abbreviated as TBO, is an integral part of the NSoft software for betting terminals. It stands as a "behind the scenes" application punters are unaware of, dedicated to making life easy for the operators and management. Think of daily transactions, processed tickets, terminal reports, operator shifts and access cards, terminal's hardware configuration, maintenance mode, billing information per terminal, balance recovery, and much more. All of those things are part of the terminal back office.
Betting Terminal BackOffice system has been made with all of the users in mind. We improve the system constantly in alignment with the rest of our software solutions and clients' needs, ensuring nothing is left out.
NSoft's global expansion confirmed the importance of such functionalities regardless of where the clients come from or where they locate SSBTs. Reasons are various yet mutually shared - common pain points include the complexity of managing terminal operations, diverse hardware, lack of per terminal insight and low sense of managing. TBO tackled those issues by leveraging software solutions for providing insight into each SSBT at any time from anywhere (physically or remotely), providing a supreme sense of management, as well as balancing technical complexity and ease of use.
A must-have for a land-based business
Terminal BackOffice comes with NSoft's sports betting platform - Seven. The system is independent of the SSBTs' brands meaning it is robust enough that can be a part of the STARK's terminals - NSoft's hardware unit - or any 3rd party terminals running Seven platform.
TBO offers content in accordance with allowed permissions for each operator or manager. This business logic ensures operational safety as responsible managers can neatly set permissions for their personnel from the permission pool.
Content and related actions are visually organized per domain for smooth navigation. Domains include Card Operations, Tickets, Wallet, Billing, Reporting, Options and Settings.
Card Operations section incorporates management of operator cards and their holders. Cards can be used for faster log-in inside TBO via card readers.
Tickets section offers the creation of vouchers and a view of processed tickets on the SSBT per each active product, with options to check their statuses, print copies, cancel or pay them out.
Wallet and Billing domains consist of different wallet types, such as operator and terminal wallets. It is a collection of money flow information, shift management, SSBT transfers and transactions, billing details and billing profit information.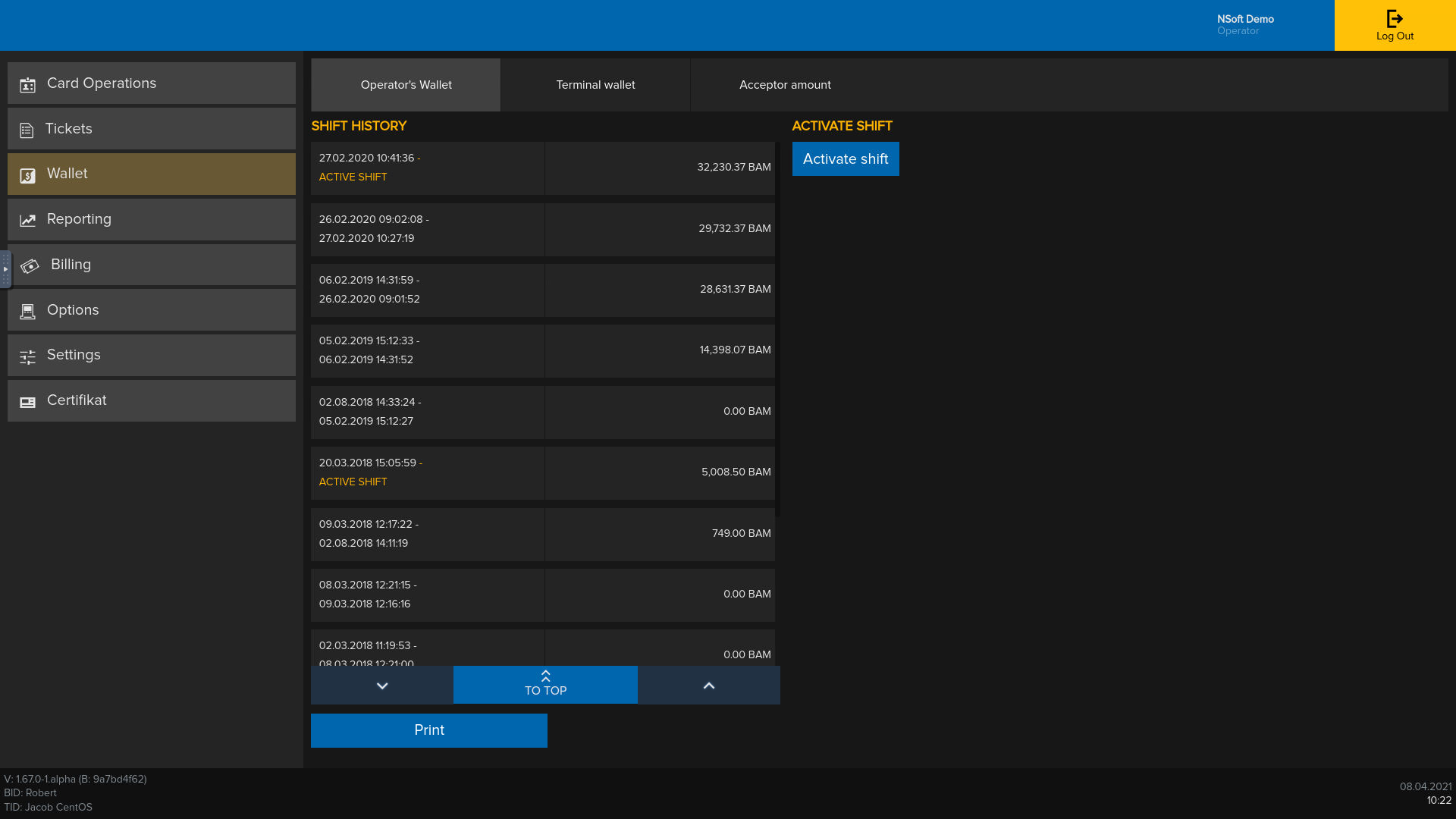 Consists of different Wallet types.
Reporting provides different types of reports, from profit, balance to turnover. Depending on the nature of the report, data is sorted per product and/or in total.
Options and Settings wrap up various hardware/software options regarding connected peripheral devices, such as money acceptors, printers and scanners, touchscreen calibration, theme settings, landing page and service mode of betting terminals.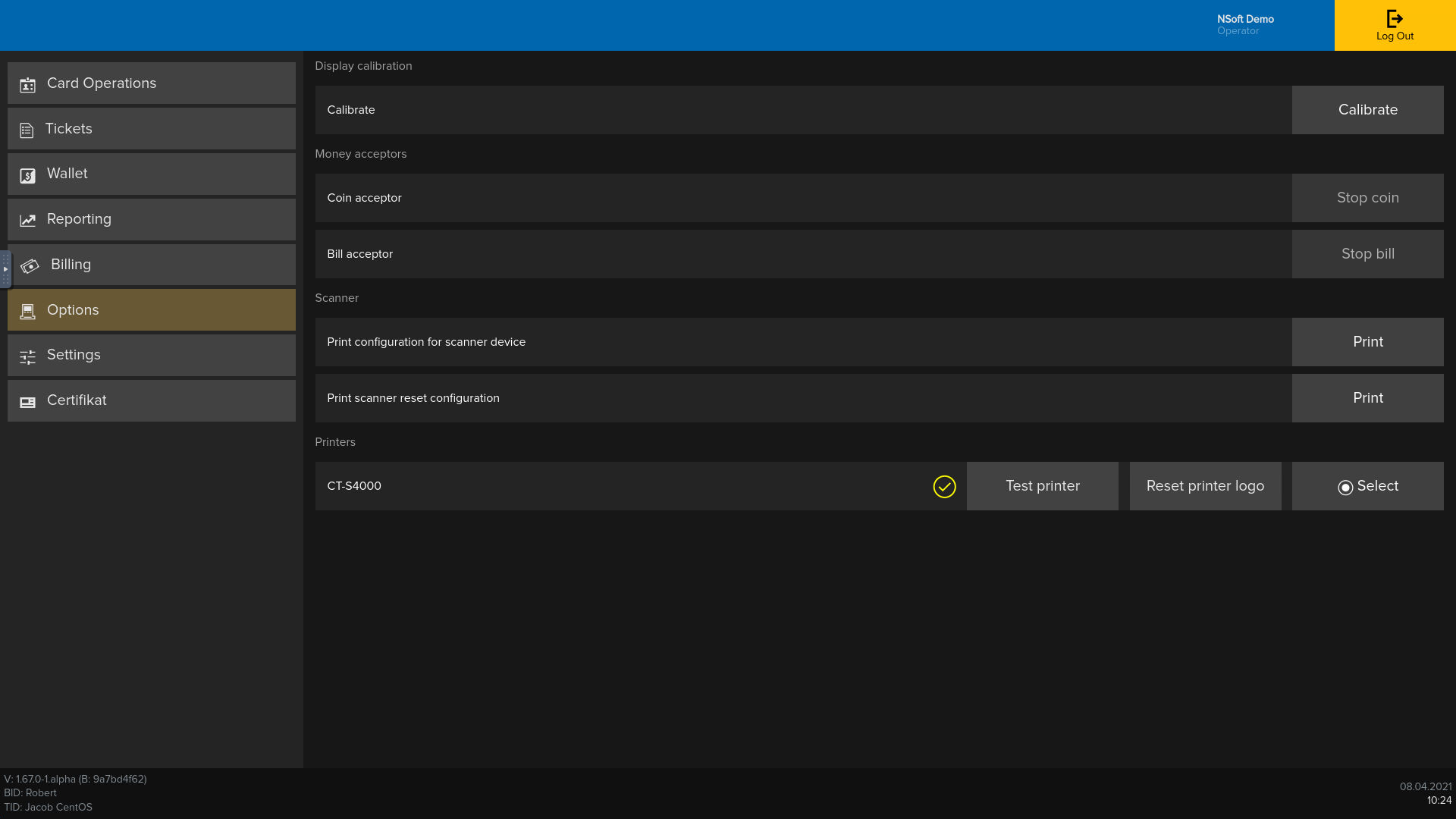 Options - overview

Besides mentioned functionalities, TBO also incorporates the logic of safe balance recoveries after power loss or similar unwanted events.
A reliable system to meet customer-first philosophy
Terminal BackOffice is a backbone of betting operators' day-to-day business activities when it comes to this channel. The front: flashy design, a wide range of games, simple UX together with the quality hardware is incomplete without a simple management interface. The betting operators, and any business really, nurture the philosophy: customer first. In order to meet this goal, the operator has to have a strong reliable system to keep things run smoothly.
Learn more on how NSoft can boost your betting business: contact NSoft's team of experts.
Tags:
Didn't Find What You're Looking For?
Our team will be happy to guide you through our products and services.
Contact us