Interviews & Editorials
A-Z betting glossary
Like any industry, betting has its language. We have gathered some common words in a brief A-Z glossary. For a better visual experience, there is also an infographic.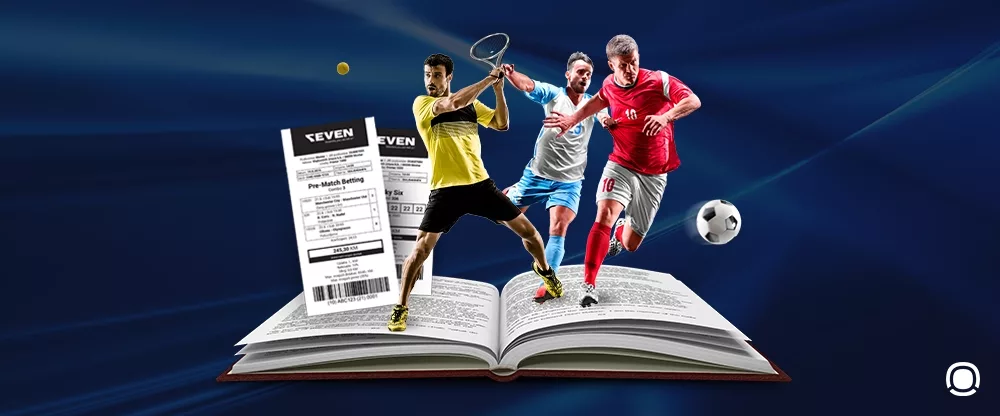 Asian handicap, fractional odds, and hedging are all common terms in the betting business. Like any industry, betting has its language. We have gathered some common words in a brief A-Z glossary. For a better visual experience, we have included the glossary in the infographic - if you like it, feel free to share it.
Common betting terms

Asian handicap It is a form of betting, and it's most commonly used in betting on football matches. Asian handicap odds start at 0.25 goals and can go as high as 2.0 goals. These are two-way bets since a draw/tie option is not offered. At Asian handicap 0.25, the bettor wins if its team wins and will lose if its team loses. In a draw, the bettor will receive half of its stake in its account. This makes Asian handicap quarter lines a useful hedging mechanism. In the text below, you can also find what hedging means.
Bookmaker - A licensed individual or betting company that creates betting lines, sets odds, takes wagers, and manages payouts is called a bookmaker or bookie. The term linemaker is also used. They offer betting on sports or other events at agreed-upon odds. Bookmaking is often regulated, and the practice can be legal or illegal depending on the country. Punters should always place their bets with licensed and trustworthy bookmakers. Bookmaking was generally illegal in the USA, potentially the most extensive betting market. In May 2018, a United States Supreme Court ruling struck down the Professional and Amateur Sports Protection Act of 1992 that prohibited bookmaking. It opened an opportunity for the states to legalize the practice.
Cash-out - an option that allows players to settle a bet before the end of the game. Most bookmakers offer this option, and in practice, cash-out can reduce risks for bettors, depending on the circumstances of the live match. For example, if your bet is 1 in 1x2 bet, and the host team is currently winning with a score of 3:2 ten minutes before the end of the match, but the visitor team is decisive to score a draw, your bookmaker can offer you a cash-out option with 85% of the potential profit. If you choose to take cash out, it will close the bet and bring you 85% of the initial winning potential, no matter how the match ends.
Decimal Odds - also known as European odds, are a popular odds type usually used by European bookies. Bettors simply multiply their wager by the decimal odds to get the potential payout. So if the odds for some match is 2.5 and the stake is 10 EUR, the payout will be 25 EUR if you win the bet.
Esports - short for electronic sports, is a form of video game competition. Esports often takes the form of organized, multiplayer video game competitions, particularly between professional players, individually or as teams. By the 2010s, esports was a significant factor in the video game industry, with many game developers actively designing and providing funding for tournaments and other events. You can bet on CS:GO, DOTA and similar tournaments.
Fractional odds - also known as UK odds, are given in fraction form. The denominator (second number) is the amount bet, and the numerator (first number) is the amount you stand to win. So if the odd is 3/1, it is read three to one, meaning that your bet amount is 1, and your win will be 3.
Gamification - In betting, gamification refers to a set of tools and actions aiming to drive engagement and improve customer experience. Social aspects influence it, and it can be in the form of top lists of bettors, tournaments, and prizes for achievements, for example.
Hedging - It is a betting strategy. Hedging a bet consists of betting on the opposite side of an original wager to set up a guaranteed return. A hedge bet may also be placed to reduce the initial risk of a potential losing bet.
In-Play Betting - It's also called live betting and is quite self-explanatory. Bettor places their stakes while the match is actually happening. Bookmakers offer multiple in-play betting options throughout most major sporting events. NSoft's live odds feed covers over 800 live betting markets. Still, some are more popular than others, so we've looked at the live bets placed by bettors within bookmakers which use NSoft Sportsbook software. The top five live betting markets in football, the most popular sport to bet on, are three-way, total, half-time total, double chance and next goal.
Jackpot - the biggest prize you can win in some game. It is a money prize pool which accumulates until certain conditions are met for it to be won. Most betting operators offer several jackpots; casino games feature a progressive jackpot, for instance. NSoft, as a betting supplier, offers Advanced Jackpot System, which functions as a bonus system. It can be simple ( tied for one game only) or complex - a multiple-tier jackpot connected with multiple products.
Keno - a lottery-like game where (usually) 20 out of 80 numbers are drawn randomly. Keno is a straightforward and popular game that has kept players entertained since the ancient Chinese period, around 200BCE. Keno payouts are based on how many numbers the player chooses and how many of those numbers are accurately guessed. It is a classic draw-based game aimed at casual players.
Lucky Six - is the most popular NSoft bingo-style game. It is a virtual betting game in which users have numerous exciting betting choices. Players choose six lucky balls out of 48 in a drum and test their luck. It is founded on the concept of the classic draw game, where a person is given a chance to pick random numbers or even colours.
Moneyline odds - also known as American odds, use the plus and minus signs to convey the potential return for any bet. American odds always use a baseline value of $100. It is a straight-up bet where bettors need to predict the winner. Favourites are posted with negative (-185) odds, while underdogs are listed with a positive (+165) price.
NSoft - That's us - we are a one-stop-shop for betting and gaming businesses covering all betting verticals that are neatly incorporated into our Seven betting platform.
Odds - Betting lines set by a bookmaker on a variety of events. Odds reflect the probability that the outcome will be successful but are usually deducted for a certain profit margin.
Pre-Match - refers to wagers placed before the match has officially started and is a part of the sportsbook offer.
Quarter bet - bet on an outcome of a specific quarter of a game; any wager placed before or during any quarter of a sporting event. Live betting odds will often change as the first 12 minutes of the match play out.
Reels - the rotating element of a slot machine or video slot containing symbols. Usually, online slots feature 5x3 or 5x5 reels.
Syndicate - A group of bettors that pool funds and use their combined knowledge to bet on events. Syndicates often wager large amounts to move a line and then place an even larger bet on the new price they helped create. Syndicate members are usually not casuals bettor but individuals who try to make a living out of betting.
Tipster - a person or group that offers betting advice. Some tipsters offer free sports wagering advice, while others charge a fee for their tips. With the popularity of online betting and, primarily, social media, where tipsters advertise their services, the number of people representing themselves as one rapidly increased.
Virtual sports - a virtual version of popular team or single sports you can bet on - virtual football league or virtual car racing, for instance. Virtual sports betting games may feature real-life footage or CGI ( computer-generated imagery). Some game providers partner up with major leagues and feature real-life footage from that league to showcase its virtual version of the sport. The betting experience is similar to betting on real events, and some game even offers in-play betting on virtual sports.
Wager - Placing a bet on any event offered at a sportsbook, casino or racebook. It is a term for the stakes placed in betting, a fancier word for "bet".
X - a draw in 1x2 bet. It is the first term bettor learns besides 1 and 2, which stands for a home win and away win, respectively.
Yankee - a way of combining four selections (four separate events) into a multiple bet. It consists of 11 bets and is made up of six doubles, four trebles and a four-fold.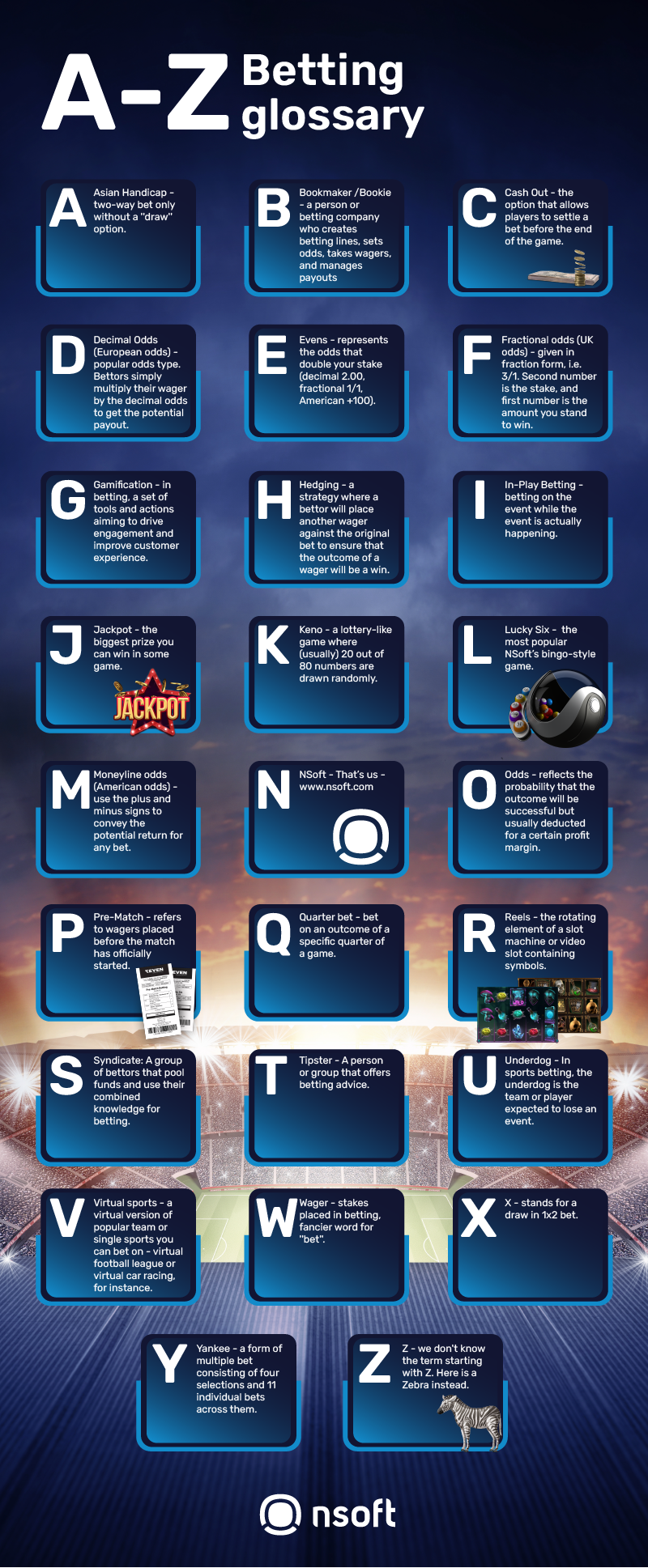 Tags:
Didn't Find What You're Looking For?
Our team will be happy to guide you through our products and services.
Contact us