Interviews & Editorials
NSoft Sales Operations - the engine that keeps the Business unit running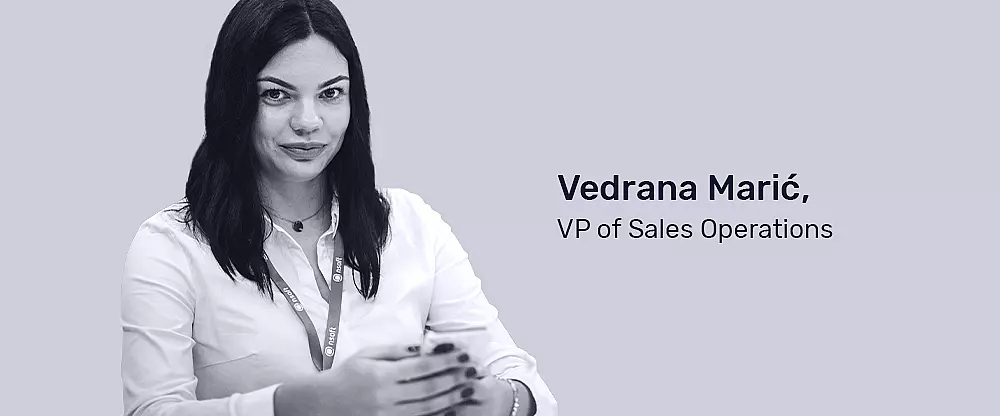 The backbone of any successful Business unit #
NSoft's Sales Operations team is composed of only four women, who are responsible for monitoring all the internal and external/client changes and innovations. They manage and nurture the continuous communication with clients, while also building and maintaining highly successful business relations with 150+ clients worldwide.
By Vedrana Marić, VP Sales Operations
Sales Ops team members are part of NSoft's dedicated regional teams consisting of one or more Sales Managers, Technical Account Manager and Sales Assistant covering 40+ countries.
The KYC process and data management were dispersed operations within the Business unit till 2015. Sales Ops was formed in 2015 to enhance customer interactions, collect, manage, track and process business data. Now, the team is a one-stop-shop, the number one service unit for any internal client-related requests and communication. The process of data collection and compiling different sources allows NSoft's top management to have one address for all business reports and make data-driven decisions which fuel the company's growth. The Sales Ops team has got it all covered with accumulated years of experience in the iGaming industry. No detail is too small for their punctilious eyes when it comes to client's concerns and requests.
Business as usual in Sales Operations - Keep it running #
It is important to emphasize that in the first quarter of 2021, NSoft's business operations marked growth in all the key areas despite the global COVID-19 pandemic and lockdowns. NSoft currently has 184 customers in 42 countries and more than 100 integrations to third party platforms. Each of those partnerships is overseed by Sales Operations at all times while maintaining the continuous business flow.
To improve the efficiency and quality of the sales process, in a large company such as NSoft, the business practice of the Sales Operations includes a set of everyday tasks.
Sales Operations provide extra support and help Sales Managers achieve targets to deliver growth in key international markets, follow the sales path and get to qualifiable leads.
All sales procedures are well optimized, documented and updated accordingly so that the data is available at all times. The meeting minutes from daily and weekly meetings are carefully kept and shared among interested parties.

Once the sales process kicks off with the clients, the Sales Operations are also responsible for drafting Agreements and adapting them per the inputs by the internal Legal team, the client, and the responsible Sales Manager.
The onboarding process of new Sales employees is also under Sales Ops functions. Since onboarding is among the toughest types of job transitions, the integration of new team members goes step by step by carefully explaining and following the already set policies and rules of the Sales department, all of which accelerate their learning and make them part of the team.

Part of the Sales Ops job is also to perform key administrative duties and research, data analysis, and accounting functions alongside organizing all sales-related events and trips.

The technology behind the scenes - different tools for different markets #
With a data-driven mindset, the Sales Ops compile data from various communication channels, including NSoft's website, telephone, email, live chat, marketing materials and social media channels.
The unit typically uses data analysis to study a quantitative amount of information in its interactions with customers. This type of data gives an added layer of insight into how they can improve NSoft's product portfolio and users' experiences.
Naturally, they also need tools to learn more about the target audiences and how to fulfill their needs. This covers direct contact with customers, such as sales and service-related operations, forecasting, and the analysis of consumer patterns and behaviours. It is essential for a company to deliver a cross-channel customer experience that can be both consistent as well as reliable.
In NSoft, a considerable part of the data collecting is boxed in the regularly updated CRM tool, Dynamics 365, managed and adapted by Sales Operations.
This cloud-based business application platform combines components of customer relationship management and enterprise resource planning, along with productivity applications and artificial intelligence tools. It provides intelligence on prospective customers, personalization and customer engagement, sales productivity and performance metrics.
Email remains the primary communication channel for the interaction with the customers. Still, other media, like Linkedin, Skype, WhatsUp and Viber are also used in everyday communication, especially with clients from the African market where low internet speed coverage limits the means of communications. Nevertheless, NSoft's rich experience in retail has proven to be an important asset for the African markets due to the popularity of land-based betting operators and preferences of its players.
Internally, NSoft Sales Operations relies heavily on the Google Drive app, a cloud-based storage solution that allows you to save files online and access them anywhere from any smartphone, tablet, or computer. Drive also makes it easy for others to edit and collaborate on files which significantly facilitates the team's work and interactions.
Web administration suite of NSoft's Seven Sportsbook Platform allows Sales Operations to track the whole business anywhere, anytime. Seven Admin is a compelling administration suite that enables you to track all business data in real-time. With this application, it is possible to review daily, weekly, monthly and annual reports with a detailed graph view of desired parameters. All of these features help NSoft to deliver a flexible, modular and customizable Turnkey solution to suit the business needs of operators across any market worldwide.
Customer-first approach and philosophy #
Companies frequently manage their customer relationships haphazardly and unprofitably. They may not effectively or adequately use their customers' connections due to misunderstanding or misinterpretation of their analysis. Clients who want to be treated more like friends may be treated like just an exchange party, rather than a unique individual.

Many studies show that customers are frequently frustrated by a company's inability to meet their relationship expectations. On the other hand, companies do not always know how to translate the data they have gained from different tools into a feasible action plan.
At NSoft we do our best not to make such mistakes. We value our customers as equal partners and show them our commitment to drive their business forward.
Our Sales Operations team builds authenticity and trust with our customers, successfully performs daily tasks, maintains a good balance between knowledge and business relations with NSoft's global clientele.
In order to find out more about NSoft's products, get in touch with our Sales team on [email protected].
Tags:
Didn't Find What You're Looking For?
Our team will be happy to guide you through our products and services.
Contact us