Interviews & Editorials
Push notifications in the Betting and Gaming
Boosting game performance with real-time player experience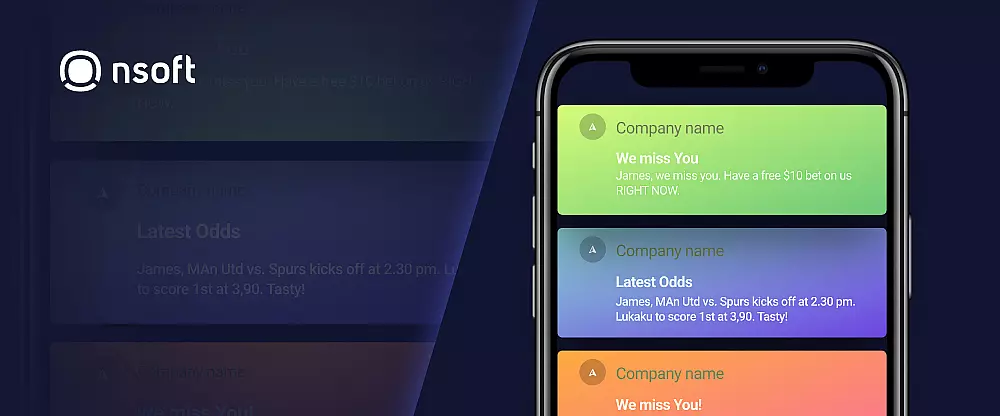 The global sports betting & gaming market is thriving like never before. According to the findings of the Zion Market Research study, the sports betting industry gathered revenue of about US$ 131.1 billion in 2020 and is slated to earn revenue of approximately US$ 179.3 billion in 2028. As numerous markets worldwide are on the path to becoming regulated ones, new opportunities are arising for providers in LatAm, Africa, and the United States.

The sports betting and gaming software providers join forces with local suppliers and operators to expand in the local markets and implement player protection and anti-money laundering measures.
As the competition is getting heavier in acquiring new punters, here at NSoft, we strive to give our customers and partners the best practices and tools to help them market their products in healthy and responsible ways.
Our ongoing commitment to implementing the Responsible Gaming Policy is a critical part of our everyday business practices. With players' safety in our mind, the focus is also on using only cutting-edge technology to unleash the creativity of our developers and designers; NSoft aims to deliver effective customer-centric solutions for audiences worldwide.


Innovations within the Seven Sportsbook platform

The foundation of any successful betting and gaming business lies in a powerful and unified platform that runs like clockwork.
NSoft's iGaming platform Seven empowers the brand and builds loyalty by providing an omnichannel experience on each channel: retail, terminal, responsive online, and mobile dedicated App - a native one, both for Android and iOS, not just "mobile view" sold as an App, with several paying methods. Our sports betting applications provide a user-friendly interface and higher performance for mobile users.
Years of experience are behind us. Seven is omnichannel, feature-rich, scalable, jurisdictionally compliant, and provides a full range of player monitoring and management tools, including segmentation tools, advanced reporting, payment, etc. security, all in one place.
Seven betting platform was recently improved by enhancing it with another module - the integration of the Xtremepush module for the online channel, emphasizing mobile apps. Since push notifications are a handy communication platform, betting operators can benefit from them on multiple levels, including reaching new customers, onboarding, and delivering highly engaging content.


Personalizing players' on-site experience to reach high engagement levels
NSoft is focused on the players and their reactions while they're playing our virtual games, placing wagers on attractive matches, or spinning the reel of our Casino games.
Delivering dynamic content and real-time player experience with all of our products is most important. What drives the punter to place the deposit and make his first bet?
The synergy between the provider, NSoft, and our partners, comes to light here with the common goal of engaging the audiences across every device and channel.
Who are they? What are the punters looking for? What drives the excitement?
Players' segmentation and profiling help us create personalized and valuable offers and relevant content that resonates with their needs.
The push notifications come in handy here. As mentioned above, thanks to the integration of the Xtremepush module, the online channel is now enriched with a form of a highly personalized piece of communication - push notifications.
Now we can optimize player acquisition and fuel engagement by sending relevant messages via push notifications. This valuable communication channel with the punters is quite direct and beneficial and provides real user value to the customer.
And let's not forget how time is vital for push notifications. We gain so much by doing the customer segmentation first and then targeting the right customer with carefully planned and personalized messages at the right time. The higher levels of App engagement are easy to reach as push notifications are a remarkable tool for communication.


Simple and effective push notifications
After the segmentation and profiling of the players are done, we are fully aware of their preferences and desires, so the next step is taking action to create relevant content that resonates with their needs.
What else can be achieved with push notifications?
Increasing bet frequency is also one of the goals to be reached. A personalized app push notification can be sent at the right time to users based on their previously shown interest and behavior on mobile. Thus intelligent segmentation drives players towards odds they have shown interest in.
With the help of Xtremepush, NSoft has valuable insight into the analytics of players and their preferences. Re-engaging the dormant players is one of the challenges. When they are inactive for some time, we can spark their interest by sending them intelligent notifications with data aligned with their past actions and interests. For example, engage them with odds and offers you know are likely to appeal to them because they're connected with their favorite football team.
Delivering real-time odds to players at the crucial moments will help us capitalize on the essential Live events and matches. In that case, the push notifications can nudge the players by offering them additional bets (penalty decisions, yellow cards, etc.) on games they have already bet on or shown interest in.
Through the highly personalized user journeys backed with data-driven analytics, push notifications are a powerful tool for increasing engagement and bringing players back into Apps by offering them relevant and exciting content.

Tags:
Didn't Find What You're Looking For?
Our team will be happy to guide you through our products and services.
Contact us