Interviews & Editorials
NSoft on ICE Africa 2019 - when the potential translates into demand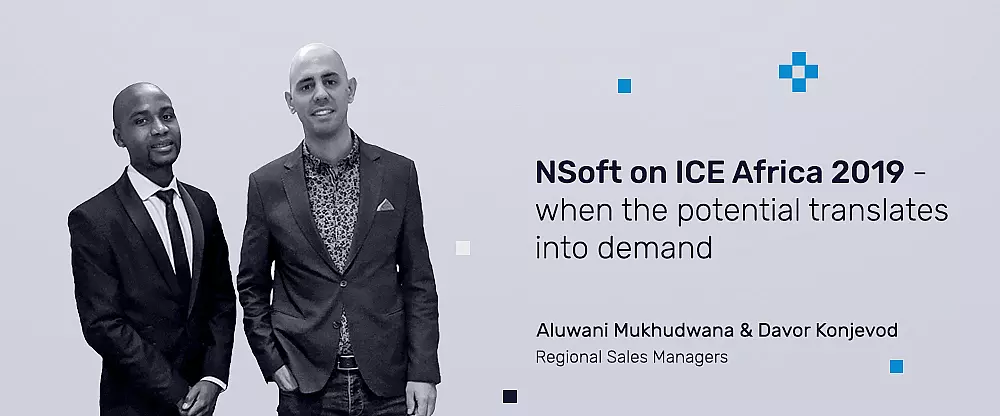 Africa, a market where the gaming industry is growing exponentially #
In-play, mobile, virtual games, eSports and artificial intelligence are just a few of the digital trends driving the worldwide sports betting industry - NSoft offers it all, and much more, in its product portfolio palette.
NSoft, sports betting and gaming software company located in Mostar, Bosnia, and Herzegovina creates virtual games, sportsbook software, and a turnkey gaming management platform for retail betting shops, gaming terminals, web and mobile application channels. Games include virtual races and sports matches, lottery games, virtual draw-based games, and sports betting.
Lucky Six represents one of NSoft's most popular products, even in the African market. Apart from the omnichannel support (retail, terminal, mobile, and web) NSoft provides the possibility to integrate Lucky Six to third party websites as a widget.
Being one of the most popular games in the casino world, NSoft wanted to bring roulette closer to the betting players. The brand new Roulette, available in two versions European & American has instantly become very popular among players in the African market.
As the online betting industry has grown exponentially in recent years, so too has NSoft's global footprint. Deloitte has consecutively named NSoft a Fast 50 tech company in Central Europe in the past three years.
Africa's rising opportunities #
Especially in high-growth markets such as Africa, understanding new technologies will be essential to scalable success and differentiation in an increasingly crowded market. Beyond developing games and applications, NSoft must follow strict country-by-country legal compliance, tax policy, and security protocols. NSoft, by having its Data Protection office, does not solely ensure the company's compliance with the GDPR, but promotes the importance of data integrity and data protection.
Doing Business captured a record 314 regulatory reforms between June 2, 2017, and May 1, 2018. Worldwide, 128 economies introduced substantial regulatory improvements making it easier to do business in all areas measured by Doing Business.
The economies with the most notable improvement in Doing Business 2019 are Afghanistan, Djibouti, China, Azerbaijan, India, Togo, Kenya, Côte d'Ivoire, Turkey and Rwanda.
One-third of all business regulatory reforms recorded by Doing Business 2019 were in the economies of Sub-Saharan Africa. With a total of 107 reforms, Sub-Saharan Africa once again has a record number this year.
"We're traditionally very strong in Central and Eastern Europe, but the fastest growth we're experiencing in Africa's large market and we are fully aware of the huge potential that this region has. Africa as the rising star on the iGaming market has been especially interesting when it comes to a real omnichannel experience", explains Davor Konjevod, Regional Sales Manager.
''African countries are high on the agendas of all important operators due to their infrastructure, mobile penetration and legislation already in place. Even though the sportsbook is very popular, and will continue to grow, all aspects of the African industry will continue to register a growth of the mobile and online channels and NSoft is closely monitoring the market movements.'', Davor adds.
''Nevertheless, the players' interest in Sportsbook is undoubted, we have been closely collaborating with 100+ of our customers across the world in order to deliver the best Self Managed Pre-Match Application out there. We mostly work with Betradar's MTS which is brilliant for small and medium customers - it reduces their operational costs, provides certainty in terms of profit and they only need to focus on marketing. Once they get to the point they are big enough that they want to take risk management in their own hands, we provide the option to continue working with us through Self Managed. So, Self Managed at its core is not revolutionary towards the players, it's revolutionary for the betting operators because now - it is a sophisticated application that helps create small, fine details within customer's Pre-Match sports betting operations, providing an extra mile in front of competition without jeopardizing player's habits. As an alternative of printed Pre-Match betting offers NSoft has developed on-screen rotating visualizations with GUI¸ based configuration depending on different and specific clients' needs." adds Aluwani Mukhudwana, Regional sales manager.
Commenting on NSoft's advancements for Africa's market, Konjevod adds: ''Africa's low internet speed coverage represents one of the main issues for betting businesses around the continent. This is why NSoft adjusted its products for the satellite stream solution, which is currently in the testing phase by NSoft's selected clients.''
Omnichannel presence as the imperative #
NSoft creates interactive games played in a variety of settings, from users' phones and computers to retail terminals and betting shops. The games and apps are developed in-house and licensed to providers and retailers across the world.
"Our games can be easily integrated into other platforms and we can customize our games to clients in their native language across the 30-plus countries we serve," said Davor.
Notably, NSoft developed Seven – a comprehensive, turnkey platform for managing core betting business operations. Betting operators who were previously juggling a plethora of games and sportsbooks from different providers can now consolidate everything on NSoft's platform.
Explaining the Seven's power, Aluwani emphasizes: ''Seven includes modules, applications, and APIs that serve as a foundation for stacking products and offering them to their operator clients. The platform handles users, transactions and reporters on an intuitive framework to aggregate betting and gaming products from third-party vendors like NSoft. To simplify implementation and lower the client's investment in new hardware needed for the retail channel, NSoft has developed a preinstalled mini PC that satisfies all client requirements to run NSoft Seven products. Nevertheless, with the Internet era, web and mobile betting solutions have become very popular, and it demands multiple payment methods for players, so NSoft is developing a service that aims to implement easy integration of payment methods into Seven Platform enabling the integration of more than 200 different payment methods.''
NSoft's perennial innovation - NSoft Vision #
NSoft's development team is currently working on new AI facial recognition and video management solution, NSoft Vision, that will be available to all niches, regardless of business type or industry.
NSoft Vision is a facial recognition application that harvests the power of AI to improve security and data collection for retail-oriented businesses. Aluwani explains: ''Simply put, Vision is an AI video management software created with the user experience as a top priority providing support for easy-to-use tools for feature management, analysis, and utilization of video data and image data.''
On the top of conventional video surveillance features built into the software, NSoft Vision is encompassed with the number of artificial intelligence inputs. An effective video surveillance system is a crucial component of a comprehensive security strategy including the diverse reporting insights of overall business performance, customer relationship and profit generation.
Powerful features such as Facial Recognition with the addition of age and gender prediction enable software users to identify their customers in relation to their business. Utilizing AI features allows businesses to do a thorough player profiling, get an overall understanding of customer behavior, obtain a wide range of demographic insights, adjust the decision-making process to customer needs and thus scale their business.
NSoft is pioneering with its innovative technologies and naturally wants to showcase its extensive product portfolio at Africa's market where the gaming industry is growing exponentially.
Don't miss a chance to have a chat with the NSoft team at Sandton Convention Centre, South Africa, booth nr. 1301, October 2-3 2019. Book your time slot at [email protected] or directly with [email protected] or [email protected].


Tags:
Didn't Find What You're Looking For?
Our team will be happy to guide you through our products and services.
Contact us