Interviews & Editorials / People@NSoft
Behind the Reels: Spotlight on NSoft's Jadranko Dragoje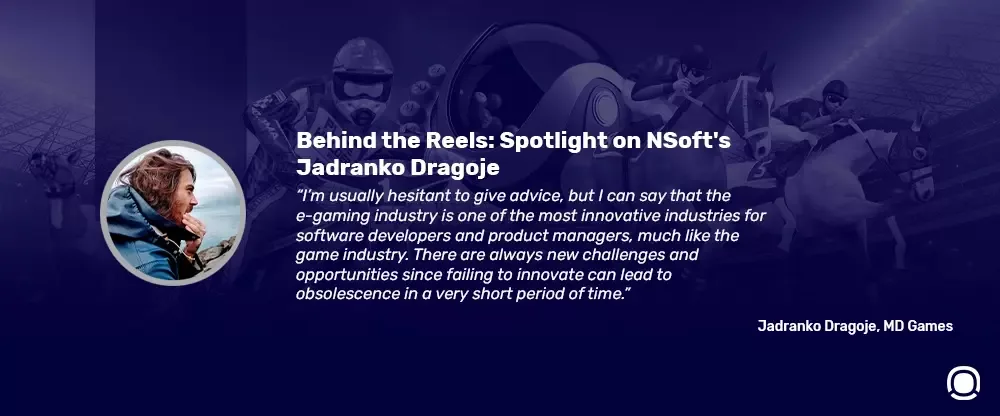 At NSoft, we take pride in our innovative game development, and we're always excited to share our story with the world. Recently, our very own Managing Director for Games, Jadranko Dragoje, had the opportunity to sit down with Slots Calendar for an in-depth interview. Jadranko's insights into NSoft's journey, our unique approach to game design, and the passion we have for creating memorable gaming experiences were put on full display.
Throughout the interview, Jadranko shared how NSoft has evolved over the years, highlighting our successful venture into the casino industry. As a company known for our expertise in virtual games, we have set our sights on revolutionizing the casino market with innovative game mechanics and state-of-the-art technology.
What truly sets NSoft apart from other game studios? Jadranko spoke of our fast and agile in-house development team, which enables us to provide custom solutions to our clients. He also mentioned some of our groundbreaking games, such as Slingshot Six and Smash Drops, which showcase our commitment to innovation and player engagement.
When discussing the most popular and rewarding slots at NSoft, Jadranko revealed that Temple of Horus has been a big hit with players, while adventure-themed slots like Book of Voodoo and Pyramid of the Sun have also been well-received. With the upcoming release of Book of Rings, we are poised to continue our upward trajectory in the world of slots.
In sharing his personal favorites, Jadranko expressed his love for the noir-inspired Vice Nights, as well as the unique mechanics found in Slingshot Six and Smash Drops. As a company, we always strive to create an enjoyable and engaging experience for the player, and it's great to see that our Managing Director shares this passion.
The interview served as an excellent platform for NSoft to showcase our dedication to innovation, our strong company values, and our commitment to creating unforgettable gaming experiences. We're excited about our upcoming releases and can't wait to share them with our loyal players and partners.
You can read the entire interview on Slots Calendar blog.
Tags:
Didn't Find What You're Looking For?
Our team will be happy to guide you through our products and services.
Contact us