Interviews & Editorials
NSoft's CFO on NSoft's strong financial performance and gained market share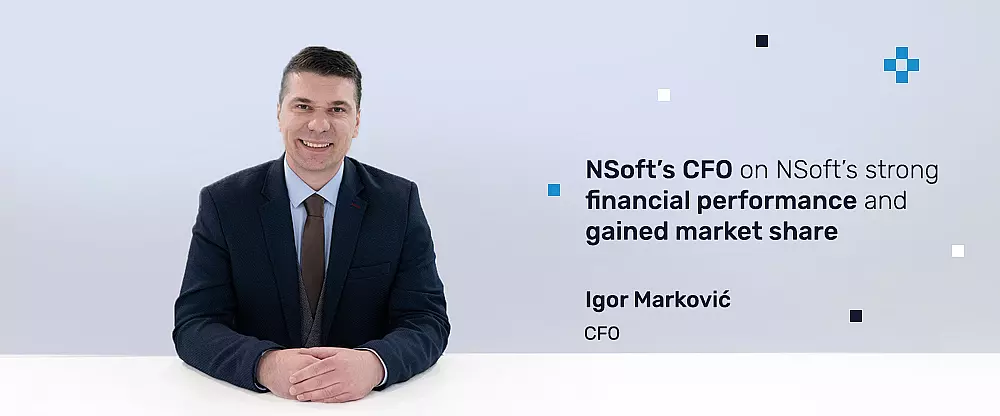 Sustainable business strategy #
NSoft's expansion is remarkably impressive and confirmed by a number of recognitions such as the Deloitte Award, within its Deloitte Technology Fast 50 Program that has already, for the 3rd time in a row, ranked NSoft as one of the fastest-growing technology companies in Central Europe.
Awards and Recognitions #
A series of regional, and worldwide acknowledgments during the 11-year NSoft's business operations are the proof of its sustainable business strategy.
The NSoft's CFO, Igor Markovic confirms that the 2019 entry from the financial aspect has resulted in continuous growth and development.
''The positive data proves that the NSoft's organizational development and market orientation are in its quest to achieve success. The results indicate that positional advantages arising from the confluence of the market orientation, entrepreneurship, innovativeness, and organizational learning have had a positive effect on NSoft's performance. All market-oriented indicators are positive, NSoft turnkey solution enables its clients to grow simultaneously while the regions with NSoft's product presence have continuous and strong growth. Significative revenue growth in 1H2019 has been recorded together with the reported data on revenue growth among the Top 10 NSoft's clients'', Markovic comments.
NSoft cooperates with national lotteries generating increased revenue, as well as enabling national lotteries to expand their product portfolio beyond their traditional offerings.
Strategic decisions as guidelines #
The continued double-digit improvement in operating revenue is in line with NSoft's management ambition proving that with steady organic growth of NSoft's turnkey solutions year after year has gained an important market share. For example, LATAM, as a result of new acquisitions but also due to highest Roulette & Lucky Six performance in that region has resulted in the positive market opening. Roulette was the introductory project for the region and the market reacted very well to its introduction. At this point, LATAM is the biggest NSoft's Roulette market.
NSoft has been interested in the African market given the fact that there is no barrier to overseas investment or operators entering the market provided they respect and adhere to the regulations as with any other jurisdiction. Entering the market with Seven platform that offers full control and comprehensive integration of payment methods with omnichannel availability has been widely accepted in the African market. Lucky Six, NSoft's proven profit generator, and other virtual games such as Greyhound Races have had the highest impact on players living on the African soil.
Sportsbook, on the other hand, notes global expansion with our four key postulates: stability, functionality, flexibility and successful trading tools. NSofts's Sportsbook continues to attract new clients, on all four available channels (mobile, web, retail, and terminals) and deliver the registered revenue growth of 18% in all areas of business across the globe.
''Retail was our organic path, delivering the majority od NSoft's revenue, but the powerful growth of all channels absolutely proves the company's dedication to excellence in every respect.
Increase in revenues in Managed Trade Service and PreMatch in 1H2019 vs 1H2018 shows the two-digit increase on mobile, retail, and web while the terminal revenues have registered a three-digit increase.'', Markovic comments.
The leaders are the EU clients from regulated countries that have been certified and fully structured allowing NSoft to share the common successes for many years already.
NSoft has had an extremely busy first half of the year with important operational progress and new licensee wins in key strategic markets, Africa, Europe, and Latin America. This continued progress is resulting in higher quality earnings for NSoft Group revenue, increasing per 19.31% vs the same period last year.
In essence, the retail and online footprint has expanded to numerous markets including:
Latam: Haiti, British Virgin Islands, Dominican Republic
Africa: Cameroon, Zambia
Europe: Latvia, and a stronger presence in the Czech Republic and Poland
Regulatory demands - the importance of regulated business #
''We, at NSoft, believe that the strategic position of the Company in key, high growth regulated markets will lead to further operational progress in the second half of 2019 and into 2020'', Markovic emphasizes.
Explaining the current business atmosphere, Markovic says: ''Bosnia and Herzegovina, currently, has several laws in force aimed in regulating various taxes imposed by the relevant authorities. It is not just our country and region that has a very strict and clear policy and procedures. Extremely demanding regulations, licensing of each channel and products, and infrastructure projects are something we are encountering in our day-to-day business. In order to face all challenges, NSoft has an excellent team of experts devoted to regulatory, market compliancy and ultimately the financial needs of the owner and states in which we do business.''
The loyalty of NSoft' clients and the continued growth of the cooperation with the new ones are based on a very simple but pragmatic indicator - the NSoft's growth implies an even greater growth in client's turnover. For example, NSoft records an 8% increase in revenues from our customers in the CEE region, while CEE countries receive an added value in the BI tools, NDS and the like, and consequently, these customers report the growth of 16%, ie. double as fast percentage increase.
''When I reflect the NSoft's growth, I have to look back on the products, as well as the markets and the channels. Financial data provides a straightforward and clear picture of NSoft, trends and all the received awards that go along with it clearly describe the statement "American dream from a garage to a world-renowned company''. Our roadmap is currently giving us the right to say that the best of NSoft is yet to come. However, if looking at countries in the region, above all the CEE, it can be seen that each NSoft client records the leading or is in TOP three leading companies in their country. We are pleased to say that apart from their managerial capability, the leading position is also due to the NSoft's services that provide our customers with one-stop-shop for their complete performance" Markovic emphasizes.
Taking into account all the financial parameters and expectations of the sector in which NSoft does business such as the betting offer, fully flexible and customizable solutions, seamless distribution across all geographies and channels is very clear that there are unlimited opportunities both within the sector and the similar branches.
''All parameters and indicators of gambling, betting and face recognition sectors show double-digit growth or CAGR by 2022. It is clear that the results are to be read and the percentage growth is there to be foreseen, estimated or planned, but no percentage can spell out the light in the eyes of our leads when they talk about new possibilities, new product functionalities and new customers who will be joining us on the first days of the upcoming season'', Markovic concludes.
In order to get more information on NSoft's product portfolio contact our Sales team at [email protected] or visit our website for deeper industry insight.
Tags:
Didn't Find What You're Looking For?
Our team will be happy to guide you through our products and services.
Contact us