News
Celebrating 10 years of commitment and innovation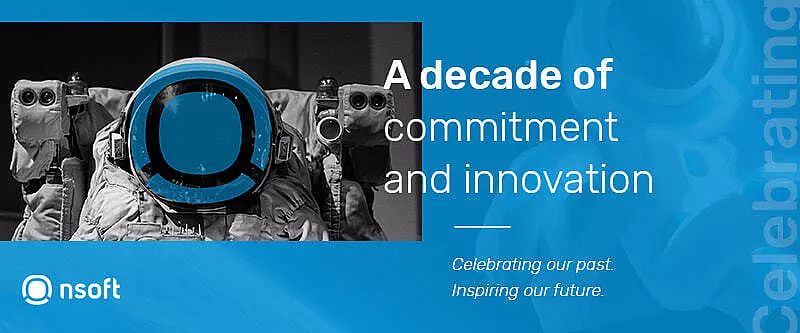 It's August 2018, for NSoft it's that time of the year, the time to summarize and look back, and for the 10th time in a row to celebrate. It's our anniversary, the 10th, important and a mature one.
In the past decade NSoft has established itself as an internationally recognized software solutions provider for the gaming and betting industry. The company has more than 200 employees and 92 companies as its customers and is currently operating in 27 countries.
Yet, NSoft had a humble beginning, as any other garage company we started with two determined employees with faith and readiness to work hard – in a founder's garage. The third crew member was Salko, a dog. Everything officially started when Salko's photo was uploaded to the first gallery Neeth.info…
By 2018, a lot has changed. What was once a struggling business, days of scraping together donations from family and friends, applying to banks for loans is now a company worth millions with a rich know-how and powerful team.
Even in the beginning, things were unconventional, the first NSofters were travelling by car for hours in search for clients. Wherever there was an opportunity they would jump on it. With no money and Lucky Six in pocket, they were gradually making the transition from a car to a plane, from an introductory email to a deal making conference call – networking and participating at the industry's events. And now, NSoft is an important participant whose innovations are on the spotlight at every ICE Totally Gaming Show in London.
In the years that followed, the company expanded rapidly – hiring developers and building a sales team. NSoft has outgrown the garage and many office spaces by now, and eventually moved to its current headquarters in Mostar, Bosnia and Herzegovina, and of course, added few more company dogs.
No matter where you start your business or how much you originally put into it, passion, commitment, and courage are often all you need to make your company a success. And Salko.
NSoft has made its way to the customers – its product portfolio includes turnkey solutions for managing betting business, retail and omni-channel solutions, virtual sports betting, sportsbook and draw based games. The company's unique approach to customers and innovative software solutions positioned it as one of the top providers of innovative products for the global gaming and betting industry.
A combination of excellent products, uniquely skilled people and trust team culture played a key role in our growth. NSoft's purpose reflects its business philosophy: growing businesses by allowing them to focus on that one thing they can do better than anyone else. The company understands that strong and long-term partnerships are essential for sustainable growth. This is why NSoft has chosen Sportradar, world's leading sports data provider, as its strategic partner.
The aspiration of reaching the stars is in human nature, therefore NSoft identifies its business journey with intergalactic journey bravely going where no man has gone before. The astronaut is embraced as a symbol for the organization and its employees, who aspire to advance each day.
Trust culture at NSoft is the enabler of better business decisions and more productive community. This culture demands authenticity, honesty, responsibility and dedication.
In order to foster team success and nurture the trust culture NSoft has chosen the flat organizational structure. This type of organization allows the team to grow independently, while being aligned with the company purpose and company vision.
What is the NSoft's Space Route 2022?
By 2022 we are to become globally-known as the first stop-shop for betting businesses in search of innovative software suites that simplify their existence.
Tags:
Didn't Find What You're Looking For?
Our team will be happy to guide you through our products and services.
Contact us